Young Crow Jake Lever has paid Brownlow Medallist Nathan Fyfe one of the biggest possible compliments, naming his new dog after the Fremantle star.
Lever, 19, and partner Jess recently welcomed a Chocolate Labrador puppy into their household.
The second-year defender told FIVEaa the pair had named the dog 'Nate'.
"I got the inspiration from Nat Fyfe," Lever said.
"Last year, there was a point where I did have to play on him (Fyfe). He out marked me and I had to chase him down the wing, which wasn't fun!
"Hopefully, this year I might get him again and go a bit better."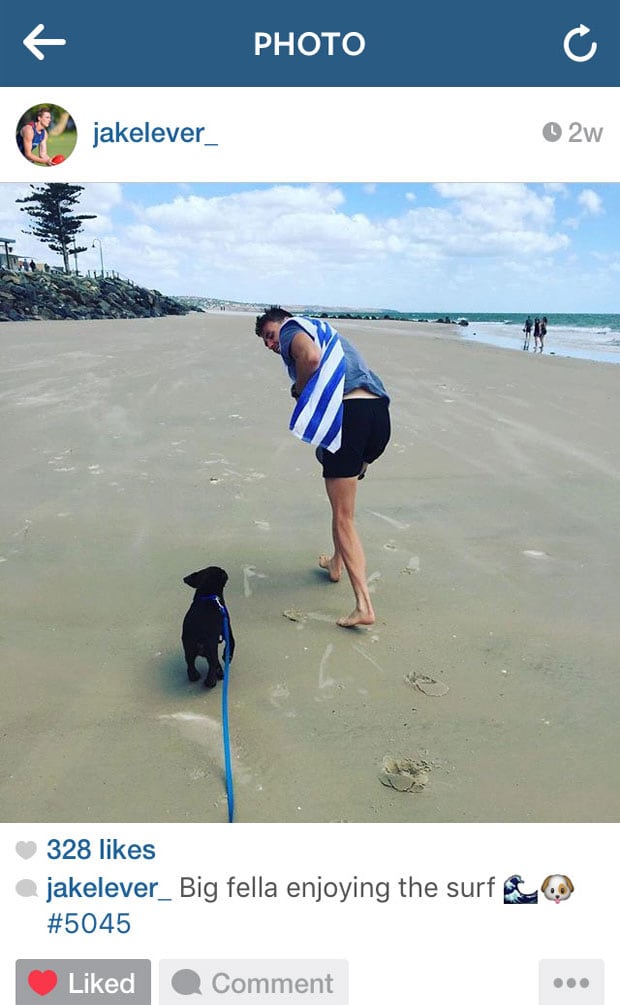 Lever defied expectations to play 12 AFL games in last year despite being managed through his first pre-season as he completed his recovery from a knee reconstruction.
This pre-season, the first-round draft pick has completed the majority of the training. He's added five kilograms to his developing frame and also impressed in the time trials.
"I'm sitting around 89-90 kilograms," Lever said.
"It was really good to be able to complete everything in the offseason break and do extra weights without as much running.
"It was good to be able to put on a few kilograms to, hopefully, play on the bigger fellas this year and help out the likes of 'Tals' (Daniel Talia) and 'Harto' (Kyle Hartigan)."
Lever with puppy 'Nate'
In 2015, Lever had a goal of playing one AFL game.
He's not putting any limitations on himself this season.
"I'm looking forward to playing in the NAB Challenge and, hopefully, putting my best foot forward," he said.
"I think if you're an AFL player in your second or third year and not aiming to play every game, you're probably not serious about it. You don't want to be at an AFL club playing in the two's.
"For me, I want to play every game and in every game that I do play, have an impact."
Fuelled by the disappointment of missing out on Adelaide's two finals, Lever laid the foundations for a strong summer during the post-season break.
"I came back in, what I thought was really good nick, for pre-season and it's just helped me to complete the sessions that probably sometimes people don't want to complete," Lever said.
"I just push through and that (missing the finals) has always been in the back of my mind. As disappointing as it was at the time … it's sort of been a blessing in disguise."
Lever and his teammates are busy learning new coach Don Pyke's game style.
Pyke has identified skills and defence as two of the areas for improvement in 2016.
Lever said the players were embracing Pyke's vision for team defence.
"The more you play together, the more you know what you can and can't do (in defence)," he said.
"For us at the moment, training three days a week is just helping so much. It was hard at the start because you're sort of running around like a headless chook especially with the defence, the whole-ground team defence, we want to play, but the last couple of weeks have been really impressive.
"The boys are really starting to get the concept and I think the further the year goes on, the better we can get at it."
There are a couple of new faces in Adelaide's defensive group this year following the offseason recruitment of Greater Western Sydney utility Curtly Hampton and draftee Tom Doedee.
Trade Period pick-up, Paul Seedsman, also has the capacity to play at half-back but is eyeing off a role on the wing at his new Club. Lever said Hampton and Doedee had slotted in well down back.
"Curtly has obviously got loads of talent as you've seen from the 50-odd games he played for GWS. He's got plenty of pace and at the moment he's really showing that," Lever said.
"I don't think Tom has missed a session. I think he's looking forward to a big year and trying to get his foot in the door.
"Hopefully, he gets his opportunity at some stage."
The defenders also have a new coach in former player James Podsiadly, who has taken over the role from former Geelong teammate Darren Milburn.
Lever said Podsiadly had played a significant role in his development in a short period of time.
"Even last year … Pods was fantastic for me," Lever said.
"He was obviously a very good forward, a premiership forward. He'd always come and watch vision with me and tell me what the forward was thinking in that circumstance.
"When he got announced as (defensive) coach I was over the moon because he helped me so much last year even though he wasn't a coach, he was still just a player. He's been fantastic not only for me but all the boys … they absolutely love him."