Local lad Riley Knight and his teammates were the talk of the town(s) during the Adelaide Football Club's 2016 Australia Post Community Camp in South Australia's Mid North.
The Crows visited schools from Mallala to Crystal Brook, and everywhere in between on Monday and Tuesday. Knight, who moved to Adelaide from Clare to pursue football and complete his studies at St Peter's College in Year 11, returned to his former schools, St Joseph's and Clare High School.
Knight was fortunate to also take part in an SANFL game for the Crows in his hometown in 2014. The young forward said he was a strong supporter of the Community Camp concept.
"It's all about giving back in terms of the AFL, this is grassroots footy and it all starts here," Knight said.
"For the kids to get around their childhood heroes is just awesome. I've been very lucky to be able to get back here and get around the community again."
Richard Douglas and Andy Otten made a special presentation during their visit to Balaklava High School. The pair met teenager Taylah Pratt, and siblings Max, Jack and Jess Heaslip, whose families lost their homes in the recent Pinery bushfires.
The Club replaced Crows jumpers that perished in the fires, complete with the numbers of Taylah, Max, Jess and Jack's favourite players, Taylor Walker (x2), Charlie Cameron and Matt Crouch.
Knight hoped Adelaide's Community Camp had brightened the spirits of families affected by the bushfires throughout the region.
"It's pretty devastating to see the damage the fires have done out there," he said.
"But to the kids' credit and the communities out there, they were still upbeat. It's an awesome opportunity to get out there and give the kids a bit of a pick up."
Captain Taylor Walker, CEO Andrew Fagan and Senior Coach Don Pyke were guests at a Civic Reception at the Clare and Gilbert Valleys Council. 'Tex' swapped a Crows guernsey for a bottle of the Clare Valley's finest with Clare Mayor Allan Aughey.
Players also paid a visit to local Toyota dealers to thank the Club's inaugural and current major sponsor for its ongoing support.
On Monday evening, more than 500 kids and their families flocked to Clare Oval for a super clinic run by Crows players and Community staff. Following the coaching clinic, players signed autographs and posed for selfies with locals. Knight proved exceptionally popular, mobbed by fans keen to get close to their hometown hero.
See our photo gallery
'Pykey' headlined the official Community Camp dinner on Monday night. After an early-morning recovery swim on Tuesday, the players headed out to more schools before driving back to Adelaide.
Thank you to everyone in the Mid North for your hospitality, and your support! #weflyasone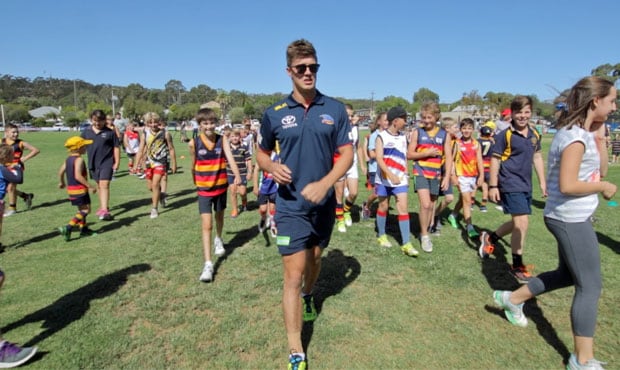 Riley Knight is flanked by fans on his way to the coaching clinic