Brodie Healy had the best week of his life recently.
The 14-year-old captained the inaugural SA wheelchair AFL team which won the National Championship in Melbourne by defeating the highly-fancied Victorians 72-52.
As if that wasn't enough, the SA team was also invited into the Adelaide Crows change rooms at Etihad Stadium after the Crows' big win over Richmond, where Brodie watched the team sing the Club song and even exchanged captaincy tips with Taylor Walker.
Brodie, who was born with cerebral palsy, proudly explained the rules of wheelchair AFL to Walker, who was clearly intrigued. The rules of the game are adapted to suit the wheelchair athletes, with handballs equivalent to kicks and the game played on a basketball court rather than a grass oval.
Walker introduced Brodie to other Crows players and even signed his wheelchair.
Brodie is one of eight players in the SA team which competed in the Wheelchair AFL National Championships in Melbourne in early April at the Melbourne Sports and Aquatic Centre.
The team played nine games, losing just the one minor round match to Tasmania before getting revenge over the Apple Islanders in the Semi-Final and going on to win the Grand Final over Victoria.
Brodie, who was the youngest and smallest player at the Nationals, says they didn't know what to expect from the competition.
"Tasmania has a proper league of wheelchair AFL and the Victorian team is made up of ex para-Olympians, so to beat both of them is just amazing," Brodie said.
To cap it off, Brodie was also named 'best forward of the tournament' and was awarded a trophy which he renamed Eddie, because he believes his game style is similar to the Crows goalsneak.
"I'm small and quick and like to sit in the pocket too," Brodie chuckled.
The year 9 Nurioopta High school student started playing Wheelchair AFL about 18 months ago every Sunday at Hampstead Rehab Centre and says it's the best thing he's ever done.
"I have tried other wheelchair sports in the past but I love my footy and this is just the best game to play," Brodie said.
Senior player Wayne McNamara said Brodie was the standout choice for the captaincy.
"He has more heart and determination than any of us," Wayne said.
"He never lets anything get in his way and has an amazing belief in himself and the team.
"He was so sure we were going to win the Nationals - he said he just knew."
Anyone interested in learning how to play wheelchair AFL can ring Disability Recreation Sport SA on 82341533 and ask for Jacob Gracey.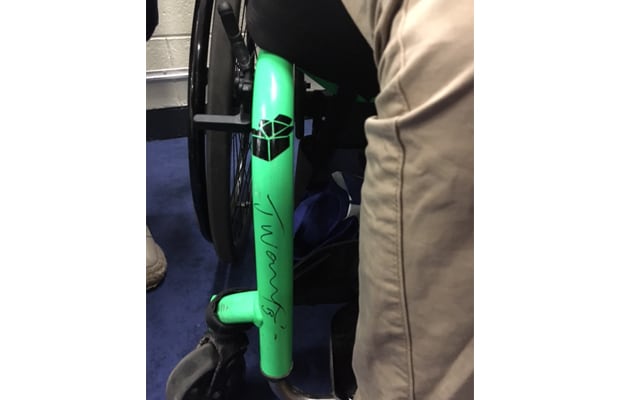 Taylor Walker signed Brodie's wheelchair after Adelaide's win over the Tigers