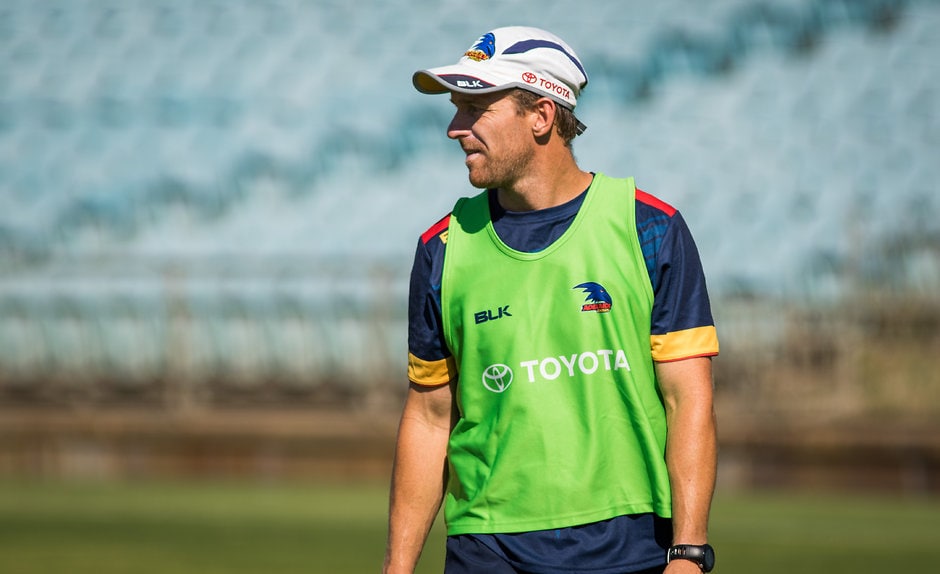 Parking my car and not walking into the Central change rooms will be a little bit different. I'll be coaching against a lot of my friends and great mates.
Paul Thomas
Central District premiership player Paul Thomas admits he'll have mixed emotions when he arrives at Elizabeth Oval on Saturday afternoon and makes his way into the opposition coaches' box for the first time.
Thomas is among the most decorated players to represent the Bulldogs in the club's rich SANFL history. A club life member, former captain, six-time premiership player and a two-time best and fairest, Thomas called an end to his illustrious 269-game career last season to pursue his coaching aspirations in Adelaide's development department.
The former Crows rookie will return to 'The Ponderosa' on Saturday to help steer Adelaide's SANFL side to victory against many of his former teammates, all of whom he remains close friends with.
Thomas said Centrals was still "home" to him, but he was looking forward to turning a new chapter in his coaching career.
"I imagine it'll be kind of odd this week," he said.
"Parking my car and not walking into the Central change rooms will be a little bit different. I'll be coaching against a lot of my friends and great mates.
"While I was a rookie here (at Adelaide) and I've spent six months here now and it's quickly becoming a home, Centrals is still where my heart is.
"It'll been an interesting experience. I can probably give a bit of insight into a few individuals and little bits and pieces, but overall they've changed the way they play.
"We'll be more focused on what we're doing."
The Thomas name is revered in Bulldogs history.
Paul's father, Jamie Thomas, took his son to the club almost since the day he was born. He played 153 games over seven seasons with the pair notching well over 400 SANFL games in the red, white and blue hoops. Thomas' own children, four-year-old Austin and two-year-old Archer, have also grown up surrounded by life at the footy club.
Thomas said it was those moments with his family he treasures most from his time at the Dogs.
"I've been back and watched Centrals about four times this year with my two boys," he said.
"My first-born Austin really loves it and has basically grown up at the footy club. He hung out for Wednesdays and Fridays for when he got to go out there with me.
"Being able to share that journey with him was pretty special, just like my Dad did with me back in the 80s. All the friends, staff, coaches and all the relationships I built with a whole host of people are still so special to me.
"We've been well received by everyone as we've gone through. I hope it'll be another nice reception on my visit home, I suppose, to The Ponderosa.
"Someone even asked me which tri-colours my kids will be wearing this weekend at the game, whether it'll be the red, white and blue or the red, gold and blue. They're a little bit torn!"
Overseeing the development of Adelaide's young defenders, Thomas has already proven a valuable addition to the Club's SANFL coaching panel. He's also assumed increased responsibility on game days with Adelaide's AFL side and watches up to six games of footy a week as part of his role.
While he admits the desire to pull the boots back on still sometimes tempts him, Thomas said he relishes every day working among the Crows' coaching group.
"When the boys are warming up I probably miss it a bit, but that fades away a bit once the game starts," he said.
"At the moment though, I wake up on Sunday and feel pretty fresh – there's no ice baths to be had!
"It's been a smooth transition for me from player to coach given my background as a teacher at Henley High.
"I've also been given responsibility by 'Pykey' in a few individual areas and also a match-day role for the AFL team. That's been a valuable experience in speeding up my coaching development.
"I've loved every minute of it."
Adelaide's SANFL team confronts Central District at My Money Mouse Oval from 2.10pm on Saturday afternoon.

Crows development coach Paul Thomas played 269 SANFL games for Central District
The views in this article are those of the author and not necessarily those of the AFL or its clubs