The Crows Children's Foundation has announced a new partnership with Canteen to help teens impacted by cancer.
The partnership will kick off this weekend with the Guard of Honour at the Club's AFL Women's game to be formed by 50 children whose lives have been affected by cancer.
There will also be a tin rattle for Canteen at the Crows v Brisbane clash which commences at 6.40pm on Saturday at Norwood Oval.
As part of the new partnership, the Foundation is providing funding for the pilot ' A Stronger Me' program.
The program will teach 20 young people aged 12 – 18 years skills they would have learnt if their lives had not been impacted by cancer.
The 10 week program will teach skills including cooking, health and nutrition, independence and confidence building skills, and job ready skills.
Crows Children's Foundation Manager Louise McDonald said Canteen was very deserving of an extra helping hand.
"Our goal is to assist our charity partners not only through funding but also by providing the priceless additional support of promotion and player involvement where possible," McDonald said.
"Since the Foundation was established in 2005, more than $1.2 million has been distributed to support those less fortunate via a host of charities.
"We aim to have a significant positive impact on those involved with Canteen as well as the other charities we support."
The Crows Children's Foundation raises and distributes funding to sick and disadvantaged children across Australia – and occasionally internationally – by boosting health, education and welfare programs.
In 2016 the Foundation donated almost $120,000 to Autism Spectrum Australia, the Women's & Children's Hospital Foundation, the Childhood Cancer Association and The Salvation Army to undertake specific assignments to assist children in South Australia.
The Foundation will announce its other partners for 2017 in the coming weeks.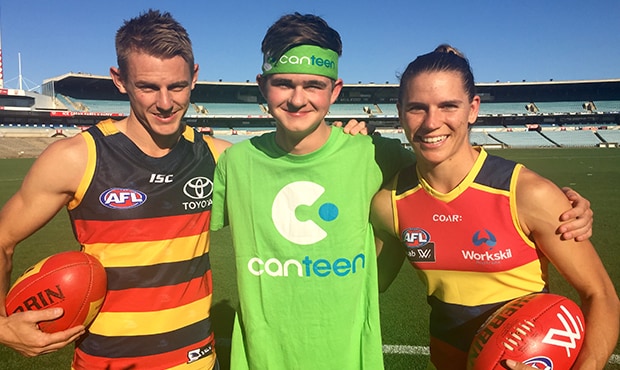 David Mackay & Chelsea Randall with 15-year-old Harrison Brady, who will be in the Club's AFLW Guard of Honour