When Rory Sloane heard first-hand the battle of young supporter Jess he immediately pulled the boots off his feet and gave them to her in an effort to do something to help.
Fans now have the opportunity to bid to buy those boots, as well as a meet and greet with Sloane, lunch and a VIP tour of the Adelaide Football Club, to help him assist Jess, who has brain cancer.
The Crows midfielder recently met Jess at the Club as part of a special visit organised by her dad's workmates at the Adelaide Casino, who wanted to do something special for her.
A Crows supporter all her life, Jess was first diagnosed with brain cancer at 20 and over four years has had three reoccurrences.
Upon meeting her after training last week, Sloane was incredibly moved by the 24-year-old's battle and, after having a chat, donated his boots as a small way to brighten her day.
Jess decided she wanted to donate the boots, rather than keep them herself, to raise money to help the Cure Brain Cancer Foundation.
To further assist in her efforts to raise funds for vital research, Sloane and the Crows Children's Foundation will package the boots with lunch and a VIP tour.
Click here to bid for the boots and the money-can't-buy experience.
All proceeds raised will be donated on behalf on the Crows Children's Foundation to Cure Brain Cancer Foundation.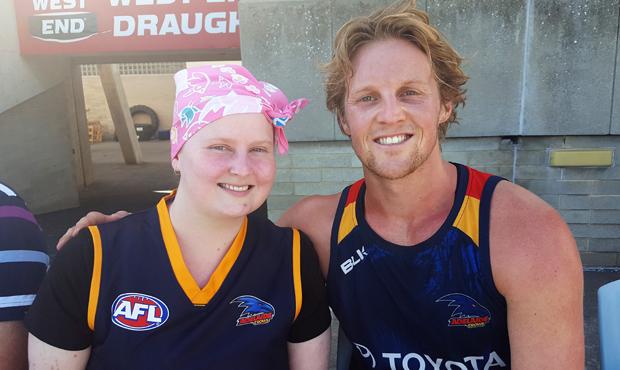 Rory Sloane with young Crows fan Jess, who is fighting brain cancer