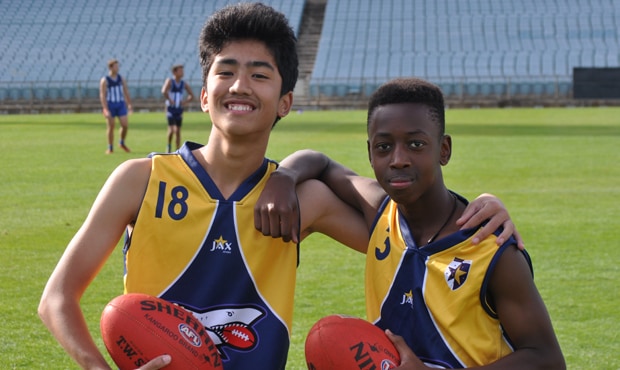 It's a sport that involves teamwork and passion in a way so I'm keen to play a lot more with my friends at school.
Bois Trdiev
Salisbury High School student Bois Trdiev tried football for the first time on Tuesday.
The 14-year-old was one of 100 students from across Adelaide who took part in the inaugural Crows Next Generation Academy High School Carnival.
Designed to encourage local youths from diverse cultural backgrounds to have a go at Australian Rules, the carnival was attended by year eight and nine boys who took part in a 12-a-side round robin competition played on Football Park.
Bois was one of 14 English as a Second Language (ESL) students from Salisbury High who participated. The team had students of African, Nepali, Syrian, Afghan and Burmese descent, with 10 of the group having never played football before.
"I've enjoyed the day, playing football with my friends, it's cool," Bois said.
"It's a sport that involves teamwork and passion in a way so I'm keen to play a lot more with my friends at school.
"I've learnt that football isn't just about tackling, it's mostly about passing around and playing with your friends. It's not all about anger, it's about happiness. Overall it was a good day."
Bois' teammate, 14-year-old Samuel Cephas, echoed his enthusiasm for the sport.
He admitted to signing up thinking he was going to be taking part in a soccer carnival, but said he was keen to now pursue Aussie Rules.
"I've played football before but not since year three," he said.
"I've learnt a lot of teamwork. I'd like to get back into the game and I might try to play for a club now."
Next Generation Academy Coordinator Jarrod Meers said the carnival was structured in a boutique format to maximise engagement and assist with talent identification.
"These carnivals are really about encouraging students within the Club's four SANFL-aligned zones to play football," Meers said.
"From there we're aiming to identify any with talent and help to give them a springboard to embark on a career at the highest level – hopefully one day in a Crows guernsey.
"It's also a fantastic way to encourage young people from all walks of life to get involved with our great game and improve their skills."
Crows players Matt Signornello and Ben Davis were on hand and presented a trophy to Seaton High which was the winning team based on wins and percentage across four games.
The Next Generation Academy (NGA) will host a carnival for primary school students on August 15 at Football Park. The schools invited will be the winning teams of the four respective NGA Hub Carnivals which are being held in each of the North, Central, Sturt and Glenelg SANFL zones during June and July.
The views in this article are those of the author and not necessarily those of the AFL or its clubs