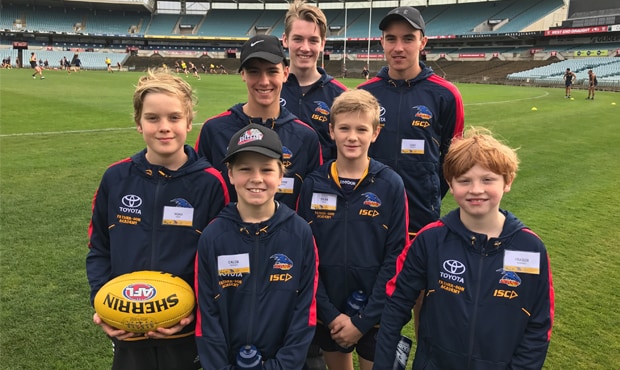 To come back to the footy club after so long and see it through your son's eyes, I don't think there's anything better
Inaugural Crows captain Chris McDermott
Famous Crows names including Hart, Edwards and McDermott were involved in a Next Generation Father-Son Academy session at the Club during the school holidays.
In an important step, Adelaide's Next Gen Academy has expanded its focus to integrate the Father-Son program.
Currently, there are 20 past or present Crows players who have sons eligible for selection because their fathers played 100 or more AFL games for the Club.
Son of premiership hero Darren, Ben Jarman was Adelaide's first Father-Son pick. Ben joined the Crows in last year's AFL Rookie Draft.
His cousin Jackson Edwards, who is the eldest of 300-gamer Tyson's three sons, is eligible to be drafted this year. A South Australian Under-18 representative, Jackson spent time at the Club over the pre-season.
Eight sons, including Jackson's younger brothers, were involved in a series of Club-run activities in the lead-up to Adelaide's clash with Geelong.
Zac Hart (Ben), Fraser McDermott (Chris), Tyler Welsh (Scott), Luke and Brodie Edwards (Tyson), Caleb and Joseph Tregenza (Simon) and Noah Smart (Nigel) watched a Crows training session and were given a tour of the Club by coach Don Pyke, captain Taylor Walker and other members of the playing group.
Former skipper Nathan van Berlo also put the group through its paces in a skills session on the Shed Floor.
Inaugural Crows captain Chris McDermott said it was a special day for his family, especially 11-year-old son Fraser.
"My little bloke (Fraser) is a footy tragic. He'll watch the footy on his computer and we'll go to games," McDermott said.
"To come back to the footy club after so long and see it through your son's eyes, I don't think there's anything better.
"We've had bits and pieces to do with the Club over the last 10 years of his life, but never have we come inside the footy club or never has he experienced what he has today.
"It's great for him and really unique. That connection is probably, for me, more important than my connection.
"I'd love for him to know that there's a part of him in the footy club."
Plans are already in place for a Next Gen Academy Father-Daughter program at West Lakes.
AFLW rules state that a player only has to play one AFL game for a club to qualify his daughter for Father-Daughter selection.
The success of the AFL Women's Competition and the premiership-winning Crows team has generated enormous interest and a boost in participation numbers in women's football.
The proposed program will begin once the Crows women return to pre-season training later in the year.
McDermott said his daughter Harper was already counting down the days.
"My daughter (Harper) can't wait for the women's program," he said.
"Fraser is having his day today and, hopefully, she can have hers in the not-too-distant future."