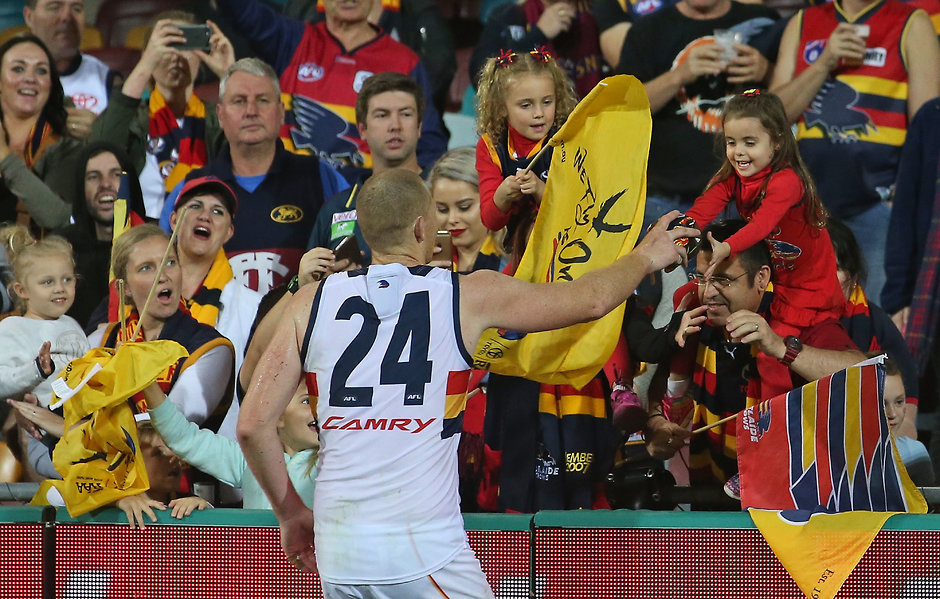 It was heart in mouth football as Adelaide fought back from a 50-point deficit to draw with Collingwood on Sunday. Here are the best fan reactions from what was a rollercoaster finish at the MCG.
I've lost my voice. What an amazing comeback, very proud of the lads. Unbelievable game. #WeFlyAsOne #AFLpiescrows

— Ryan Fitzgerald (@FitzySA) July 30, 2017
Sidelined by injury, Eddie Betts was forced to watch the action from home as he missed his first game in the tri-colours since signing with Adelaide at the end of 2013.
Credit: @eddiebthe3rd via Instagram Stories.
What a mark in the dying seconds and backs it up with nerves of steel from young gun @mmcgov11 #weflyasone @Adelaide_FC https://t.co/DsO08lZwyj

— Lleyton Hewitt (@lleytonhewitt) July 30, 2017
What the actual hell just happened. That was incredible!! @Adelaide_FC

— Guy Sebastian (@GuySebastian) July 30, 2017
I picked the worst time to have a double shot coffee. That ending has given me the shakes bad! @Adelaide_FC

— Guy Sebastian (@GuySebastian) July 30, 2017
The @Adelaide_FC players leaving the MCG #jailbreak #AFLPiesCrows pic.twitter.com/2LCvT83ZC9

— SA Police News (@SAPoliceNews) July 30, 2017
Just had to do it!!! #AflPiesCrows pic.twitter.com/5oaDUKhhwz

— Tim Verrall (@timverrall) July 30, 2017
Glad I wasn't still pregnant during that game! #WeFlyAsOne

— Kate Ellis (@KateEllisMP) July 30, 2017
My die-hard Collingwood-supporting housemate this morning: if Crows lose to the Pies I'm NEVER gonna let you hear the end of it

Me now: pic.twitter.com/BHbI8jj0OX

— Madeleine Dunne (@MadeleineDunne) July 30, 2017
Scrap that #AFLPiesCrows pic.twitter.com/Z5SbfnPkuK

— Madeleine Dunne (@MadeleineDunne) July 30, 2017
Now that we've had a few minutes to digest it, how is everyone feeling?! So many emotions! #weflyasone pic.twitter.com/oa9B3MDkax

— Adelaide Crows (@Adelaide_FC) July 30, 2017
That says it all #weflyasone pic.twitter.com/X1BLX4f9n1

— Kylie Cleere (@ky_weez) July 30, 2017
July 30, 2017
July 30, 2017
McGovern taking that mark! #weflyasone pic.twitter.com/2glsHcXjrO

— Breaking Pete (@macgyverpete) July 30, 2017
As a neutral supporter, all you can do is sit back and appreciate how good of a game that was. #AFLPiesCrows pic.twitter.com/xHqwAaJJ3Z

— Hashtag Footy (@HashtagFootyAU) July 30, 2017
The views in this article are those of the author and not necessarily those of the AFL or its clubs