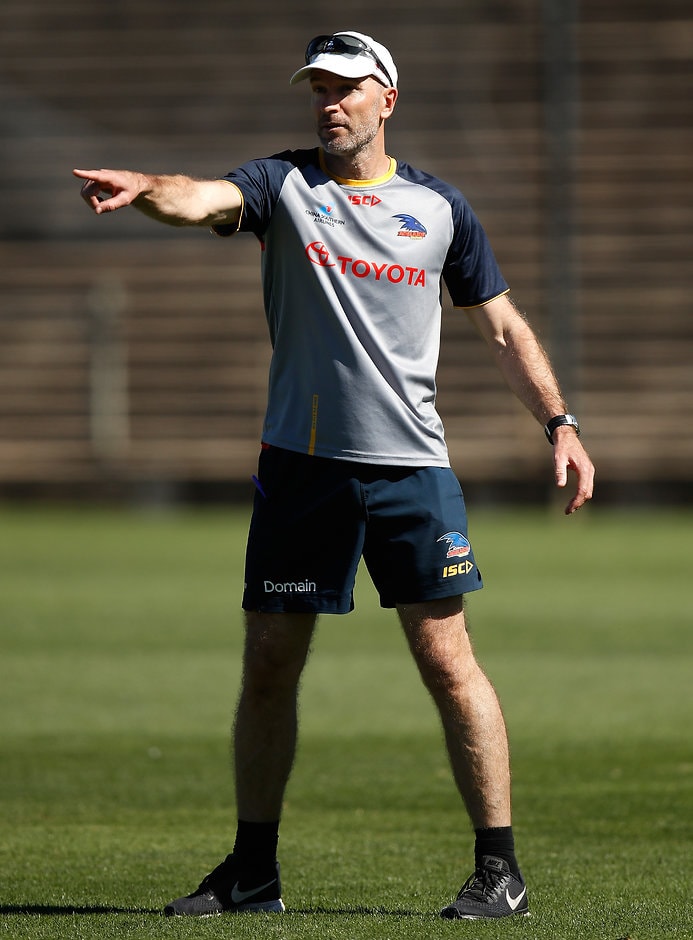 I'm obviously really comfortable that I've walked into a club that's culturally very, very sound.
Josh Francou
He may have played 156 games for cross-town rivals Port Adelaide, but recently-appointed assistant coach Josh Francou's focus lies primarily on how Adelaide can take the next step in Season 2018.
Francou will take charge of the Crows' forwards, having spent the last four years in development and midfield roles at the Sydney Swans.
He's enthusiastic about what the highest-scoring forward line in the League can achieve moving forward.
"It wasn't a fluke or a coincidence that as a footy club we made it to a Grand Final this year; as a forward line and as a club we do a lot of things very well," he said.
"It (coaching the forwards) is a really exciting challenge. They're a really good group to work with, and I'm looking forward to sinking my teeth into working with them."
With Charlie Cameron traded to the Brisbane Lions during the AFL Trade Period, there's a vacancy for a small forward in Adelaide's attack.
Stressing that the pre-season was only in its initial stages, Francou identified Jordan Gallucci as an early contender. Gallucci, 19, made his AFL debut against the Lions in Round Nine.
"We've identified as a Club the guys who could potentially fill that role," Francou said.
"One name that springs to mind is Jordan Gallucci, who's been here 12 months now, and I like what I see with him.
"There's a host of others as well, and no doubt that in the coming months we'll endeavour to be working with the forward line group and hopefully a couple of boys can put their hand up and take that spot."
As one of Port Adelaide's premiere midfielders in the early 2000's and the first former Power player to take a senior role at West Lakes, Francou knows that it may take a while for some to get used to the idea of him in Crows colours.
"When it was first announced that I was coming to Adelaide, I got a couple of text messages saying 'you've moved to the dark side,' he said.
"When you were playing, it was such a big build up to the Showdowns; all that hatred, all that rivalry between the two footy clubs. As a player, you lived and breathed that a little bit.
"Regardless of where you are, my role, and ultimately all of the coaches' roles, is to get the individual playing group prepared and to get to the point where they can perform at their peak.
"My three boys at home often make the comment 'it doesn't look right with you wearing the Adelaide Crows stuff' but it is what it is; they'll get used to it."
One of the first things that struck Francou upon starting at West Lakes was the quality of the player-led standards, both on and off the training track.
"Walking into the four walls here at Adelaide and looking at some of the leaders that I've watched from afar in previous years … they have a really strong leadership group," he said.
"Tex Walker and Rory Sloane, in the meetings we've had, they've got a really clear voice as far as the expectations that are required at the footy club.
"I'm obviously really comfortable that I've walked into a club that's culturally very, very sound."
Francou was appointed to the coaching panel within weeks of former Crows players Ben Hart and Brent Reilly, and is looking forward to working alongside the pair under coach Don Pyke.
"I played a lot of junior footy with Ben out at Walkerville, and played against Brent in my latter years and his earlier years. They're just quality people," he said.
"Don Pyke runs a very good footy program from what I've observed in the first four or five weeks that I've been here, and the playing group, statistically, and looking at the Crows' performance in 2017, it's a pretty healthy scene."
Francou says motivation levels are high at the Club, with the Crows focused on a successful 2018 campaign.
"Ultimately, Grand Final day wasn't what everyone dreamt that it possible could be, but the challenge now is to get to work and improve, and as a playing group and coaching group, want to improve."