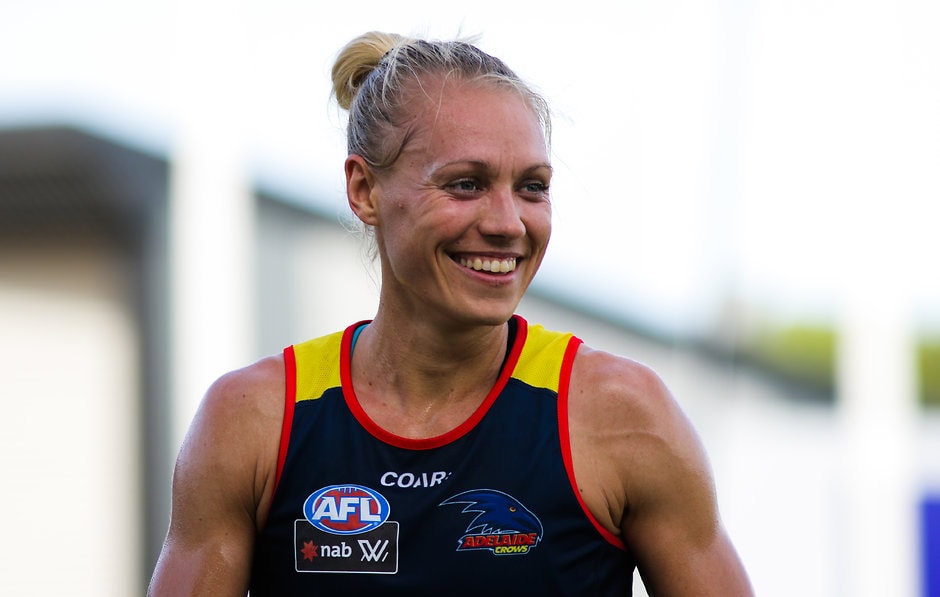 Until I walk off the footy field, and hopefully it's not for a few years, I'll keep having that burning desire to keep getting better and to keep improving.
Erin Phillips
Reigning AFLW and Crows Best and Fairest Erin Phillips confirmed her retirement from basketball on Tuesday after a celebrated career spanning 16 years, meaning her sole focus will be football for the second AFLW season.
Phillips, who dominated the inaugural AFL Women's season last year, has been part of the Australian Opals side for many years while also playing in the WNBA – where she claimed two titles – and in Europe.
In May, Phillips retired from the WNBA but the 32-year-old left the door open on her Australian career.
The retirement means she has closed the door on competing at the Gold Coast Commonwealth Games in April, which is being held just weeks after the AFLW season.
While Phillips would have loved to try and juggle her AFLW commitments and qualify for the Opals team, she said she realised in recent weeks that probably wasn't possible.
"That would've meant compromising training and missing a game for the Crows to tour with the Opals," Phillips said on athlete website Players Voice.
"[Opal's Coach] Sandy [Brondello] reiterated the fact that I couldn't be considered for selection if I wasn't playing."
Phillips' biggest motivation in trying to compete in the Commonwealth Games was to finish her Australian career on a better note than the Opals' loss to Serbia in the 2016 Rio Olympics quarter-final.
However, after the disappointment of that loss, the two-time Olympian said "all the greatest things in my life started happening."
"That November, my wife Tracy gave birth to our two beautiful children; our son Blake and our daughter Brooklyn," she said.
"And then soon after the AFLW started. It couldn't have come at a better time. The combination of becoming a mum and then fulfilling my dream to play footy saved me in a way."
Phillips is now channelling the disappointment of Rio into her football career.
"It definitely drove me to not take anything for granted and make sure I know that every single game that you play might be your last," she said.
"So until I walk off the footy field, and hopefully it's not for a few years, I'll keep having that burning desire to keep getting better and to keep improving.
"I'm really looking forward to focusing on the AFLW."
Although she wished her basketball career finished differently, Phillips said she was grateful for her time in the sport, having won a Commonwealth Games gold medal, a World Championship gold medal and an Olympic silver medal in Beijing.
"I would have liked to have written a different ending, but I also realise I've been very fortunate to have had a career like this and I will never take it for granted," Phillips said.
"I played in two Olympics. I lived in the US and Europe. I travelled all over the world. Experiences that are so invaluable and that have helped shape who I am today.
"I absolutely feel like I've given basketball everything and I know in my heart it's time."