Forward Eddie Betts will be presented with AFL Life Membership at the League's Annual General Meeting in March.
Betts was one of seven players and umpires who qualified automatically for AFL Life Membership after reaching 300 total games, including pre-season and International Rules matches, in the 2017 season.
Betts' former Carlton teammate Kade Simpson, Geelong premiership stars Steve Johnson and Andrew Mackie, Hawthorn and Melbourne champion Jordan Lewis and umpiring pair Chris Donlon and Shaun Ryan also met the eligibility criteria.
In addition, Life Membership was conferred under the provision of 'Special Service to the Game' to dual Carlton premiership captain and former AFL Commission Chairman Mike Fitzpatrick, 1993 Norm Smith Medallist and community leader Michael Long and long-time broadcaster and dual-premiership player Rex Hunt.
Respected Crows figure and Life Member John Condon OAM was awarded the Jack Titus Service Award for outstanding service to football, particularly at a club level in South Australia, for his nearly 60-year commitment to the game across the Prospect, North Adelaide and Adelaide Football Clubs.
Condon worked as Adelaide's football manager for seven seasons, including the premiership years of 1997 and 1998, before retiring from the position. He remained involved in football as a SANFL Salary Cap Investigator for almost two decades between 1998 and 2016.
A humble and popular figure at the Crows, Condon continues to play an important role behind the scenes. He helped establish the Adelaide Football Club Past Players and Officials committee in 2005 and is a valued member of the Club's Heritage and Hall of Fame selection committees. He's also Adelaide's current Club Historian.
The Jack Titus Award follows Condon's induction to the South Australian Football Hall of Fame last year.
AFL Chief Executive Officer Gillon McLachlan said the Commission congratulated each individual on their award and the game looked forward to thanking each personally again at the season launch in March for their contribution to football, both on-field as players and umpires and off-field for their service as administrators/officials.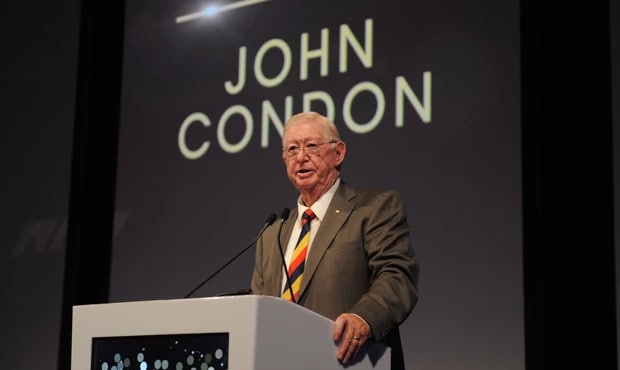 John Condon OAM

The records for each person are as follows:
Eddie Betts
184 games for Carlton 2005-13, kicking 290 goals.
93 games for the Adelaide Crows 2014-17, kicking 244 goals.
Seven Games for Australia.
28 pre-season games for Carlton and the Adelaide Crows.
Club Leading Goalkicker 2010, 2012, 2014, 2015, 2016, 2017.
All Australian 2015, 2016, 2017.

Chris Donlon
268 senior games umpired.
33 pre-season games umpired.
2011 Grand Final umpire.

Steve Johnson
253 games for the Geelong Cats 2002-15, kicking 452 goals.
40 games for the GWS Giants 2016-17, kicking 64 goals.
One game for Victoria, kicking three goals.
One game for Australia.
20 pre-season games for the Geelong Cats and GWS Giants.
Premierships 2007, 2009, 2011.
Norm Smith Medallist 2007
Club Leading Goalkicker 2008, 2010.
All Australian 2007, 2008, 2010.

Jordan Lewis
264 games for Hawthorn 2005-16, kicking 145 goals.
19 games for Melbourne 2017, kicking five goals.
25 pre-season games for Hawthorn and Melbourne.
Premierships 2008, 2013, 2014, 2015.
Best and Fairest 2014.
All Australian 2014.

Andrew Mackie
280 games for the Geelong Cats, 2004-17.
28 pre-season games for the Geelong Cats.
Premierships 2007, 2009, 2011.
All Australian 2013.

Shaun Ryan
282 senior games umpired.
35 pre-season games umpired.
2008, 2009, 2010 (twice), 2011 Grand Final.

Kade Simpson
286 games for Carlton, 2003-17.
29 pre-season games for Carlton.
Eight games for Australia.
Best and Fairest 2013.

Mike Fitzpatrick
97 games for Subiaco 1970-74, kicking 77 goals.
150 games for Carlton 1975-83, kicking 150 goals.
11 games for Western Australia, kicking seven goals.
Two games for Victoria, kicking one goal.
Premierships 1973, 1979, 1981, 1982.
Club Best and Fairest 1973, 1974, 1979.
Club Captain 1980-83.
All Australian 1982.
Carlton Team of the Century.
Joined the AFL Commission in 2003 and succeeded Ron Evans as Chairman in 2007. Key achievements under his tenure as Chairman included:
* Premiership season matches every week in the mainland states following the League's expansion with the Gold Coast Suns (2010) and Greater Western Sydney Giants (2011) and games played in every state and territory.
* Investment in the construction or renovation of stadiums and training and administration centres across the country since 2007, including Adelaide Oval, Perth Stadium, Metricon Stadium, Spotless Stadium, MCG, SCG, Gabba and Simonds Stadium.
* Growth in participation in the game by more than 140 per cent from the start of the 2007 season to 2016, with 1,404,176 participants.
* Starting the NAB AFL Women's competition.
* Record TV broadcast deals, including the $2.5 billion TV broadcast rights deal secured off the back of expansion into Queensland and New South Wales.
* Continuing work by the clubs to attract supporters, with memberships of AFL clubs hitting a record high of 875,197 in 2016 - an increase of almost 70 per cent since 2006.
* Creating AFL Media to build a stronger digital presence for the game, resulting in AFL Media now attracting an average 4.26m weekly unique visitors in season, while TV audiences per round for the Toyota AFL Premiership Season across the Seven Network and Fox Footy Channel averaged 4.5 million.

Rex Hunt
113 games for Richmond 1968-74, kicking 121 goals.
32 games for the Geelong Cats 1974-75, kicking 44 goals.
57 games for St Kilda 1976-78, kicking 111 goals.
Premierships 1969, 1973.
Club Leading Goal Kicker 1969.
Since his playing career, has worked extensively for nearly four decades in media across print, radio and television, but primarily as a radio broadcaster, calling more than 2000 games.

Michael Long
190 games for Essendon 1989-2001, kicking 143 goals.
4 games for Northern Territory and Qld/NT.
Also represented West Torrens (SANFL) 1988 and St Marys (NTFL) 1986-88.
Premierships 1986-87 (NTFL), 1987-88 (NTFL), 1993, 2000.
Norm Smith Medallist 1993.
Club Best and Fairest 1988.
All Australian 1988 (Carnival), 1995.
Indigenous Team of the Century (Wing).
Northern Territory Team of the Century (Wing).
Australian Football Hall of Fame.
Separate to his playing career, Michael was a leader on the issue of racism in sport and has established the Michael Long Learning and Leadership Centre in Darwin.
Played a central role within the game in 1995 after he was racially vilified during the Anzac Day game against Collingwood and then was involved in the introduction of the first racial vilification policy in Australian sport and one of the first in the world.

Jack Titus Award:
John Condon, Adelaide Crows
Began as a player with the Prospect Football Club in Adelaide in 1958 in suburban football. Served at the North Adelaide FC (SANFL) in a range of roles from 1964-91, before joining the Adelaide Crows as Football Manager in 1992. Also served as a League Director for the SANFL and has continued to work for the Crows as archivist and historian.