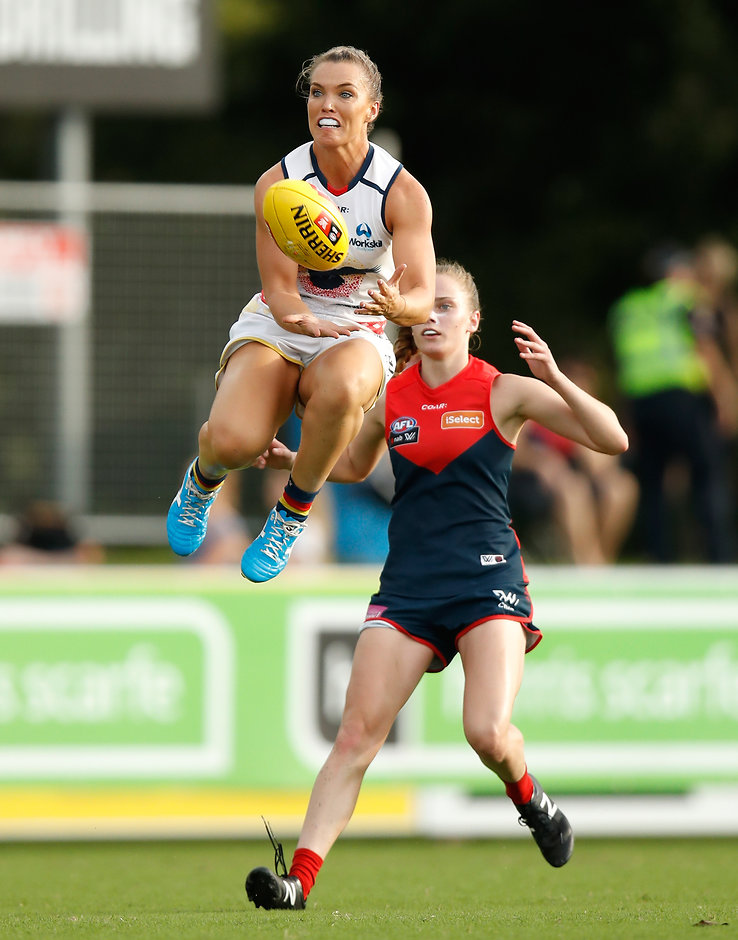 I can't wait to put all the practice into action and get out there on Saturday.
Abbey Holmes
After missing round one of the 2018 AFLW season, Abbey Holmes can't wait to play for the Crows against Melbourne on Saturday.
It has been a big pre-season for Holmes in a variety of ways, having not only improved her strength and conditioning and her fitness levels, but also permanently moving back to Adelaide.
So, when her knee flared up just before Round One, Holmes was disappointed.
"I had a bit of a knee niggle heading into Round One which was really unfortunate timing," Holmes said.
"I had a pretty steady week last week, off the legs, but this week been back into training 100 per cent.
"I'm really excited to run out there for my first game this week, I can't wait to put all the practice into action and get out there on Saturday."
Being part of the new look forward line is a big reason for her excitement.
"We've obviously got 'Perko' (Sarah Perkins) who showed us what she can do last year but Jasmyn Hewett comes into the side and she's incredible; super tall and athletic but got the pace and endurance of a midfielder," Holmes said.
"We've got a couple more new players in 'Ruthie' (Ruth Wallace) and 'EJ' (Eloise Jones) who are just electric players.
"When you've got Perko and Jazzy flying high and Ruthie and EJ and some others doing the crumbing work, it's incredibly exciting."
The forward line changes aren't the only ones for Holmes this season.
An Adelaide girl originally, Holmes has lived in Darwin for the last six years and trained with the Northern Territory contingent last season.
In the offseason she moved back to Adelaide, which wasn't an easy decision.
"I wanted to experience the Adelaide Football Club holistically, the Club, the personnel, the facility down here and being in that big group environment," Holmes said.
"Being involved in the SA based group has been fantastic but I do miss my crew in the Northern Territory, and it's great when we get together as a full squad.
"We all thrive and focus on getting to know each other inside and out."
AFLW: Two premiership forwards return https://t.co/mtQRZltaGz for Saturday's clash with Melbourne #weflyasone pic.twitter.com/K2vxNrw66U

— Adelaide Crows (@Adelaide_FC) February 8, 2018
The additions of Andrew McLeod and Peter Caven to the coaching panel has also been a welcome change.
"I grew up idolising those guys," Holmes said.
"I remember the 97 and 98 grand finals and I remember what I was doing very vividly.
"To have them as our assistant coaches and to really knuckle down and gain as much information from them as I possibly can, it's been wonderful.
"I know each and every one of the girls is really loving having them as part of our group this year."
Despite the loss to Brisbane last week, the team is in a positive mindset going into their game against Melbourne.
"Melbourne are obviously a quality side and we know we have to bring our A game against them," Holmes said.
"We just need to treat each game like it's a grand final, it's such a short season so it's really pivotal for us to focus on the job at hand.
"Everybody is really up and about and wants to get out there and put in a strong performance and get the points."