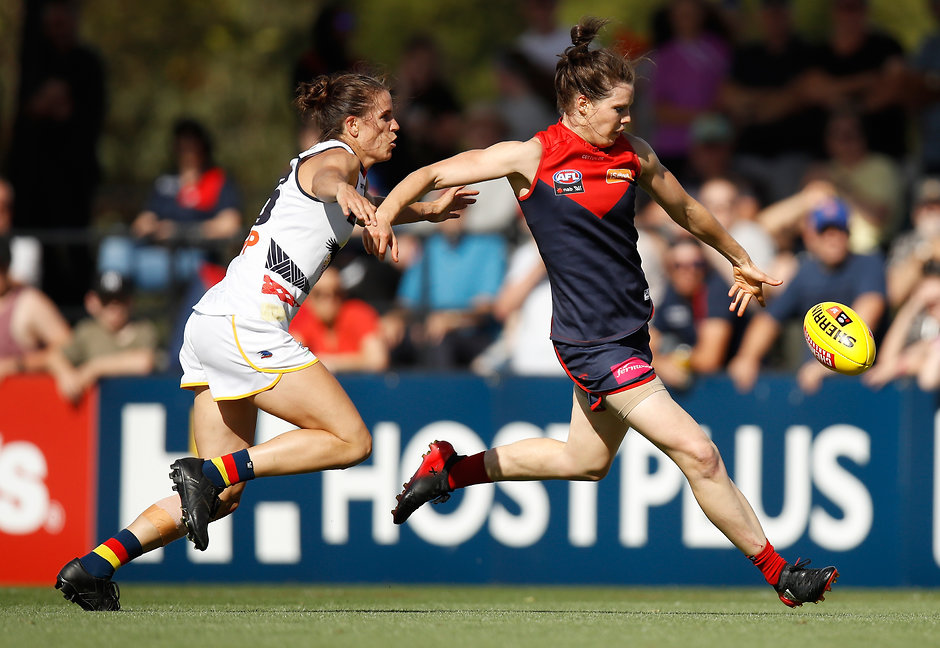 Chelsea Randall is equal-third on the AFLW Champion Player of the Year Leaderboard, after she was Adelaide's highest vote getter for the second week in a row.
In the Crows' 32-point loss against Melbourne at Casey Fields, Randall received five votes from coaches Bec Goddard and Mick Stinear.
This gives Randall 10 votes overall, following her five votes in the Round One match against the Brisbane Lions.
The acting standalone captain again led from the front, collecting 17 disposals while supporting her young defensive teammates.
Dayna Cox was also recognised for her solid start to the season in defence, receiving two votes from the coaches.
Despite finishing the game on the bench, Melbourne's Karen Paxman earned a perfect 10 from the coaches, after her 21 disposals.
Carlton's Brianna Davey was the only other player to earn 10 points from the coaches in Round Two, before injuring her knee.
Davey is currently on top of the leaderboard alongside Emma Kearney from the Western Bulldogs, both on 13 votes.
Bianca Jakobsson, Elise O'Dea, Mel Hickey and Kate Hore were the other Melbourne players to poll during Saturday's game.
Melbourne v Adelaide
10 – Karen Paxman (Melbourne)
6 – Bianca Jakobsson (Melbourne)
5 – Chelsea Randall (Adelaide)
5 – Elise O'Dea (Melbourne)
2 – Dayna Cox (Adelaide)
2 – Mel Hickey (Melbourne)
1 – Kate Hore (Melbourne)
AFLW Champion Player of the Year Leaderboard
13 – Brianna Davey (Carlton)
13 – Emma Kearney (Western Bulldogs)
11 – Dana Hooker (Fremantle)
10 – Ellie Blackburn (Western Bulldogs)
10 – Sabrina Frederick-Traub (Brisbane Lions)
10 – Chloe Molloy (Collingwood)
10 – Karen Paxman (Melbourne)
10 – Chelsea Randall (Adelaide)
9 – Ebony Antonio (Fremantle)
9 – Elise O'Dea (Melbourne)
9 – Daisy Pearce (Melbourne)