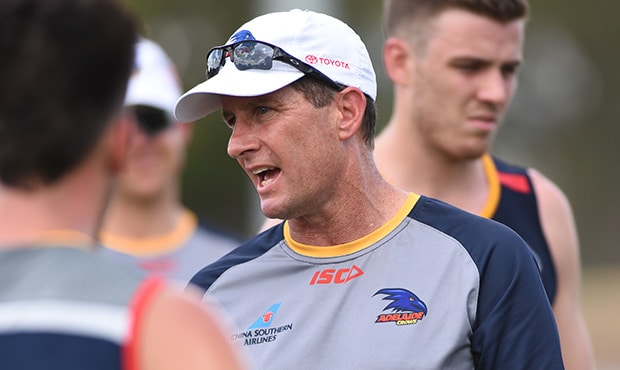 Adelaide coach Don Pyke wants runners to remain in the game but believes clubs who use them for on-field coaching should face heavy sanctions.
The AFL confirmed on Monday the use of runners would be restricted during this month's JLT Community Series.
As part of the AFL's trial, runners will only be allowed to deliver messages during the breaks in play after a goal has been signalled and during the quarter-time, half-time and
three-quarter time intervals.
The rule could be used in the premiership season if it is successful.
Pyke told Sportsday radio he believed there was still a place in the game for runners.
"If guys are out there too long or genuinely coaching, then I think you come down hard on them," he said.
"You say to that team, you're either going to get heavily fined, or you send your runner off for a period and you can't use your runner for the next 15 minutes because he's acting outside his mandate on the field.
"Do it that way, rather than a blanket ban on all runners.
"I hope we're not reacting to just the fear of how many people are on the ground, because clearly there's a number of trainers and physios and doctors.
"From my viewpoint, I think we need to ensure the runners aren't acting as genuine coaches; they're there just delivering messages.
"I'm not against either limiting the number of messages a quarter or a half, but I think they're an important part of the game."
The views in this article are those of the author and not necessarily those of the AFL or its clubs