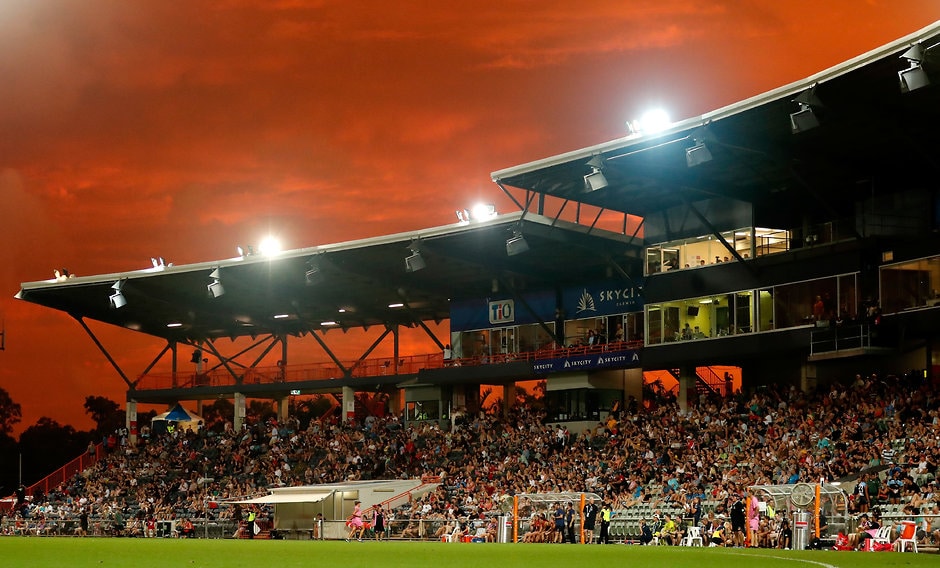 Adelaide v Fremantle | Round 6
Friday 9 March 2018 at TIO Stadium, Darwin
GATES OPEN: Bonson Gate open from 4pm
FIRST BOUNCE: 5.35pm
ENTRY IS FREE!
Anyone can get into the game for FREE from 4pm this Friday
BROADCAST INFORMATION
7mate - Adelaide and Perth 7pm EDT
Fox – National 7pm EDT, 5.30pm CST
COLLECT YOUR BOBBLEHEAD:
All 2018 Crows Women's Team Members can collect their bobblehead (choose between Chelsea Randall, Erin Phillips, Sarah Perkins or Bec Goddard) at the membership marquee located at TIO Stadium this Friday. Don't forget to bring your 2018 Membership card to show membership staff on the day. You also have the opportunity to purchase additional bobbleheads for only $10 each.
CROWS SOCIAL
Fly with us and make sure you tag all your social updates before and during the game. Use #weflyasone on Twitter and Instagram to show your colours and follow us on Facebook @AdelaideCrows, Twitter @Adelaide_FC and Instagram @Adelaide_FC to make sure you don't miss a minute of the action!
MERCHANDISE | CROWmania:
Visit the CROWmania marquee at TIO Stadium for all our game day specials. Don't miss out on your chance to stock up on 2018 Crows Women's Team gear!
We also want to see the most fanatic Crows supporters this week! Take a picture wearing your Crows colours, post it to Instagram, Facebook or Twitter and tag #Crowscolours to show us how you support the team.
MEMBERSHIP:
For any membership enquires visit the Crows Membership marquee located at TIO Stadium this Friday.
FACILITIES
Food and beverage will be available to purchase from the level 2 Kiosk, public bar and BBQ facilities. No alcohol is to be brought into the venue and no smoking is allowed in the venue. There will be bag checks at entry points.
GETTING THERE
TIO Stadium is at 70 Abala Road, Marrara which is off McMillans Road
Entry will be via Bonson Gate only
There is no public entry via the Michael Long Learning & Leadership Centre (MLLLC) or Ah Mat gates.
CAR PARKING
All car parking is free and available at the Bonson Gate (airport end). There will be no public parking at the Ah Mat Gate/MLLLC car park.
PUBLIC TRANSPORT
Bus Route Number 3 operates from Casuarina, return to Casuarina and drops off at the Marrara Sporting Complex.
Only bus via Marrara Sporting Complex is from the Casuarina interchange: https://nt.gov.au/__data/assets/pdf_file/0020/159320/route-3-public-bus-timetable.pdf
All bus timetable and more information can be found at: www.nt.gov.au/publictransport