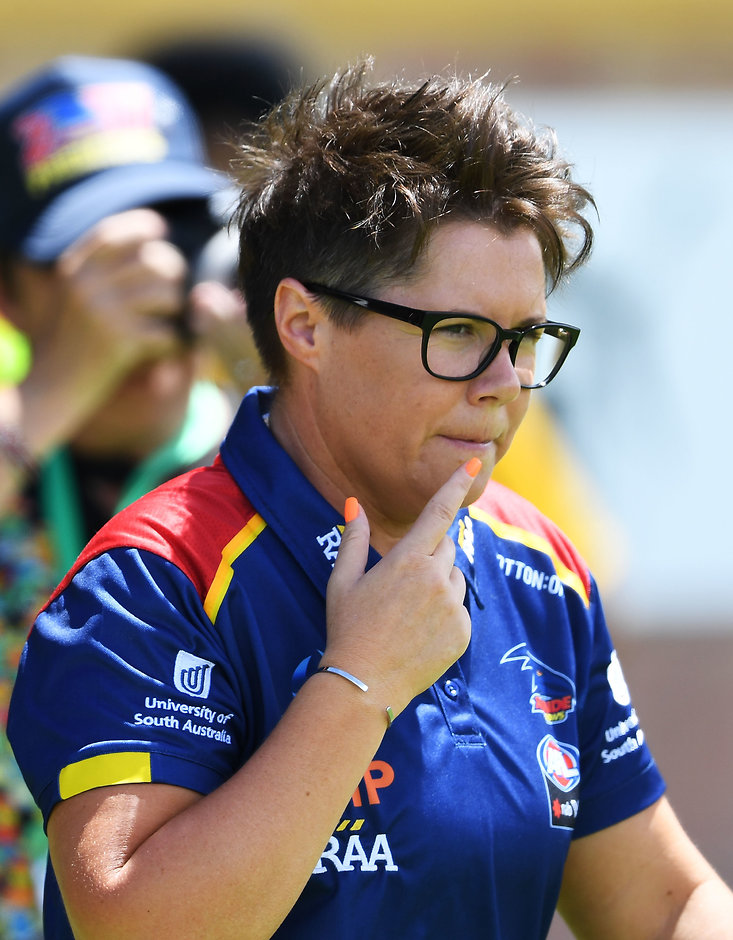 We're in the great position that come Sunday, we'll know what needs to happen
Bec Goddard
Coach Bec Goddard says Adelaide can't get caught up worrying about other results ahead of an enthralling last round of the AFL Women's Competition.
Remarkably, five teams remain in the running to secure a spot in next weekend's Grand Final.
The winner of Saturday night's top-of-the-table clash between the Western Bulldogs and Melbourne is guaranteed a place in the decider.
The Crows, Greater Western Sydney and Brisbane Lions are the other clubs vying for a top-two finish.
Regardless of other results, Adelaide must beat an in-form Collingwood at Olympic Park on Sunday to keep its premiership defence intact.
If GWS beat the Lions on Friday night, the Crows will also need to make up currently about 10 per cent on the Giants to leap above them into second spot.
Goddard joked she would be cheering for the Lions on Friday night, but said the Crows had enough to worry about beating the Magpies in the last match of the AFLW home and away season.
"We're in the great position that come Sunday, we'll know what needs to happen," Goddard said.
"The short summary of it is that we need to win.
"(Regardless of whether) GWS or Brisbane win, we still have to win.
"We just might need to win by a bit more (if GWS win). They (the Giants and Lions) are two great teams and either way it'll be a cracking contest.
"When we talk about how we're preparing this week, the focus will be on winning the game rather than (thinking that) we've got to pile on six, seven, eight, nine, 10 goals.
"I think as soon as you start talking about that you're not going to get the result you want."
Collingwood is out of premiership contention, but has found form in the latter half of the season.
The Magpies have won two of their past three games, including a comfortable victory over the Lions in Queensland last weekend.
"We've got a pretty scary team ahead of us … I think if Collingwood had another two weeks, they'd be right in the hunt for the premiership because they're playing some really devastating football at the moment," Goddard said.
"The No.1 thing we have to do is work out how to stop that running game … and great kicking game that they've got going."
The AFL Women's competition will expand to 10 teams next year, with the introduction of North Melbourne and Geelong.
Another four clubs – Gold Coast, West Coast, Richmond and St Kilda – will join the League in 2020.
Goddard hoped the growth of the competition would lead to an extended finals series.
"I think that's the natural progression, isn't it? Wouldn't it be great to have a finals series?" she said.
"Essentially, we've got a finals series this weekend.
"I think psychologically the players, who are semi-professional athletes and give up so much of their lives just to play this seven-week season would love a top four."
Goddard confirmed stars Erin Phillips, who has battled a quad strain, and Ebony Marinoff (lacerated cheek) would be fit to play against the Pies.
Marinoff, who had six stitches in her tongue against Carlton, required another five to close a nasty cut below her eye in Darwin on Friday night.
Goddard described the 20-year-old midfielder as the toughest player in the competition following the incident.
"I'm not sure what the colour of her (Marinoff's) face is at the moment, but she was really positive on Saturday morning when we left Darwin and I've got no doubt she'll be right to back it up on Sunday."
Crows defender Sarah Allan also earned praise for her performance against the Dockers, named a Rising Star nominee for Round Six.
"What a terrific season Sarah Allan has had. She's really gone from strength to strength and improved her game significantly," Goddard said.
"She'll have another big job on one of Collingwood's best forwards this weekend."