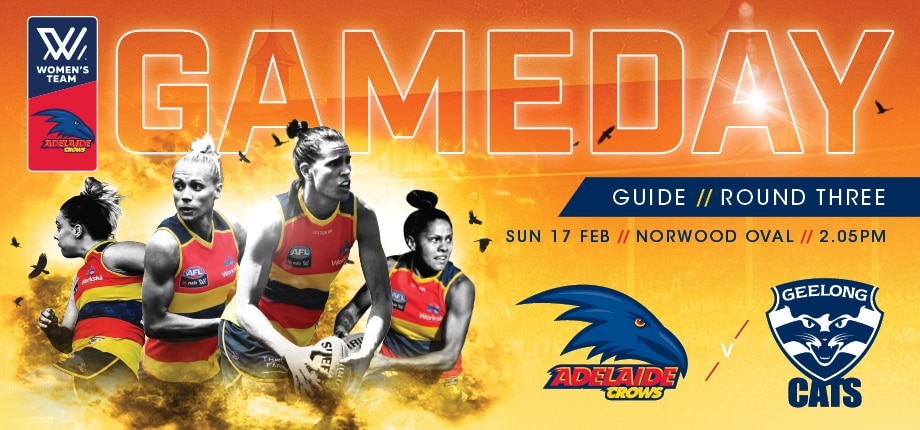 Main Gate Open: 12.15pm
First Bounce: 2.05pm


The Adelaide Football Club would like to acknowledge their round three AFLW home match sponsor BHP, a proud co-major partner of the Crows AFL Women's team. BHP proudly supports diversity in the workplace and the community, and are proud to get behind our Women's Team to show there is truly nothing a woman can't do – whether it's playing AFL, or working at a mining operation like Olympic Dam.
Visit the BHP marquee at the main entrance this Sunday to collect your BHP sun visor and you could be the lucky winner of a signed Crows Women's Team Guernsey that will be given away at three quarter time.

GUARD OF HONOUR:
A select group of 2019 Crows Women's Team Members as well as special guests from our home match sponsor BHP will form the Guard of Honour when the Crows players take the field on Sunday.
STATEWIDE SUPER MATCH DAY EXPERIENCE:
The Statewide Super Match Day Experience is a great opportunity for kids aged 5-16 years to learn a variety of footy skills and have a great time playing with their mates in a curtain raiser to the Crows game. This FREE experience will be offered to fans before each Adelaide Crows Women's Team home match. The Statewide Super Heroes will be on hand to meet the kids this Sunday!

CROWS KIDS ZONE
Open from 12.15pm, the Crows Kids Zone is located outside the main gates at Norwood Oval, and has plenty of fun and FREE activities for the kids including:
Huge goal kicking inflatable
How high can you jump? Measure your vertical leap up against your favourite Crows Women's Team stars
Show your club colours with Crows face painting
OPTUS MAGIC CARD
Visit Optus outside the main entrance to Norwood Oval on Sunday and watch yourself become our women's team coach, Matt Clarke, or Claude the Crow! You won't believe your eyes when using the Optus Magic Card.
TOYOTA LEGO ZONE
Drop past the Toyota Lego Zone on your way into the match on Sunday, located outside the main entrance on Norwood Reserve, and put your child's creativity to the test. Do you think you can build a Toyota Camry?
BOUNCE ACTIVATION ZONE
Challenge yourself in the Bounce activation zone, located on the grassed area outside the main entrance. With plenty of activities on hand, the kids are sure to be entertained right up until the opening bounce.
RAA GIVEAWAYS
The Adelaide Football Club's official Member partner, RAA, will be giving away mini footballs, cooler bags, sunglasses, sunscreen, clappers and Keep Cup drink cups. Collect your free goodies from the RAA marquee and patrol van located on the grassed area outside the main gates. You can even test your footy skills while you're there on the handball target.
Hit107
Visit the Hit107 marquee outside of the main gates to Norwood Oval this Sunday, where Hit107 tunes will be playing over the speakers to add to the lively atmosphere of the day. Look out for the Hit107 vehicle where there will also be glitter facepaint and giveaways including delicious icy poles.
CHOBANI GIVEAWAYS
Drop past the Chobani van outside of the Norwood Oval main gates for your chance to sample their tasty yogurt.
CROWS SOCIAL
Use #weflyasone on Twitter and Instagram to show your colours on Sunday and follow us on Facebook @CrowsAFLW, Twitter @CrowsAFLW and Instagram @CrowsAFLW to make sure you don't miss a minute of the action.
CLAUDE THE CROW
Claude will be roaming the Oval Sunday – if you see him around the ground, make sure you stop and have a photo with him, using #ClaudeTheCrow to share them with us.

POST-MATCH FOOTY GIVEAWAY
Will you be lucky enough to score yourself a free footy from a Crows player at the end of the game?
MCDONALDS KICK AND CATCH
Norwood Oval will be available for fans to have a kick and catch on the Oval after the game.
PLAYER SIGNING SESSION
Catch up with all the players at the post-match signing session that will take place at the conclusion of the game above the player's race.

Visit the CROWmania Van just outside the main entrance to Norwood Oval on Sunday and receive 20% OFF our 2019 AFLW Home Guernsey!
We also want to see the most fanatic Crows supporters this week! Take a picture wearing your Crows colours, post it to Instagram, Facebook or Twitter and tag #Crowscolours to show us how you support the team.

For any membership enquires visit the Membership marquees located on the grasses area outside the main entrance.

Footy Records are available for sale as you approach Norwood Oval on Saturday.

Please note that speed restrictions will apply on The Parade on Sunday, while Woods Street will be closed to vehicular traffic to enhance patron safety.
GROUND ACCESS:
Plan to arrive early for ease of access to the ground. Bag checks will be conducted – with no alcohol, glass or cans allowed to be taken into the Oval.
Due to construction activity, some public facilities at Coopers Stadium have changed. Please consult a map on your arrival for further details.
SEATING:
The Southern Stand is available for general public seating on a first in first served basis. The Western Stand will be reserved seating for the two teams. Folding seats will not be permitted due to expected attendance.
A full range of food and drinks will be available in the stadium, with seafood and slushies available from food trucks on The Parade.