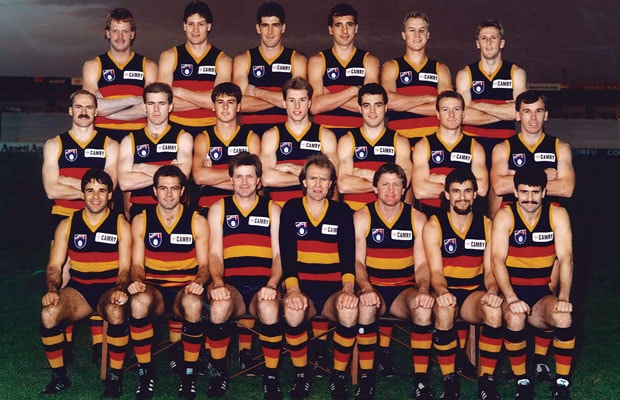 Adelaide's first team. Back row (from left), Maynard, Warhurst, McIntyre, Klug, Smart, Thompson. Middle: Lindsay, A. Jarman, Tregenza, Jameson, Lindner, Lee, D. Hart. Front: E. Hocking, McGuinness, Michael Taylor (assistant coach), Graham Cornes (coach), McDermott (captain), Fielke, Marshall. Missing: Smith, Negri
These are the men who will forever be known as the first Crows.
It was March 22, 1991, when South Australian football took a giant leap into a national competition on the back of the new Adelaide Football Club, hastily created and built over five hectic months.
The Crows, boasting only three players with VFL or AFL experience, were pitted against competition heavyweights Hawthorn, winners of four premierships from six grand finals in the previous seven seasons.
"Get some Hawk on your fork," suggested the banner, raised to welcome the 20 Crows onto Football Park. In reality, few expected to eat like a king that night.
The landslide 86 point win, however, stunned the football world. Riding on a wave of emotion, Adelaide kicked the first five goals before Hawthorn scored and held a 26 point lead at the first break. By half-time was 51 points ahead of the team that six months later would raise the premiership cup.
The media hype had been growing for several months and this amazing win added to the momentum.
The front page headline of the next day's Advertiser screamed "Sweet Victory!".
Leo Schlink wrote: "Adelaide's magic Crows tasted sweet victory last night by humbling the mighty Hawthorn. In the bullpit that was Football Park, the Crows marked their entry into the highest competition in the land with a breathtaking performance that held spellbound an ecstatic 44,902 crowd."
The list of Crows 'firsts' starts with Romano Negri winning the first tap, John Klug the first handball and Simon Tregenza the first (and second) kicks. Then 1982 Magarey Medallist Tony McGuinness, back in South Australia after five seasons with Footscray, booted the first of Adelaide's 24 goals on opening night.
There were some great stories from among this fortunate group of first Crows.
Captain Chris McDermott had not followed close mates Stephen Kernahan and McGuinness into the VFL but, after 265 games with Glenelg, finally played at the highest level. Unfortunately, his memories are hazy because he was knocked out in a collision with Dermott Brereton and Paul Dear early in the last quarter.
There were other experienced SANFL campaigners including Bruce Lindsay, Darel Hart and Tom Warhurst, who also thought their opportunity to advance to the highest level had come and gone.
Scott Lee had played some reserve games with Hawthorn early in the 1980s before getting his second chance at the highest level after several years at Central District. At the age of 24, Norwood's reliable farmer Rodney Maynard kicked three goals from half back to have some critics asking, where has he been hiding?
Before the first bounce, Andrew Jarman - socks pulled up over his knees - lined up next to younger brother and new Hawk Darren in the centre square. Nigel Smart made his debut at full back against Jason Dunstall, one of the era's greatest full forwards.
John Klug, the casual moving but highly effective centre half forward, walked over to Football Park to play after spending the day at work for Westpac Bank in West Lakes Mall.
And the smallest Crow, Eddie Hocking, jumped over Hawthorn's Gary Ayres and Chris Langford to take a mark that sent the 45,000 fans into raptures.
But arguably the greatest story was that of David Marshall. Many interstate observers wanted to know more about the "young" wingman who had 22 kicks, seven handballs and booted two goals in a performance widely rated as the best of the lot.
Marshall, in fact, was the oldest of the Crows to make his AFL debut that night (at 30 years and 265 days). He had already played 322 SANFL games for Glenelg, where he played in two premierships (1985-86) and won a best-and-fairest in 1990, but had never attracted any strong interest from VFL clubs.
The first team:
F: Bruce Lindner, Peter McIntyre, Darel Hart
HF: Darren Smith, John Klug, Grantley Fielke
C: Simon Tregenza, Andrew Jarman, David Marshall
HB: Bruce Lindsay, Tom Warhurst, Robbie Thompson
B: Scott Lee, Nigel Smart, Rodney Maynard
1R: Romano Negri, Chris McDermott ,Tony McGuinness
Inter: Rod Jameson, Eddie Hocking
SCOREBOARD
Adelaide 6.2 11.6 17.10 24.11 (155)
Hawthorn 2.0 3.3 6.8 9.15 (69)
Crows goals: Lindner, Klug, McIntyre 4, McGuinness 3, Maynard 3, Smith 2, Marshall, Hart, Jarman 1.
Crows best: Jarman, Smart, Marshall, Klug, Tregenza, Maynard, Lee.
Crowd: 44,902
The first 20 Crows
Bruce Lindner
Nine kicks, two marks, six handballs. Score: 4.2
"Being involved in the Crows team for the first time and dominating Hawthorn was a double highlight," Linder said. "Coming from Geelong, Hawthorn had been our nemesis … they had beaten us in two night grand finals and the 1989 day grand final and kicked a goal after the siren to stop us from making the finals in 1987."
Peter McIntyre
Six kicks, five marks, seven handballs. Score: 4.0
The South Adelaide forward ruined his chance to kick Adelaide's first goal by booting into the man on the mark. "I couldn't feel my feet on the ground up to then so that snapped me out of it. Walking down the tunnel towards the ground was surreal … it was dark and hazy and the ground was just packed."
Darel Hart
Seven kicks, four marks, 10 handballs. Score: 1.1
"The exciting part was doing something that you didn't think you were ever going to do."
Darren Smith
13 kicks, 10 marks, three handballs. Score: 2.1
"It was a real thrill to run out onto the ground. The crowd went berserk and they were 100 per cent behind us. It was great fitting into a team that had been thrown together, playing with old foes."
John Klug
11 kicks, nine marks, 10 handballs. Score: 4.1
After a day at work at the Westpac Bank in West Lakes Mall, Klug grabbed his bag, walked across to Football Park and played one of the best games of his career. "It's just a highlight … I was a scrubber from Woodville getting a chance in the AFL. We had watched Hawthorn on TV the previous week thrashing North Melbourne in the night grand final and they had all these players … and we beat them."
Grantley Fielke
19 kicks, three marks, nine handballs. Score: 0.1
"It was the realism of playing the first game. The crowd noise was incredible. Usually when you play at Football Park the crowd was 50/50 with its support but that night the whole 45,000 seemed to be on us."
Simon Tregenza
21 kicks, three marks, 10 handballs.
The youngest Crow in the first game said no sdingle moment stood out. "The whole thing was a bit of a buzz. The whole Crows thing from the start was huge and everything led to that game. Hawthorn had been the premiers the year before and we were playing against those players. It was just awesome."
Andrew Jarman
15 kicks, four marks, 14 handballs.
Score: 1 .0
"No one gave us a chance of defeating Hawthorn but the belief when we were walking down the tunnel was evident."
David Marshall
22 kicks, seven marks, seven handballs. Score: 2.0
Widely rated best afield, he was aged 31 on debut. "Most of us had played a fair bit of footy here but it was a journey into the unknown. It was a fantastic opportunity for me. These days you would never get recruited by an AFL club at the age of 31."
Bruce Lindsay
10 kicks, four marks, four handballs.
"I had to run half a lap to get my feet to touch the ground. We were unsure how the people would react so in some ways it was a relief."
Tom Warhurst
Four kicks, three marks, four handballs.
The Norwood veteran stood Hawthorn champion Dermott Brereton: "I couldn't believe how much he talked. I couldn't work out why he would want to chat to me. He was very vocal. He gave me one early on and as he ran off he said something like, "don't worry about it, it's all in the game" as if I shouldn't bother trying to square up!"
Robbie Thompson
16 kicks, three marks, four handballs.
Thompson on Brereton's clash with captain Chris McDermott: "I was nearby and I was telling Dermie to look at the scoreboard. I had played a lot of footy with Chris at Glenelg and had never seen him knocked out."
Scott Lee
15 kicks, nine marks, 14 handballs.
"Just getting to the ground was difficult. Coming along Grand Junction Road the traffic was banked up as far as South Road. And as far as the game goes, having been at Hawthorn I was looking forward to playing in that regard … it was a big buzz to win by so much."
Nigel Smart
Six kicks, six marks, nine handballs.
Made his AFL debut at full back. "I can't really remember much about the actual game. I was more concerned about keeping Jason Dunstall in check."
Rodney Maynard
12 kicks, eight marks, eight handballs. Score: 3.0
"Whatever we did was like gold," Maynard said. "You felt that every time you ran forward you would get the ball. The feeling when we ran on the ground ... the noise of the crowd was absolutely phenomenal."
Romano Negri
One kick, five marks, nine handballs, 10 hit-outs.
"The thing about that game was that everything we did seemed to click. The guys didn't seem to be too nervous."
Chris McDermott
11 kicks, three marks, 10 handballs. Score: 0.1
"To win wasn't a surprise. To win by so much obviously was."
Tony McGuinness
22 kicks, three marks, two handballs. Score: 3.0
"We were playing the almighty, powerful, established champions of football and no-one really knew what to expect. There was a real innocence about most of our players and they didn't feel any real pressure and there were no expectations because most hadn't been there before."
Rod Jameson
Two kicks.
"It was just fantastic for me because I had been a Hawthorn supporter and I had come from Victoria (at the age of 11)".
Eddie Hocking
Three kicks, two marks, five handballs. Score: 0.1
"I remember the excitement and the atmosphere of being the first Adelaide side to play in the AFL. It was one sporting moment I will never forget."