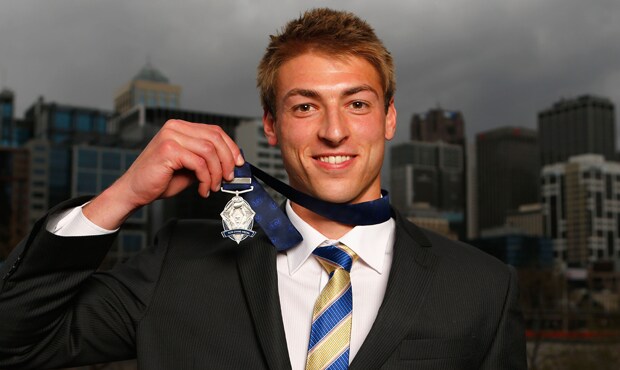 Daniel Talia won the AFL's Rising Star Award in 2012
2018
Round Two - Tom Doedee (runner-up)
2017
Round 10 - Wayne Milera Junior
2015
Round 13 - Charlie Cameron
Round 17 - Jake Lever
2014
Round Five: Matt Crouch
2013
Round Nine - Sam Kerridge
Round 14 - Brad Crouch (runner-up)
Round 20 - Rory Laird
Round 23 - Luke Brown
2012
Round 12 - Daniel Talia (winner)
Round 21 - Sam Shaw
2010
Round 16 - Phil Davis
2009
Round Three - Patrick Dangerfield
Round Nine - Andy Otten (runner-up)
Round 10 - Taylor Walker
2008
Round Eight - Kurt Tippett
2004
Round 16 - Brent Reilly
2000
Round 12 - Ian Perrie
1999
Round Six - David Gallagher
Round 10 - Brett Burton (runner-up)
1998
Round 19 - Andrew Eccles
1997
Round 12 - Kane Johnson
Round 15 - Peter Vardy
1995
Round Three - Martin McKinnon
Round 20 - Andrew McLeod
1994
Round 17 - Matthew Kluzek
Round 23 - Sean Wellman
1993
Round 16 - Mark Ricciuto

ELIGIBILITY
To be eligible for the AFL Rising Star Award, nominated players must be under the age of 21 at January 1 of a particular year and have played no more than 10 AFL games to the start of that season.
They must not have been suspended by the AFL or State League tribunals during the season (as with the Brownlow Medal, players found guilty of certain offences and fined or reprimanded by the Tribunal remain eligible to win the award).
In 2007, the AFL Rising Star Award was named in memory of former AFL Commission Chairman Ron Evans and the winner receives the Ron Evans Medal.
The first Rising Star honour was awarded in 1993 to Nathan Buckley of the Brisbane Lions.