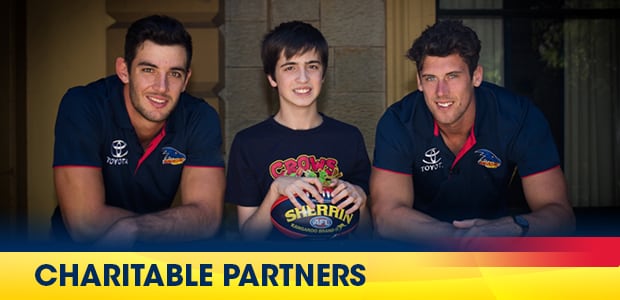 Little Heroes Foundation
This season the Little Heroes Foundation will receive a $50,000 donation to support 15 children with cancer through a new Robotics Exercise Program, based at the Women's and Children's Hospital.
The Centre for Robotics and Innovation has been fully funded, to the tune of $1.8M by the Little Heroes Foundation. This state of the art facility has been established to help children undergoing cancer treatment maintain fitness and conditioning by using upper and lower limb robotic equipment.
The robotic equipment is designed to engage children in exercise in a fun and entertaining way. Each program for arms, legs and vision operates in conjunction with simulated computer games, to assess, monitor and help children with movement disorders or poor conditioning to improve the use of their arms, hands and legs. In the case of brain tumours, the equipment can help retrain the brain and its sensory pathways to learn how to walk again.
"Currently physiotherapy is very limited for oncology patients, so we are pleased to help provide these children with the opportunity to try and stay fitter and stronger throughout their treatment journey," Foundation Manager, Louise McDonald said.
Results secured from our 15 patient study will be recorded and case studies built to show the value physical therapy plays in children's recovery from oncology treatment. We hope to provide a positive shift in cancer treatment for children, encouraging exercise to become built into the treatment program.
Big Brother Big Sister
We are pleased to partner with Big Brothers Big Sisters Australia in 2018 to help mentor young people in need of support.
Big Brothers Big Sisters believes that every young person deserves the opportunity to create a brighter future for themselves and contribute to more empowered, fulfilled and connected communities. They work to achieve this by providing young people with enduring, professionally supported one-to-one mentoring relationships throughout the community, in-school and online with positive adult role models.
By providing $35,000, these funds will go towards mentoring an additional 20 young people (7 - 17 years), particularly those considered to be socially and emotionally isolated in South Australia.
Mentoring involves approx. 1-2 hours per week over a 12-month period. Anyone interested in learning more about how to apply to become a volunteer mentor can contact Big Brothers Big Sisters Australia online: http://www.bigbrothersbigsisters.org.au/get-involved-2
Kick Start for Kids
We are pleased to partner with Kick Start for Kids for the second season in a row, after working together in 2017 we are invested in delivering as many breakfasts as possible to children in need throughout our state.
Our playing group are engaged in the program and our staff manage the breakfast program for children going to school hungry at Westport Primary School.
We are also assisting with Kick Start Camps, which host the state's most 'at risk' youth throughout the school holiday period. Whilst most kids count down to enjoying the holidays, some of our camp guests dread being left to their own devices, with no regular meals or activities arranged. It is an opportunity to provide the children with some food, fun, new clothes, mentoring and a safe haven.