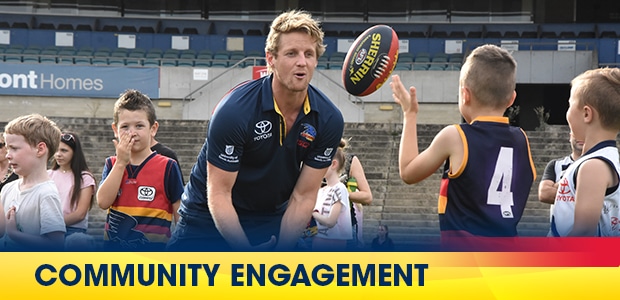 The Adelaide Football Club recognises that as part of being an elite sporting organisation it is our duty to give back to the community. Our fabulous community team delivers a range of events throughout the year for members, fans and clubs to be a part of, some of these events we deliver are listed below.
AFLW SCHOOL HOLIDAY CLINIC – (JANUARY)
Our annual AFLW School Holiday Clinic, gives young boys and girls an opportunity to meet AFLW players, learn new skills and also become an AFLW Junior Member. In 2019 we had over 150 kids join in the fun.
AFLW PRE-HOME GAME COACHING CLINICS – (FEBRUARY – MARCH)
Our community team is delivering free coaching clinics prior to each AFLW home game. Pre-registrations are a must, with limited spots available. Don't miss the action and sign up as a FREE We Fly As One Member so you can receive further communications in the future, click HERE.
COMMUNITY CAMP – (FEBRUARY)
Community Camp has been a vital part of reaching out to regional areas. Over the past 20 years our AFL players and community staff have visited many areas across South Australia. This year, players visited the Yorke Peninsula on February 18th and 19th.
JUNIOR MEMBERS COACHING CLINIC – (APRIL)
The annual Junior Members Clinic is an opportunity to meet and greet AFL players and learn lots of new skills. To become a junior member and receive this benefit, you can visit this link to sign up HERE (https://weflyasone.afc.com.au/).
FAMILY FOOTY FUN NIGHT – (JULY)
Our Family Footy Fun Night is sponsored by Balfours and directed at our We Fly As One Junior Members to attend. Children receive an email invitation for this night to meet and greet AFL Players, get autographs, access to free pies and other goodies on the night. To ensure you get your invite, don't forget to register as a FREE digital WFAO member HERE (https://weflyasone.afc.com.au/).
For further information on our community events, please contact Brooke Jeffs:
Email: bjeffs@afc.com.au
Phone: (08) 8440 6681