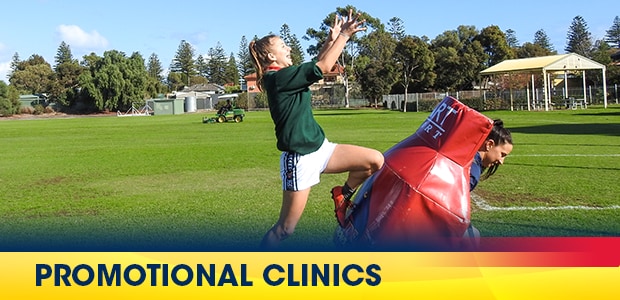 Adelaide Football Club Community team deliver all girls football clinics to both primary and secondary schools. These clinics are dedicated to engage, promote and build confidence in young girls to try AFL, potentially meet AFLW players, receive an AFLW poster and hear about other ways they can sign up to football. Clinics can cater for up to 60 girls and run for 30 minutes each.
For Further Information or to register your interest in the AFC's Female Programs contact Madison Hurley:
Email: mhurley@afc.com.au
Phone: (08) 8440 6620
Testimonials:
TENISON WOODS: "All the girls attempted every drill presented to them even if they were a little apprehensive at first. One of our five-year olds was hesitant to jump on the tackle bag. Anne was fabulous with her and held her hand as she ran in and jumped on the bag. That little girl's expression was priceless when she stood up and ran back to her place, so proud of what she had achieved."
HAWTHORNDENE PRIMARY: "Just wanted to say thank you to Anne and Chelsea for coming out today, from all accounts the girls had an absolute ball! The teachers were also extremely impressed with how well you ran the clinics. We are really looking forward to getting out to the carnival in a few weeks and if you ever have opportunities like these in the future please let us know."
MUNNO PARA PRIMARY SCHOOL "The footy session ran at Munno Para Primary School yesterday was wonderful for our girls to experience. Your enthusiasm, sense of fun and professionalism was greatly appreciated, and the girls thoroughly enjoyed themselves whilst learning new skills. It can be difficult to motivate girls to participate in physical activities, but your enthusiasm, encouragement and positive feedback really motivated them to participate"