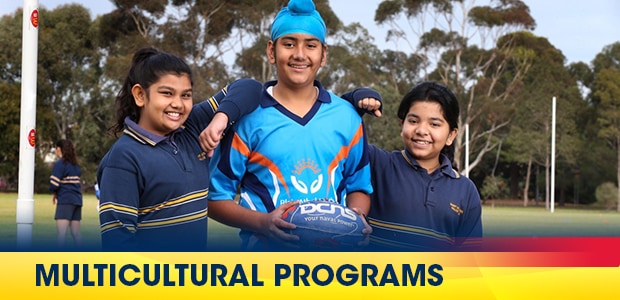 Australian Rules Football is such a core part of the Australian culture although, for a large number of the growing multicultural communities in SA, footy is a relative unknown. For many new refugees, immigrants and other new arrivals, making the transition in to the Australian lifestyle can be a very hard process and fitting in is often one of the hardest parts of their move.
AFL is a great platform to promote positive social inclusion and the aim of the Inclusive Crows Programs is to help make that transition easier for the wide range of cultural groups that call South Australian home. The Adelaide Football Club is reaching out to the multicultural communities of SA to help educate and introduce them to Aussie Rules Football.
Engagement and Promotion
Community Engagement:
Are you looking to bring footy to your cultural or community group? Are you interested in learning more about the game or the skills you need to play Aussie Rules? The Crows Community Team can provide groups with plenty of information about the game and also run some skills and coaching sessions to help you learn and practice in a safe and comfortable environment. Sessions can be tailored to suit your group's needs.
Multicultural Festivals:
Schools aren't the only place for multicultural communities to engage with the Crows. Festivals, expos, cultural gatherings, celebrations and other events are always on the AFC's radar to attend. We can offer your event many different types of activities and engagement opportunities. If you want the Crows at your next event or need some more information, please contact Cecile Saidi, Multicultural Liaison Officer, csaidi@afc.com.au.
Participation:
Multicultural Schools Program:
Coordinated by our Community Development Team, the primary objective of the Multicultural Schools Program is to provide year 6/7 students with a positive introduction to AFL through education and participation. The sessions focus on the rules and skills needed to play AFL and are designed to give the students a better understanding of the game. The program allows the participants to experience the basics of Aussie Rules Football in a safe, controlled and fun environment with their friends and class mates, with encouragement and inclusiveness being the main themes of the sessions. Engaging the students through participation strongly promotes social interaction as well as the known health benefits from regular exercise.
How the program looks:
Session 1: Introduction
About the game.
Learn the rules.
How to score.
What are the positions?
Session 2:
How to kick.
How to mark.
Session 3:
How to handball.
Safe tackling.
Session 4:
Game time! Put it all in to practice with some mini scratch matches.
Multicultural 9-A-Side Football Carnivals are held throughout each of the Crows Next Generation Academy SANFL Club Zones (North Adelaide FC, Central District FC, Glenelg FC and Sturt FC). Schools that participate in program are strongly encouraged to participate in the carnivals against other multicultural teams from other schools.
To book your school in for the Multicultural Schools Program or for more information on the Crows NGA Carnivals, please contact Nigel Osborn, Multicultural Programs Officer, nosborn@afc.com.au.
Where can I play footy?
If you are interested in playing AFL footy at any level, your best point of contact is the SANFL website. From there you will be able to find your closest club or make an enquiry to work out which club is most suitable for you and get started!
Talent Programs:
Click here to learn more about the AFC Next Generation Academy.