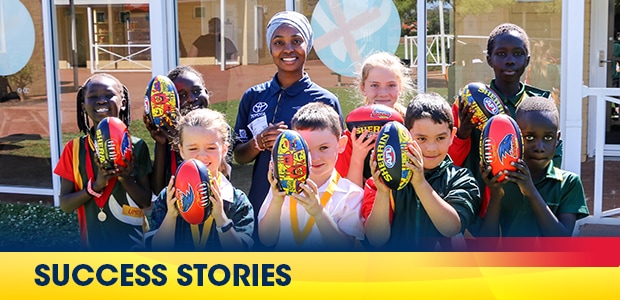 2019 marked the very first Multicultural Respect Cup for the Adelaide Football Club. With the support from the City of Port Adelaide, Charles Sturt, Multicultural Communities Council of SA and the Rapid Relief team, this inaugural event was a great success. 2019 saw over 100 participants from ages 5 – 50 partake in a variety of football activities, introducing our diverse community to the Australian Rules football.
"Personally, I believe the Respect Cup should be an annual tournament, as it brings together the community in a way never seen before." "The Respect Cup was simply a success, can't wait for the next tournament." - Diing Akur. NGA Player
"Brooke and Andon, you and your team were perfect, you facilitated the activities with grace, your interaction with the women, children and men, was great to experience … Thank you " - Roodney Welch" Port Adelaide Council
"One thing that I thoroughly enjoyed about the respect cup was the fact that it attracted and brought forth such a diverse multicultural presence, giving the opportunity for both those who have never played the sport to learn and embrace something new that holds such a social and communitarian importance."
- Elijah Leek" NGA Player

2018 Thebarton Senior College Program
Adelaide's multicultural community program is successfully introducing people from diverse backgrounds to the sport of Australian Rules, encouraging new people to take up the sport and make new friends in the process. In 2018, we ran a six-week after school program at the Thebarton Senior College, initially for a group of 12 girls, and later for both girls and boys on separate days.
The initial group of girls, led by AFLW co-captain Chelsea Randall and the Club's Multicultural Liaison Officer, had so much fun, that six of the girls joined local clubs.
To read the full story, see https://www.afc.com.au/news/2018-06-07/multicultural-program-success
St. Columba College
The St. Columba College is one of the biggest colleges in South Australia, with a very high number of students from a multicultural background. As part of our multicultural program, we are collaborating with the college to share our love for footy with the students; footy sessions to be delivered by two of our very own New Generation Academy players, one of whom is a senior student at the college, and the other a former student.
The program is to kick off in March, at the St. Columba College.