The analytics movement has become so prevalent in major sports in the United States that clubs that don't embrace it are publicly questioned.
Especially when those teams' match results and recruiting are sub-par.
The NBA's Los Angeles Lakers are one high-profile franchise that felt compelled to defend its analytics involvement against criticism.
What started in an athletic sense in Major League Baseball (MLB) – made famous by the book Moneyball – has flowed into rival sports and competitions, such as the English Premier League and more recently the AFL.
It's unclear how many AFL clubs are all-in on analytics, given the secrecy around it and the fact some hire full-time or part-time staff and others turn to consultants, some of whom are overseas-based.
However, Steve Gloury, a data scientist and talent scout, was the first person to earn a full-time analytics position in the AFL at Fremantle three years ago.
Darren O'Shaughnessy consulted for Hawthorn, including during its flag three-peat from 2013 to 2015, until accepting a full-time job at St Kilda at the end of last season.
Others working in analytics in the AFL are Glenn Luff (North Melbourne), Rob Younger (Port Adelaide), Chris Keane (Sydney) and Binuk Kodituwakku (Adelaide), while Sam Robertson has a relationship with the Western Bulldogs.
O'Shaughnessy and Kodituwakku separately discussed their specific roles on AFL.com.au podcast Trends.
Keane and Kodituwakku specialise in player analytics and help remove bias in their clubs' list management decisions, from drafting, to trading and even a footballer's worth in contract negotiations.
Scenario analysis, with the purpose of being prepared for all possibilities, is something Kodituwakku does plenty of with the Crows, including for last year's inaugural live trading at the draft.
He works alongside Adelaide's list manager Justin Reid and national recruiting manager Hamish Ogilvie, who spearhead one of the pre-eminent recruiting teams in the AFL.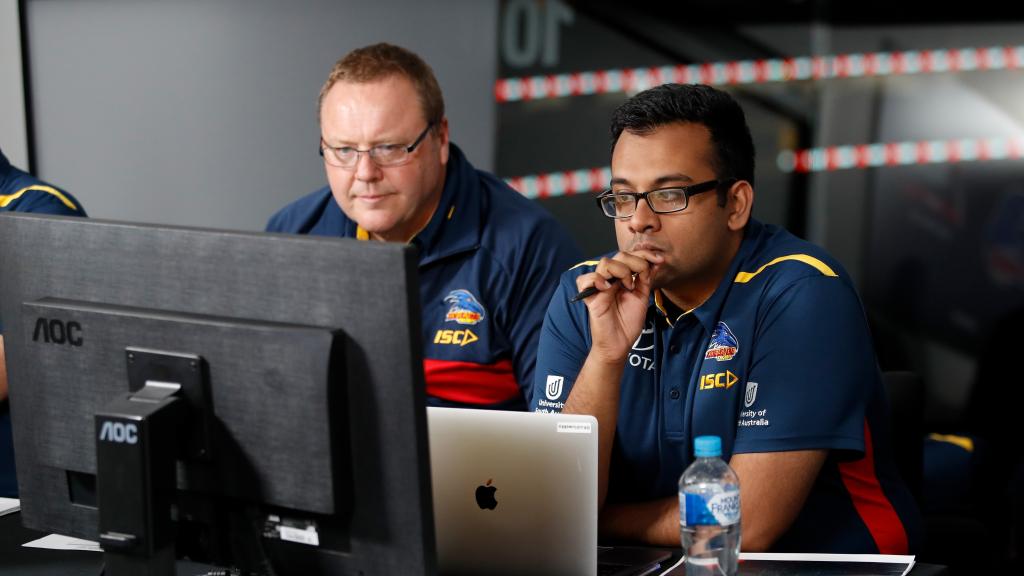 Data expert Binuk Kodituwakku keeping a close eye on things during draft. Picture: AFL Photos
"(My role is about) bringing an objectivity to their subjective analysis," Kodituwakku told AFL.com.au.
"I'm there to complement their subjective analysis but also to challenge them on certain biases that occur, and also to challenge them by bringing up players they might not see or like on first look.
"(I'll) say, 'Look, our models are saying these guys are actually performing at a pretty high level, so you need to consider them'."
Kodituwakku is also the Crows' Pro Scout – a position every AFL club has, designed to track players at other teams – as well as being responsible for tracking the club's potential VFL recruits.
He believes this part of his skillset makes him more effective in presenting his analytics data.
"One thing with analytics is you need to understand that it's just one piece of the puzzle," Kodituwakku said.
While there is heaps of growth to go – whether that's machine learning, AI (artificial intelligence), whatever it could be in the future – it's always important to realise that in football there's always going to be the need for the subjective element.
That dynamic is something Ben Reiter, author of Astroball: The new way to win it all, a book dedicated to MLB club Houston Astros' analytics-driven rise, wrote extensively about.
"Success is not a matter of man or machine but of man plus machine."
Manchester City rode analytics to one of the most dominant EPL seasons ever, while Liverpool – another keen exponent, with five PhD-educated staff members – just won the Champions League final.
Where analytics go in the AFL remains to be seen, but the world-wide evidence suggests it will be impossible, and foolish, to ignore.