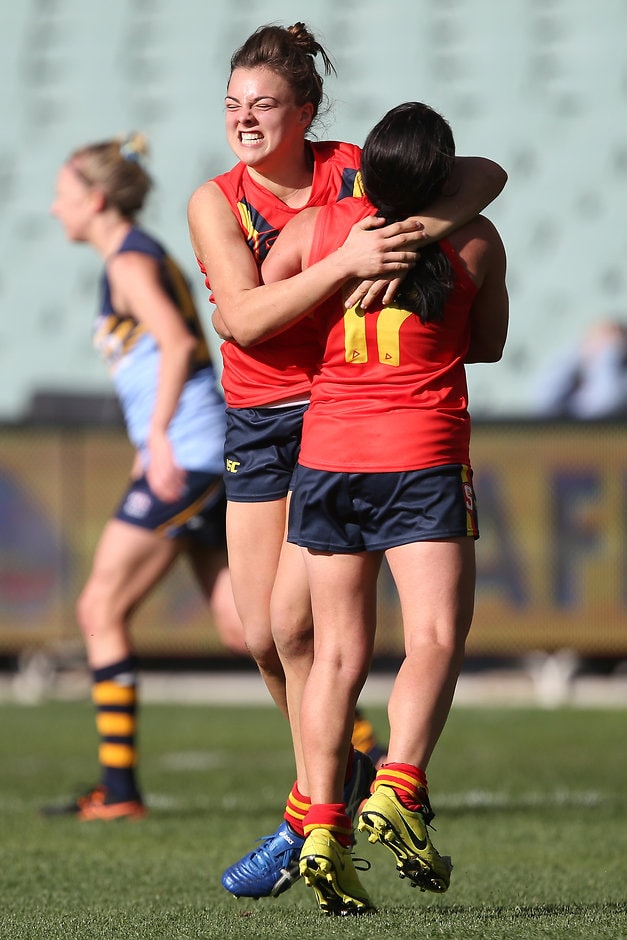 Three South Australian-based women will be among the country's best footballers showcased on national TV later this season.
The Western Bulldogs will host Melbourne under lights at Whitten Oval in the 10th and final AFL women's series exhibition game of the year, on Saturday, September 3, from 7.20pm.
The best women from every state will represent the two teams in prime time as part of the AFL's Celebration of Football week in between round 23 and the first week of the final series.
Scouts for the eight women's clubs in next season's inaugural national women's league will be eager to check out Australia's elite talent prior to state-based drafts later this year ahead of the first year of the AFL's women's league competition.
SA captain Courtney Cramey, Ebony Marinoff and former WA player Kellie Gibson, who all represent Morphetville Park, are in the Melbourne squad for this game.
The Northern Territory's Angela Foley and Tayla Thorns are also in the squad.
AFL game and market development general manager Simon Lethlean said the All-Star format would be a feature of the Celebration of Football concept.
"This stand-alone women's match will showcase the best players on the eve of the inaugural national women's competition," Lethlean said.
The match will be broadcast live nationally on the Seven Network and Telstra via the AFL Live App and PLUS7 applications including Telstra TV, Apple TV, mobile and web.
A youth girls' match will be played as a curtain raiser, while fans can enjoy a kick on the ground after the main game.
SQUADS
WESTERN BULLDOGS
Lauren Arnell (Darebin Falcons, VIC), Kaitlyn Ashmore (Melbourne University, VIC), Nicola Barr (Sydney University, NSW), Emily Bates (Yeronga South, QLD), Libby Birch (Darebin Falcons, VIC), Katie Brennan (Darebin Falcons, VIC), Tayla Bresland (Peel Thunderbirds, WA), Nicole Callinan (Darebin Falcons, VIC), Steph Chiocci (Diamond Creek, VIC), Maddy Collier (UNSW/ES, NSW), Richelle Cranston (Geelong VIC), Brianna Davey (St Kilda Sharks, VIC), Kimberley Ebb, (Seaford Tigers, VIC), Amanda Farrugia (Macquarie University, NSW), Renee Forth (Coastal Titans, WA), Elyse Gamble (Burnie Dockers, TAS), Moana Hope (St Kilda Sharks, VIC), Emma Humphries (Burnie Dockers, TAS), Meg Hutchins (Eastern Devils, VIC), Bianca Jakkobson (Cranbourne, VIC), Leah Kaslar (Coolangatta, QLD), Emma Kearney (Melbourne University, VIC), Beth Kearney (Eastern Devils, VIC), Maddy Keryk (Melbourne University, VIC), Emma King (Coastal Titans, WA), Norieuk Kinross (Geelong Magpies, VIC), Melissa Kuys (Knox, VIC), Jaimee Lambert (Eastern Devils, VIC), Rebecca Privitelli (Eastern Devils, VIC), Pepa Randall (St Kilda Sharks, VIC), Tahlia Randall (Maroochydore, QLD), Hannah Scott (Eastern Devils, VIC), Nicola Stevens (Melbourne University, VIC), Jessica Trend (Eastern Devils, VIC), Darcy Vescio (Darebin Falcons, VIC), Jess Wuetschner (East Fremantle, WA), Emma Zielke (Queensland University, QLD)
MELBOURNE
Ebony Antonio (Swan Districts, WA), Ellie Blackburn (Melbourne University, VIC), Kiara Bowers (Coastal Titans, WA), Madeline Boyd (Geelong Magpies, VIC), Jess Cameron (Diamond Creek, VIC), Courtney Cramey (Morphettville, SA), Penny Cula-Reid (St Kilda Sharks, VIC), Jessica Dal Pos (Melbourne University, VIC), Kara Donnellan (Swan Districts, WA), Tiarna Ernst (Diamond Creek, VIC), Alicia Eva (Melbourne University, VIC), Lara Filacamo (Coastal Titans, WA), Angela Foley (Waratahs, NT), Sabrina Frederick-Traub (South Fremantle, WA), Kellie Gibson (Morphettville, SA), Kate Gillespie-Jones (Seaford, VIC), Brianna Green (East Fremantle, WA), Ashleigh Guest (VU Western Spurs, VIC), Tayla Harris (Zillmere, QLD), Melissa Hickey (Darebin Falcons, VIC), Nicole Hildebrand (Melbourne University, VIC), Breanna Koenen (Queensland University, QLD), Brooke Lochland (Montmorency, VIC), Ebony Marinoff (Morphettville, SA), Cecilia McIntosh (Melbourne University, VIC), Hayley Miller (Coastal Titans, WA), Lauren Morecroft (Diamond Creek, VIC), Elise O'Dea (Darebin Falcons, VIC), Karen Paxman (VU Western Spurs, VIC), Daisy Pearce (Darebin Falcons, VIC), Lauren Pearce (Darebin Falcons, VIC), Kira Philips (Peel Thunderbirds, WA), Chelsea Randall (Swan Districts, WA), Emma Swanson (East Fremantle, WA), Tayla Thorn (St Marys, NT), Bree White (VU Western Spurs, VIC), Hayley Wildes (Cranbourne, VIC)
The views in this article are those of the author and not necessarily those of the AFL or its clubs