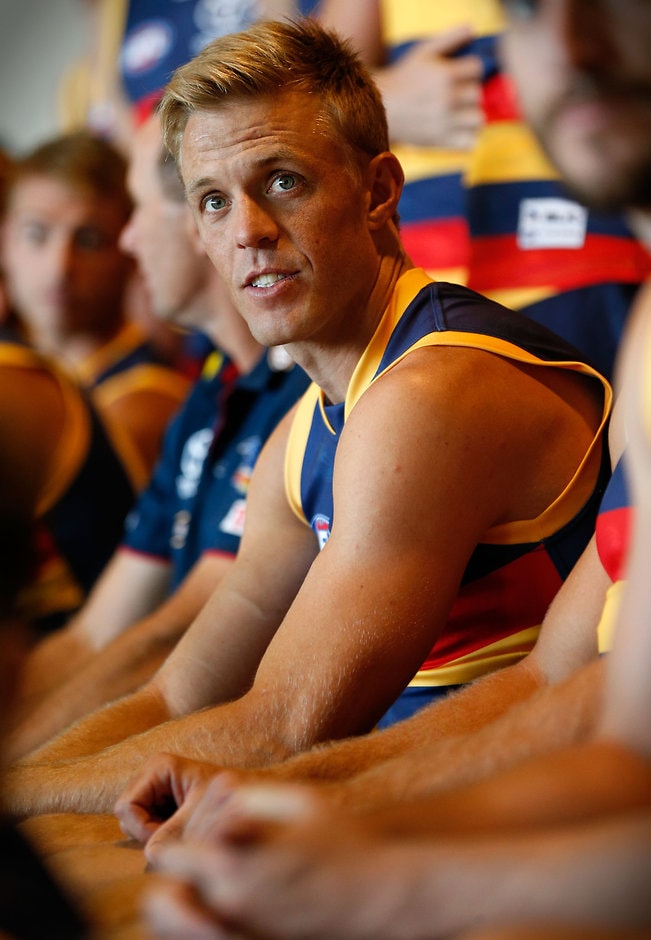 It has been a real privilege to have coached Nathan and it is people like him which help build football clubs,
Senior Coach Don Pyke
Respected Crow Nathan van Berlo has announced his retirement from the AFL.
Van Berlo bows out after 205 games – ranked 13th all-time at the Adelaide Football Club.
The 30-year-old's retirement from AFL football is effective immediately. However, he will continue to play for Adelaide's State League team during the Club's maiden SANFL finals campaign.
"It has been an incredible journey and when I think back to my draft day, I never imagined playing 200-plus games and being part of such a strong club for so long," van Berlo said.
"Team success has been my driving force since day one and I am proud to have been part of playing groups where others share that view.
"Playing and winning finals are standout moments and I look forward to seeing everyone at the Club make the most of the opportunities in front of them now and in the future."
Van Berlo developed a standing as the ultimate club person in a career spanning 12 years.
Recruited from West Perth with pick No.24 in the 2004 National Draft, the lightly-framed teenager made his AFL debut against Port Adelaide in Round Three, 2005.
He played 11 games in his inaugural season, winning Adelaide's Emerging Talent Award. A consummate professional and tireless worker, van Berlo established himself as a mainstay in the Adelaide team the following season.
He used his elite endurance and work rate to become one of the premier taggers in the League, shutting down the game's best players on a weekly basis. The versatile midfielder was also a ball winner in own right, and spent the latter years of his career at half-back.
An admired leader, van Berlo's legacy at the Adelaide Football Club extends far beyond the playing field.
Van Berlo's influence on his teammates was recognised when he was voted into Adelaide's 2008 senior leadership group in only his third season. He was appointed as the sixth captain of the Crows following the retirement of Simon Goodwin at the end of the 2010 season.
Van Berlo enjoyed a career-best year in 2011, winning the Showdown Medal in Round 19 and finishing runner-up in the Crows Club Champion award.
He captained Adelaide in 68 games before handing over to current skipper Taylor Walker last year, as he focused on his recovery from a serious Achilles injury. Even while sidelined in 2014, van Berlo set the standard in preparation, receiving the Dr Brian Sando OAM Trophy for outstanding professionalism.
Van Berlo was honoured with Life Membership of the Adelaide Football Club in 2015.
"I want to extend a sincere thank you to the Adelaide Football Club for the opportunity to fulfill my dream of playing in the AFL," van Berlo said.
"To all of my teammates, coaches and support staff over the years, thank you for so many great memories. I would also like to thank our fans who have always been a pillar of support throughout my career.
"On a personal level I would like to thank my wife, Jess and my family, as well as my manager Colin Young, as without their support my journey would not have been possible."
Head of Football David Noble said van Berlo epitomises what it means to be an Adelaide player.
"Nathan is an outstanding individual both on and off the field, and his selfless attitude and willingness to help others is first class," Noble said.
"Like all great leaders, he has left an imprint on our Club which will shape how others prepare and go about being elite athletes.
"He has also shown great resilience in recent years and on a personal level formed many strong friendships with players, coaches and staff."
Senior Coach Don Pyke was an assistant coach overseeing the midfield when van Berlo first arrived at West Lakes.
"Nathan made an immediate impact at the Crows with a standout effort in his very first running session the day after being drafted," Pyke said.
"From that day he has been a fantastic leader on and off field with his continual drive to improve and attain success.
"He has played some wonderful football and to play over 200 AFL games at a very high standard is a great achievement. He is also a selfless person of great integrity and character and his leadership over the years leaves a wonderful legacy.
"It has been a real privilege to have coached Nathan and it is people like him which help build football clubs.
"I would like to wish Nathan and his wife Jess the very best for the upcoming birth of their first child and the next phase of their life."