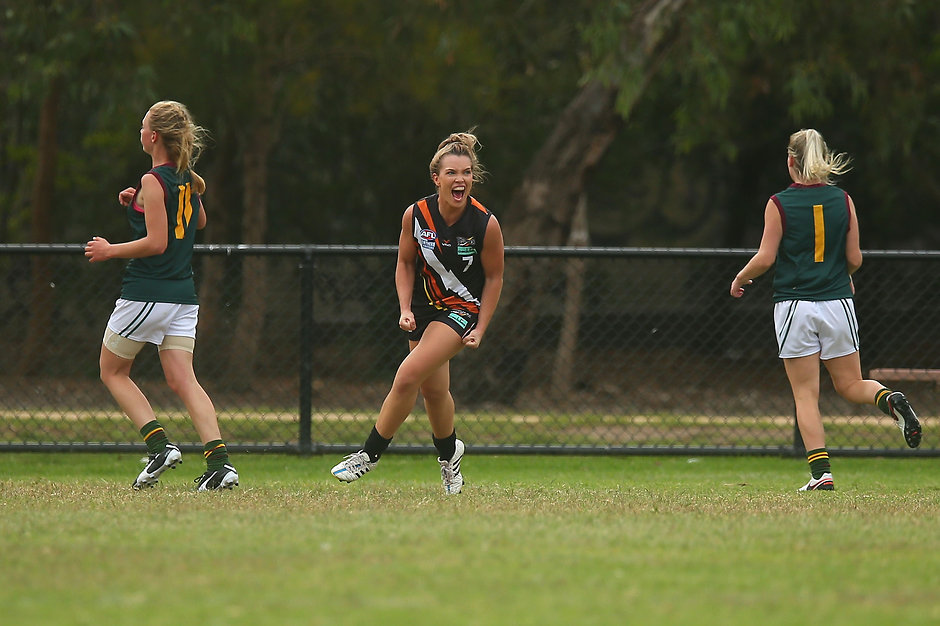 To have the opportunity to pull on an AFL Guernsey, let alone at the club you've supported since you were born, it really is a dream come true
Abbey Holmes
The numbers stack up for Crows AFL Women's draftee Abbey Holmes.
Born in 1991, the year Adelaide played its first AFL game, Holmes has been a fan ever since. So when she was selected by the Crows with pick no. 103 in the inaugural AFL Women's Draft, ambition became reality.
"I can't even believe it," Holmes said.
"To have the opportunity to pull on an AFL guernsey, let alone at the club you've supported since you were born, it really is a dream come true."
Despite being the first female to kick 100 goals in a season back in 2013-14, a feat she achieved in a mere 14 games, Holmes didn't consider herself a certainty to be picked up in the draft.
The forward faced a nervous wait in her adopted home of Darwin.
"I was hoping that (I would be drafted) but you just don't know," Holmes said.
"The draft was during the day, so I watched it at home with my sister's partner, Jason, and he was the only other person home.
"As soon as my name was called out, he literally just jumped on me and gave me the biggest hug and then my phone was going ballistic.
"My dad was the first person to call me. He lives in Adelaide and was watching it live online, so it was pretty special."
Born and raised in the South Australian coastal town of Victor Harbor, sport and family have been central to Holmes' world from a young age.
"My dad was actually President of the Victor Harbor footy club and mum was heavily involved in the netball club," she said.
"As you do down there it's just a big Saturday of netball and footy."
After moving to Adelaide at the age of 10, the now 25-year-old continued playing netball. It wasn't until she moved to Darwin in 2012 and began playing with the Waratah Football Club that her footballing ability blossomed.
Four consecutive premierships later, Holmes is excited for the challenge of the AFL Women's Competition.
"It's the pinnacle level of women's football, it's going to be extremely fast, I know that already," she said.
"They've released the rules, saying that is confirmed to be 16-a-side so that will definitely reduce the amount of stoppages and hopefully increase the amount of scoring.
"Personally, I just can't wait to get started with pre-season and then roll into round one, but I'm really looking forward to the experience and challenges that it's going to present."
It won't be Holmes' first time in a Crows guernsey.
Holmes shared best-afield honours with her idol, Andrew McLeod, in her first 'Slowdown' appearance for charity in 2014.
The trailblazer has also played in two EJ Whitten Legends matches, including the most recent game in September where she was coached by her other all-time favourite Crow, Mark Ricciuto.
A real estate agent by trade, Holmes has also tried her hand at football commentary.
Holmes, who has her own active wear range called 'Esnetica', relocated to Melbourne during the year to be part of Channel 7's VFL coverage.
However, training commitments saw her return to Darwin in June and make the four-and-a-half hour commute to Melbourne every weekend.
Holmes praised AFLNT CEO Michael Solomon, NT-based Crows assistant coach Andrew Hodges and AFLNT High Performance Manager Wally Gallio for helping to prepare the players for the upcoming AFLW Competition.
"The girls up here have put so much time, effort and energy into a really rigorous five-day-a-week training program," she said.
"The response to the women's team has been absolutely phenomenal. Everybody is footy mad up here!
"The support from everyone involved with the NTFL, AFLNT and local businesses has been amazing.
"They're just really getting around the team."
The Crows will be in the unique situation of having training bases in two different states, SA and NT, ahead of the inaugural AFL Women's Competition.
Coach Bec Goddard recently travelled to Darwin for a meet and greet, and the entire playing group will come together for the first time at an induction next month.
"Bec describes it as an 'arranged marriage' and it's 100 per cent correct!" Holmes said.
"All the girls just can't wait to get started. I got a text message from (teammate) Chelsea Randall following the draft. It just said, 'Congratulations, and I can't wait to pull on a guernsey next to you'. It's just those little things that mean the world.
"The culture that we have up here will definitely transcend to South Australia and vice-versa. I actually think it's going to be quite special for the Club.
"Yes, we're the only people in this unique situation in terms of the eight clubs in the AFL Women's League, but I think we can use it to a massive advantage."