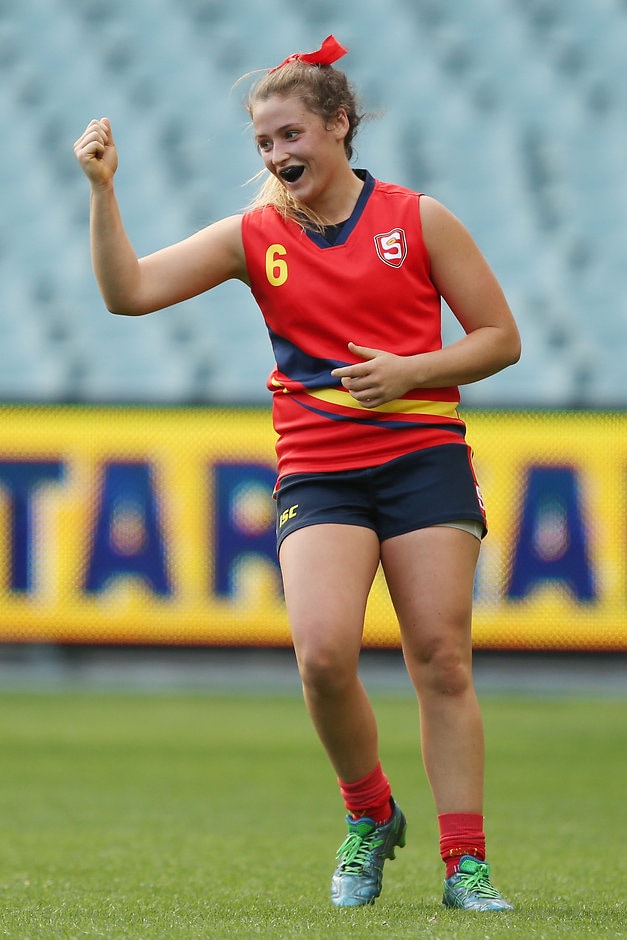 Georgia Bevan is no stranger to a sports field but she'll hit the oval as a professional athlete for the first time in 2017.
The 23-year-old dietician and Crows fan is about to get her own AFC guernsey.
Selected by the Crows with pick 42 in the first AFL Women's Draft, Bevan is one of 14 South Australians in the inaugural squad.
Growing up in an athletic family in Glenelg North (her Mum played softball for Australia in the 1980s), Bevan played every sport she could.
Swimming, surf lifesaving, netball and lacrosse all took their turn, until promising soccer, volleyball and softball careers took over.
Softball lasted the distance – she's played for 15 years and made several State sides.
'Bevo' spent lunch times kicking a ball around with the boys, then small school footy competitions led to bigger things.
In 2010, she was selected for the first ever women's Under 18 State competition, and scored a spot in the All-Australian side.
Footy suddenly became a front-runner, thanks to key skills borrowed from other sports.
"Coming from a soccer background, that agility, change of direction and evasiveness, came in handy," Bevan said.
"In softball, it's the hand-eye coordination, and reading the ball in the air and on the ground."
Bevan is a Morphettville Park Roos player, Vice-Captain and Club President.
"Most people look at you a bit funny when they realise you're only 23, you're playing and you're the President," she said.
Under her leadership, Morphy Park went from strength to strength in 2016 – they scored "about 500 more points than the nearest team", won their third Premiership in a row, and had eight players drafted by the Crows.
Last season, the "vertically challenged" but strong midfielder developed a role on the half back line.
So we know where Bevan can play, but what sort of player is she?
"I think I'm best described as 'explosive'," she said. "Running off the half back line or coming from behind a pack.
"That's how I see myself, that sort of explosiveness and gut running."
Comparing new female recruits to other AFL players might seem unnecessary, but when your coach thinks you play like Rory Laird, and others say you're a Sam Mitchell, you take it.
"We're both pretty small and built," she said of her Laird-like qualities, "but we still get around the ground a fair bit and make the most of the ball when we get it."
The Mitchell similarities are "getting in and under and being a bit annoying".
"I think I just get compared to all the small people, to be honest," she smiled.
As a young Crows fan, she had a soft spot for Matthew Bode (and admitted with a laugh that she still has his picture on her fridge).
Now it's the Rorys, particularly Sloane.
"I just like the way Sloane goes hard no matter what," Bevan said. "It'd be great [for me] to get that perseverance across all four quarters. He's a really great team player."
Bevan is every bit the hard worker, drawing on her knowledge as an accredited, practising dietician to help her train and "eat for performance".
For someone who has always wanted to be a professional athlete, this new experience is "so cool" - from the recovery facilities and physios on hand, right down to the personalised drinks at training.
Crows senior women's coach, Bec Goddard, was Bevan's State midfield coach, and Bevan has played with or against most of her new teammates before.
The Crows have picked "really good team people," she noted. "Really good people first, before they're footballers.
"We've got a few hidden gems in SA that none of the other teams know about… little secrets that will blow people away."
No spoilers, but Bevan hinted Rachael Killian's clean skills and Deni Varnhagen's fast attacking play will impress.
Bevan is unfazed by sceptics and already feels a shift in attitudes, thanks to the success of the women's exhibition series.
To those who might still doubt the standard of the new league, it's as simple as tuning in.
"It will change your mind," she said.
"We go just as hard, we work harder, and it's not as complicated," thanks to the 16-a-side rule, which leaves room for more open, efficient, exciting footy.
Bevan seems most excited about inspiring the next generation of female footballers and she's willing and able to embrace the role model tag.
"It's a new [type of] role model," she said. "One that always worked hard and pushed, regardless of the fact there was nowhere to go," until the AFL fast tracked the women's league launch from 2020 to 2017.
Away from work and sport (she'll juggle club softball, club footy and AFL next year), Bevan enjoys baking brownies, sharing recipes and her passion for nutrition on her blog and Instagram 'Eclipse Fuel', and watching The Bachelor.
Looking back, draft day was "a blur", but there were a few excited tears as a Crows fan suddenly became a player.
"It won't feel real until we walk out in the Crows guernseys and get to play," she added.
Bevan already has hundreds of well wishes, tiring training sessions and new nicknames like 'Camry Crow' to remind her it is real.
Then there's the shopping list.
"I always wear a ribbon in my hair. That's my thing. I might have to invest in a tri-coloured ribbon!"
The views in this article are those of the author and not necessarily those of the AFL or its clubs