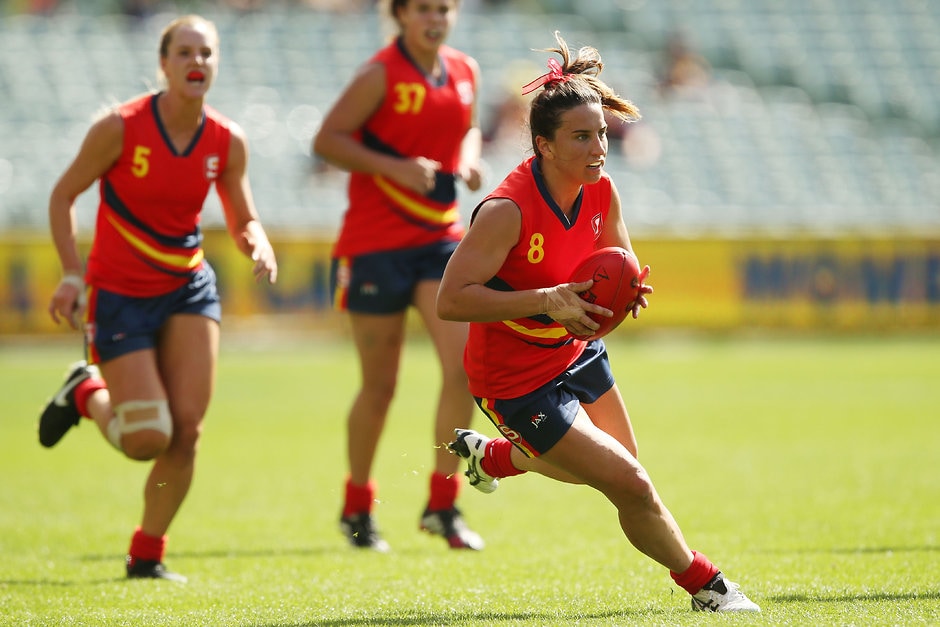 The footy gods were smiling on Ingle Farm four years ago, as Jessica Sedunary sat on the bench watching a friend's game.
When a player was injured, she was suddenly sent on field as a replacement without so much as a word of advice.
She had never kicked a Sherrin before.
"There was no time for them to tell me what I had to do," Sedunary recalled. "They just said, 'Alright, you're on the ball," Sedunary recalled.
"As I was running out, I remember thinking, 'What does 'on the ball' mean?' I've got no idea!"
It didn't take long for her to get the gist, thanks to her natural athleticism and competitive nature.
"I just chased the ball around and kept running because I had good aerobic fitness, and when I came off they said that was exactly what I was supposed to be doing," Sednuary said.
It may have been an unconventional start but luckily for the Crows, it sparked Sedunary's love of the game.
Fast forward to the inaugural AFL Women's Draft on October 12 this year, and the 24-year-old from Minlaton on the Yorke Peninsula was selected with pick No. 119.
"Back in that first game, they nicknamed me 'junkyard dog' because I just kept trying to get the ball. Getting in packs and sprinting," she explained.
It was the making of a strong midfielder (who also likes to play forward) and Sedunary has now spent four seasons between Ingle Farm, Greenacres and the 2016 Morphettville Park premiership side.
She may have been a Port supporter growing up but Sedunary says her family is more than happy to make the switch.
"They're just excited," she said. "If anything it's made them Crows supporters now because they love what they've done for women's sport."
A talented hockey player, Sedunary's school years were spent driving 1000km a week between the city and country for games and training.
Hockey eventually fuelled the family's move to Adelaide when she was in Year 9.
Then Murphy's Law struck.
Within weeks, Sedunary had given up hockey altogether and swapped to cycling, after a SASI program spotted her potential.
They were right – she went on to win State Road Championships and represent Australia at the Australian Youth Olympic Festival in Sydney.
After a year studying PE Teaching at university, the financial juggle between rent, study and cycling took its toll.
She put it all on hold and found herself packing vegetables in the markets at 3am and working as a rounds clerk in a law firm.
Sedunary soon found her passion in personal training and massage but even that didn't come easy – it took a car knocking her off her bike. She used the payout to fund her PT training.
Sedunary now runs her own personal training business, Fitter Stronger Healthier, out of CrossFit TRG at Mawson Lakes.
"One of my biggest passions in life is being able to pick people up and motivate them. I just love it," she said.
"Our motto is: treat exercise as a means to be more, rather than a never-ending struggle to be less."
She's fired up about promoting positive body image and mental health and can't wait to be part of a league full of fit, strong female role models.
The path to professional athlete-status, however, hasn't been smooth.
Growing up, Sedunary often missed out on interstate sports trips due to financial constraints.
"I've put so much time and effort into sport, but due to money and things, have not been able to pursue it to the level that I've wanted to," she said.
The magnitude of this life-changing opportunity in the AFL Women's League is clearly not lost on her.
"To have this, to get selected in a sport that I really love, is like a dream come true," she smiled.
If you thought the moment her name was called was special for Sedunary, you should have seen her dad Mick and mum Sue.
"Seeing the look on my parents' faces goes down as one of the best, if not the best moment of my life," she said. "It wasn't so much for me, but to see how happy my parents were."
On rare days off, Sedunary loves to grab a skateboard (her Dad was an Australian champion), go hiking in the hills or long boarding at the beach.
She seems unfazed by the fame of football but there's one player she hopes she'll cross paths with in the hallway.
"I like Eddie Betts," Sednary said. "I think everyone does! The way he reads the play, I want to be able to do that. He's a small forward too but can take a big grab."
Sedunary has been working on her speckies as well, so she's lucky to be learning from the best.
It's hard to convey her all-round enthusiasm on paper.
After all, there's a lot to be excited about – getting her new Crows gear, bonding with the team during pre-season, being surrounded by like-minded hard workers, playing a good brand of football next year, and using the experience to motivate her clients.
But wait, there's more.
"The other thing I'm excited about is getting on a plane. I haven't been on a plane!" Sedunary revealed.
She's even looking forward to the extra guidance and coaching, just to make sure this accidental footy star is kicking the ball correctly.
The views in this article are those of the author and not necessarily those of the AFL or its clubs