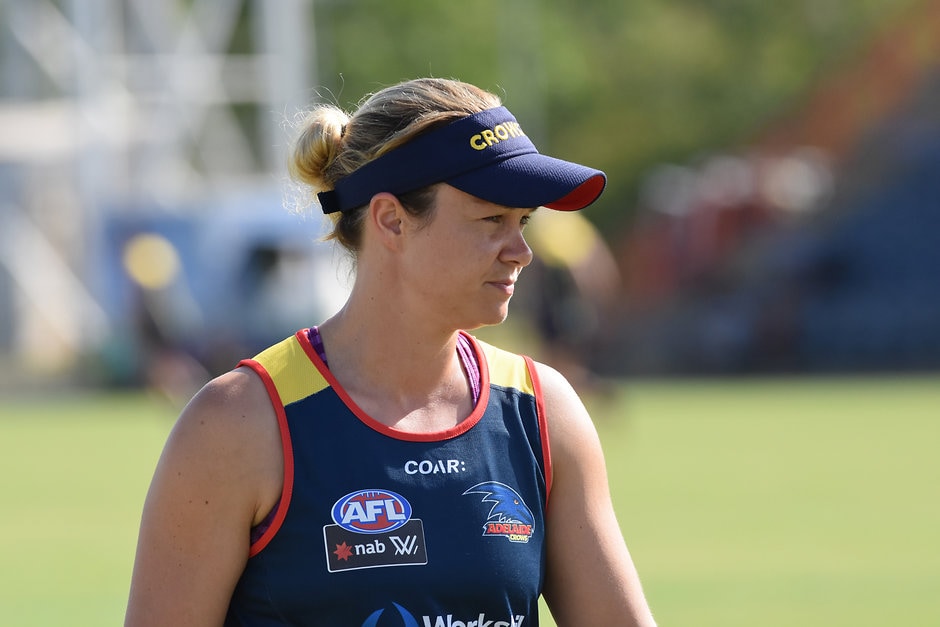 She featured in the Women's Exhibition series and previously captained South Australia, get to know more about midfielder Courtney Cramey

Guernsey number: 22
Twitter: @cjcmedway
Instagram: @cjcmedway
Nickname: CJ
Preferred footy position: Midfield
Occupation: Principal Advisor Community Corrections
Best piece of advice you have received: Your work is never done.
Sporting highlight or greatest achievement to date: Winning back to back-to-back premierships with my mates. Captaining South Australia, and playing at the MCG and Etihad Stadium in the Women's Exhibition series.
What's your brief history in footy: Started playing at Primary School and limited amounts in High School due to there being no competitions. Started playing in 2004 in the SAWFL competition and have not stopped playing since. Have won four Premierships (one with Sturt FC and three with Morphettville Park). Captained Morphetville Park and served as a committee member for the last six years. Commenced a mentor role with the SA Youth Girls squad in 2011 and coached the team in 2014 and obtained my Level 2 coaching certificate. Continue to coach Under-15 at local club level.
If you weren't a footballer, what would you be doing: Probably take my golfing more seriously
Motto you live by: Stay true to who you are
If you could ask one person to be your mentor, who would it be: Lenny Hayes
Morning or night person: Slowly becoming more of a morning person.
Preferred timeslot to play matches: 2pm
Match day superstitions: I never thought I really had any until not long ago I worked out I don't really wash my hair before a game. A bit of freeze seems to help keep it back in my pony come game day! Gross I know!
Worst injury you have had: Ankle reconstruction
Last text you sent: To the cleaner. There is no time for cleaning
What couldn't you live without: Coffee
Favourite sport other than footy: Golf
Dream travel destination: US
Tea or coffee: Coffee
Savoury or sweet: Sweet
Go to pump up music pre game: Never been a real music fan before a game
Go to meal pre game: I have Spaghetti Bolognese and normally love chili in it but always hold the chili pre game!
Favourite movie: Cool Runnings
Favourite TV series: Wentworth
The views in this article are those of the author and not necessarily those of the AFL or its clubs