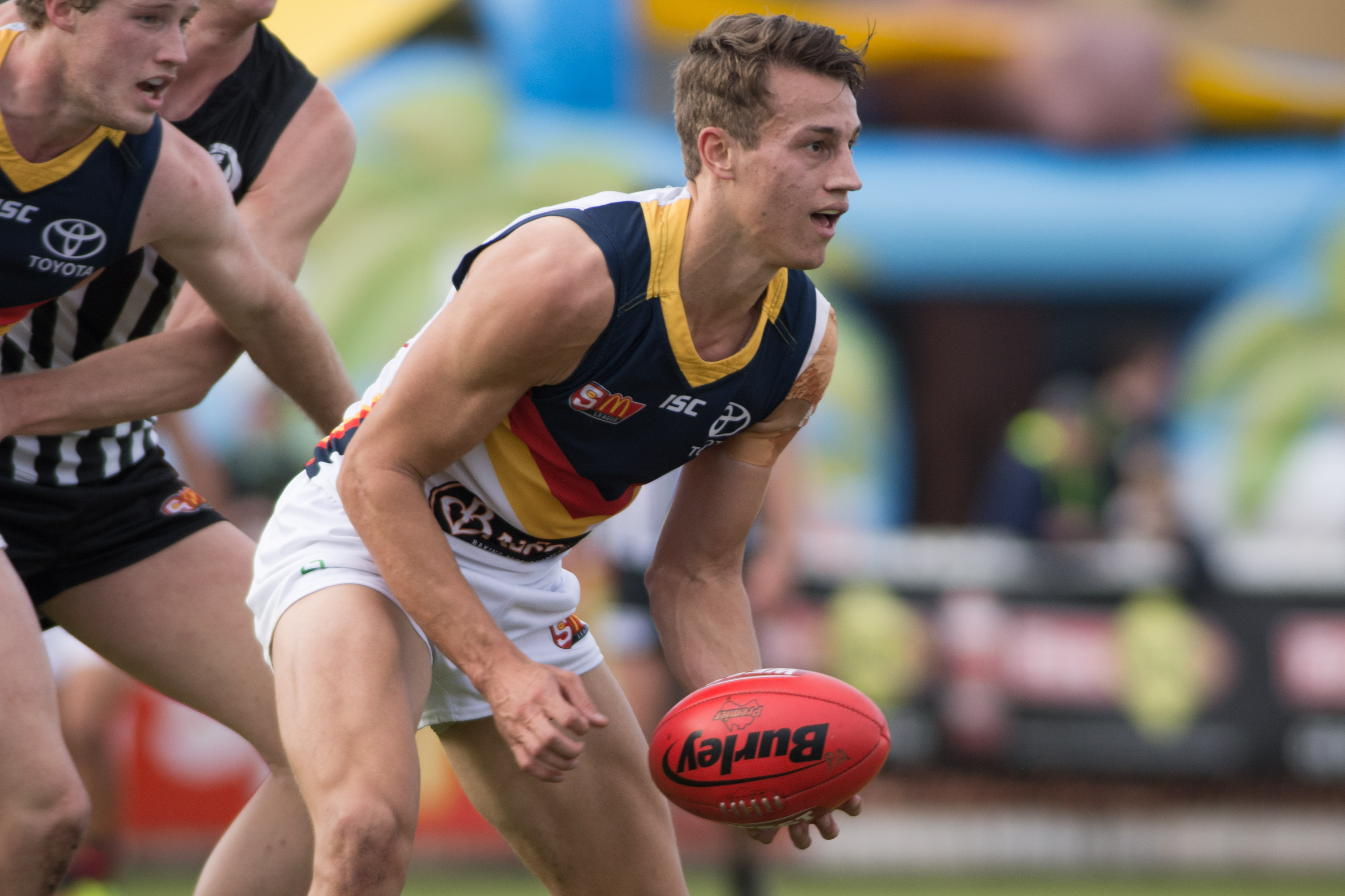 A statistical summary of Adelaide's 2017 SANFL campaign.
Adelaide finished the home and away season with the third-best scoring accuracy of 60.4 per cent.
The SANFL Crows received the least free kicks of any team in Season 2017 (304). Norwood ranked ninth with 351 frees for.
The Crows were strong around the contest, finishing second only to Glenelg (861) in hard-ball gets with 843.
Adelaide fielded 16 development players in Season 2017, including 13 SANFL debutants. Lachlan Murphy was the only player from the Club's development squad to play every game.
Ladder position
Eighth
7-11, 47.09%
Total Points Scored
1,359 (Sixth in SANFL)
Total Points Conceded
1,527 (Sixth-best in SANFL)
Played Every Game (18 matches)
Dean Gore
Paul Hunter
Ben Jarman
Lachlan Murphy
Debutants
Matthew Signorello (SANFL debut) – Round One v Sturt, Peter Motley Oval
Elliott Himmelberg (SANFL debut) – Round One v Sturt, Peter Motley Oval
Myles Poholke (SANFL debut) – Round One v Sturt, Peter Motley Oval
Jordan Gallucci (SANFL debut) – Round One v Sturt, Peter Motley Oval
Damon Hill (SANFL debut) – Round One v Sturt, Peter Motley Oval
Ben Jarman (Club debut) – Round One v Sturt, Peter Motley Oval
Louis De Michele (SANFL debut) – Round One v Sturt, Peter Motley Oval
Lachlan Murphy (SANFL debut) – Round One v Sturt, Peter Motley Oval
Joey Brown (SANFL debut) – Round One v Sturt, Peter Motley Oval
Kurt Waterman (SANFL debut) – Round Three v Central District, My Money House Oval
John Boxer (SANFL debut) – Round Three v Central District, My Money House Oval
Blake Launer (SANFL debut) – Round Three v Central District, My Money House Oval
Tyson Lever (SANFL debut) – Round Four v Port Adelaide, Maughan Thiem Hyundai Oval
Josh Jenkins (SANFL Crows debut) – Round Six v West Adelaide, City Mazda Stadium
Tom Pinyon (SANFL debut) – Round Seven v North Adelaide, Prospect Oval
Daniel Fry (SANFL debut) – Round 11 v Sturt, Peter Motley Oval
Braden Altus (SANFL debut) – Round 11 v Sturt, Peter Motley Oval
Josh Vandermeer (SANFL debut) – Round 13 v West Adelaide, City Mazda Stadium
Ryan Marini (SANFL debut) – Round 14 v Norwood, Coopers Stadium
Ben Davis (SANFL debut) – Round 14 v Norwood, Coopers Stadium
SEASON STATS
Home and away season only
Disposals
Harrison Wigg – 380
Scott Thompson – 348
Lachlan Murphy – 286
Contested Possessions
Scott Thompson – 214 (fourth in SANFL)
Harrison Wigg – 143
Paul Hunter – 137
Marks
Tom Doedee – 81
Jonathon Beech – 76
Lachlan Murphy – 72
Contested Marks
Reilly O'Brien – 27 (Equal 10th in SANFL)
Paul Hunter – 23 (Equal 12th in SANFL)
Hard-Ball Gets
Scott Thompson – 76 (Equal eighth in SANFL)
Paul Hunter – 56
Myles Poholke – 53
Hit-outs
Reilly O'Brien – 381 (Sixth in SANFL)
Paul Hunter – 327 (Ninth in SANFL)
Hit-outs to Advantage
Reilly O'Brien – 126 (Fifth in SANFL)
Paul Hunter – 93 (Ninth in SANFL)
Clearances
Scott Thompson – 100 (Equal fifth in SANFL)
Harrison Wigg – 72
Paul Hunter – 43
Tackles
Scott Thompson – 116 (Third in SANFL)
Dean Gore – 76
Paul Hunter – 74
Inside 50ms
Harrison Wigg – 76 (Third in SANFL)
Myles Poholke – 53
Jordan Gallucci – 49
Rebound 50ms
Tom Doedee – 53 (13th in SANFL)
Lachlan Murphy – 51 (14th in SANFL)
Harrison Wigg – 45
Goals
Troy Menzel – 24
Elliott Himmelberg – 19
Tom Pinyon – 14
Score Assists
Ben Jarman – 17
Elliott Himmelberg – 17
Reilly O'Brien – 16
Score Involvements
Ben Jarman – 75
Reilly O'Brien – 73
Scott Thompson – 72
Spoils
Tom Doedee – 62 (Equal 12th in SANFL)
Harry Dear – 36
Paul Hunter – 35
Smothers
Dean Gore – 12 (Equal second in SANFL)
Matthew Signorello – 10 (Eighth in SANFL)
Myles Poholke - Nine
Intercept Possessions
Tom Doedee – 135 (First in SANFL)
Lachlan Murphy – 88
Damon Hill – 63
Intercept Marks
Tom Doedee – 39 (Sixth in SANFL)
Kyle Cheney – 20
Lachlan Murphy – 19
The views in this article are those of the author and not necessarily those of the AFL or its clubs