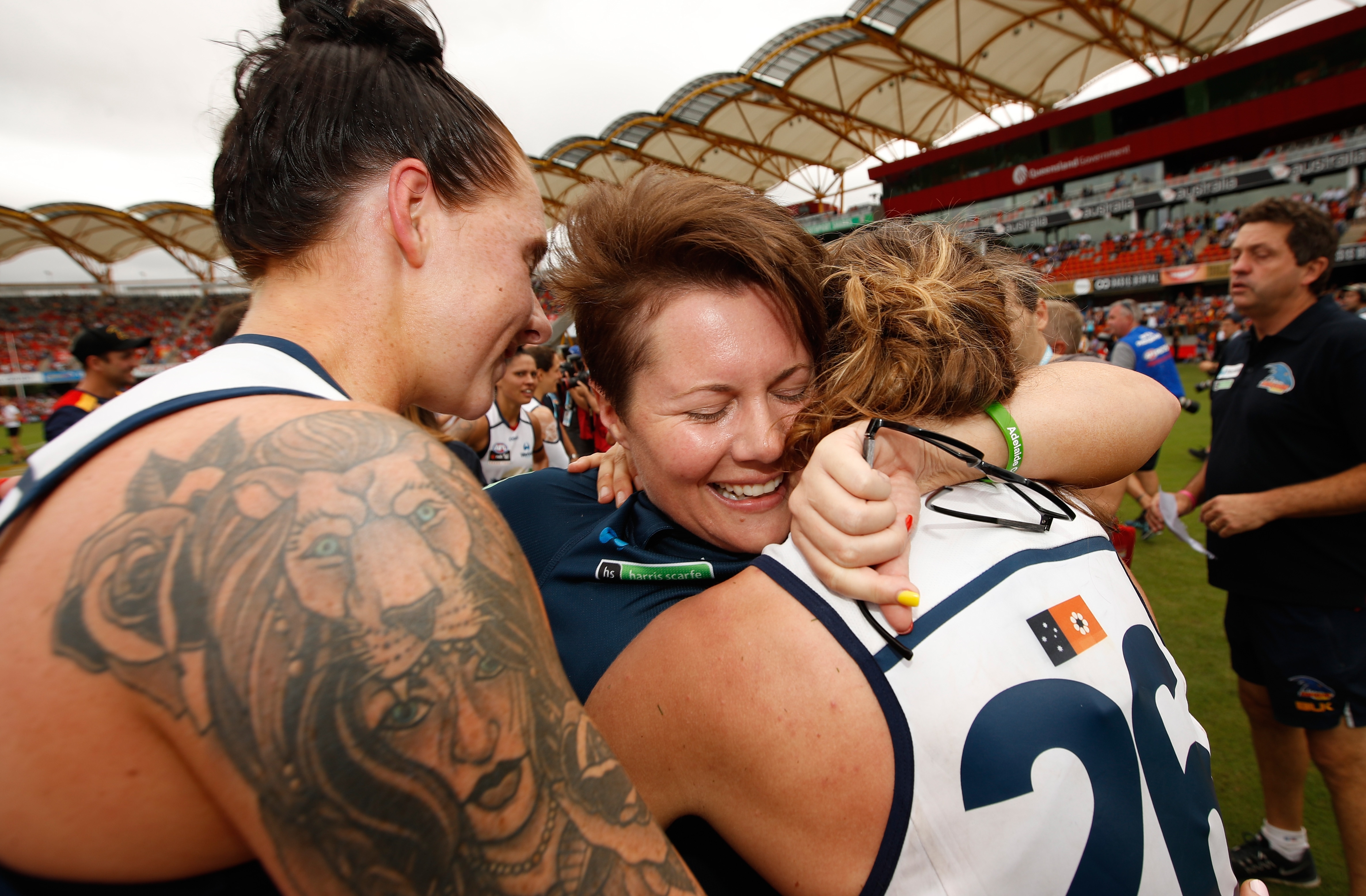 Adelaide's AFLW Premiership Coach Bec Goddard has been named the 2017 Football Women of the Year.
Goddard was presented the award at the annual Grand Final Comedy Debate at Crown Palladium in Melbourne today.
Goddard is the 21st woman to win the award, and in doing so joins a long list of talented and influential women who made significant contribution to the game.
Goddard has played a significant role over a number of years to ensure the AFL Women's competition was an overwhelming success in 2017.
Praised for her ability to bring together a team which had players based in both Adelaide and Darwin, she steered the Crows to five wins from seven home-and-away matches in the inaugural season.
The team then went on to score a historic six-point win over the Brisbane Lions in the first Grand Final.
As well as having an established career in football across playing, coaching and umpiring, Goddard has significant professional expertise gained through a 16-year career with the Australian Federal Police (AFP).
She will continue to balance the Crows coaching role and her job with the Joint Anti-Child Exploitation Team, a partnership between the AFP and the South Australian Police Special Crimes Investigation Branch in Adelaide.
Presented by the Essendon Women's Network (EWN), the Football Woman of the Year Award recognises women in the industry who have made a significant contribution to the game of Australian Football.
Essendon Women's Network Chair, Jane Grover, praised Bec for her endless efforts to lead by example in striving for equality in the Football industry.
"Bec is a women that leads from the front, displays moral courage, and continues to influence the entire football community around equity, fairness and inclusion," Grover said.
"For so many young women, Bec represents choice, inclusion and respect which is the cornerstone of giving everyone a fair go, and mirrors our multi-cultural Australian community."
Past winners of the Football Woman of the Year Award:
Daisy Pearce (2016)
Jan Cooper (2015)
Peta Searle (2014)
Michelle Cowan (2013)
Belinda Duarte (2012)
Lesley McGrath (2011)
Anna Durante (2010)
Debbie Lee (2009)
Susan Alberti (2008)
Terry Bracks (2007)
Barb Cullen (2006)
Jennie Loughnan (2005)
Edna Daniher (2004)
Jenny Williams (2003)
Beverly Knight (Bev O'Connor (2002 – joint winners)
Katrina Pressley (2001)
Caroline Wilson (2000)
Jill Lindsay (1999)
Irene Chatfield (1998)
The views in this article are those of the author and not necessarily those of the AFL or its clubs