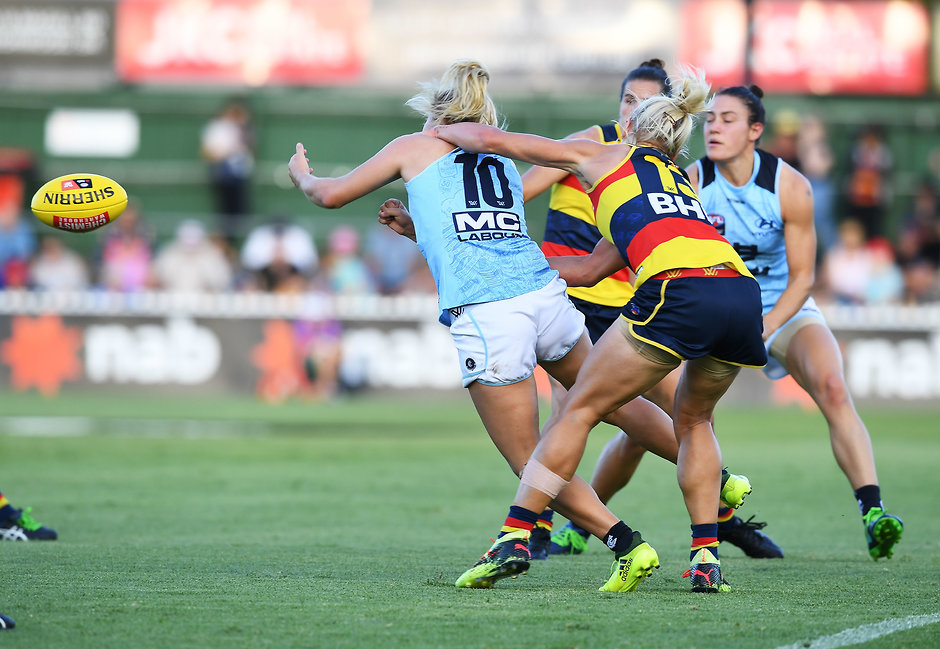 It was really just precautionary. We were controlling the game so we didn't need to leave her out there, so it was the responsible thing to do
Bec Goddard
A reoccurrence of Adelaide superstar Erin Phillips' quad injury saw her consigned to the bench for the Crows' AFLW clash against Carlton at Norwood Oval on Saturday night.
The 2017 NAB AFL Women's best and fairest winner declared she would be available to return if needed, but finished the match in her tracksuit top.
"I've still got a bit of a sore quad so while we've got a pretty nice lead, I'm just going to hand back until needed," Phillips told Channel 7 at half-time.
Phillips came into the season with the right quad injury and missed Adelaide's first two games.
"[I'm] just being really cautious. I've got a lot of experience now with this quad. It's not too serious, just trying not to make it any worse," she said.
She was hurt while kicking the football off the ground in the clash with the Blues, and sat on the bench with ice on her leg in the third term.
Coach Bec Goddard said she was not particularly concerned.
"It was really just precautionary. We were controlling the game so we didn't need to leave her out there, so it was the responsible thing to do to listen to her and say 'Yeah OK mate, let's just put you out and see how we go'," Goddard said.
Goddard hoped the move would help Phillips to remain fit for the rest of the season.
"Erin just had some awareness and when an experienced athlete like Erin says to you 'I've got a bit of awareness', I think you've got to listen to her and her body, because we want her for the next two games, hopefully three games," Goddard said.
The Crows cruised to a 35-point win and remain in contention for a Grand Final berth.
The views in this article are those of the author and not necessarily those of the AFL or its clubs