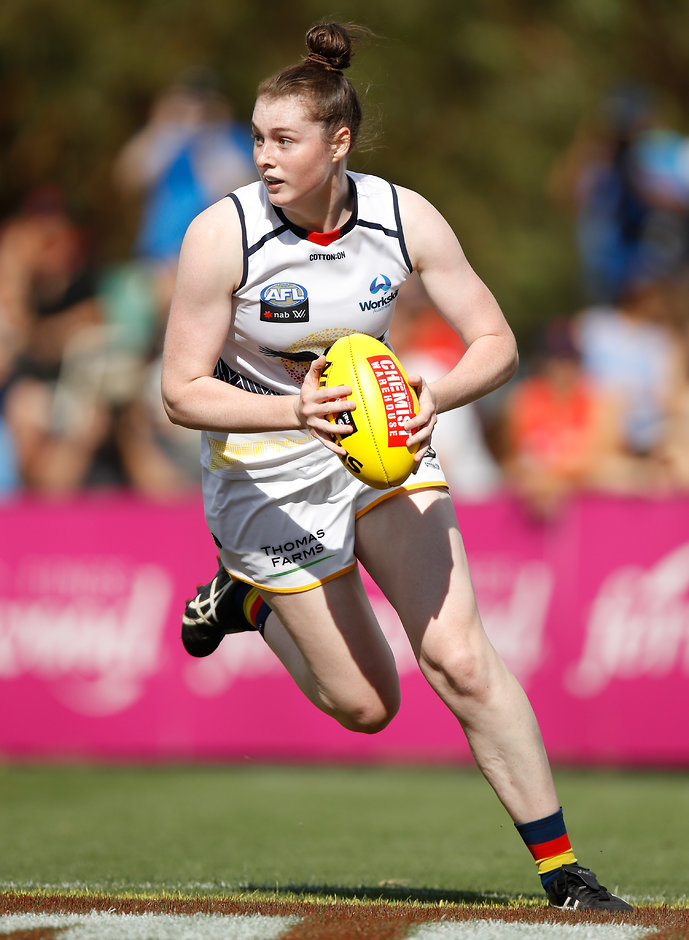 It's great playing with the likes of Chelsea Randall, Courtney Cramey and Ange Foley back there, I'm constantly learning from them.
Sarah Allan
Playing alongside experienced leaders in the Crows backline has helped Rising Star nominee Sarah Allan develop into a more consistent player.
After playing every role from midfielder to ruck in her junior days, Allan has now settled in defence.
The 20-year-old is a cool head under pressure. She showed that in Adelaide's thrilling four-point win over Fremantle in Round Six, taking a steady mark in the final seconds to ensure Fremantle couldn't score.
It's a trait she has learnt from some of the best defenders in the League.
"It's great playing with the likes of Chelsea Randall, Courtney Cramey and Ange Foley back there, it's really helpful to hear their voices," Allan said.
"Even on the field, I'm constantly learning from them and taking things from their game.
"I'm really happy just to be (settled) in a spot and I think it's definitely helping with my game, to be able to improve week by week by learning about that area."
Allan is the second Crow to receive a Rising Star nomination this season behind forward Eloise Jones.
Midfielder Ebony Marinoff was crowned the overall winner of the inaugural award in 2017.
"I'm really excited to be nominated a week after 'EJ' got nominated, which is great for the Club," Allan said.
"It shows how much talent we have in the junior age group as well as the mature players, it shows the depth at the Club."
Allan met Marinoff while representing South Australia in 2011.
The pair has played together in a number of teams since including last year's AFLW premiership win with the Crows.
"I remember rocking up to an Under-16 training and just thinking that she (Marinoff) was going to destroy people on the field," Allan said with a laugh.
"Obviously with her winning last year, it shows that South Australia has junior talent coming through and that will show in the next few years."
We've got back-to-back #AFLW Rising Star 🌟 nominations https://t.co/Bs4lKotxFe Well deserved @sarahallan21 🤗! #weflyasone pic.twitter.com/5Wja2WrOWm

— Adelaide Crows (@Adelaide_FC) March 13, 2018
Heading towards the final round of the AFLW season with five teams still in contention, Allan knows "anything can happen" as they approach Sunday's match with Collingwood.
"It brings a bit more excitement for the end of the season with no finals, it feels like it's a final this weekend to get into the Grand Final," Allan said.
"It's the same situation we were in last year, we just have to win by as much as possible to give ourselves the best chance."
"The team is in a good position at the moment and I think we all know we can get the job done."