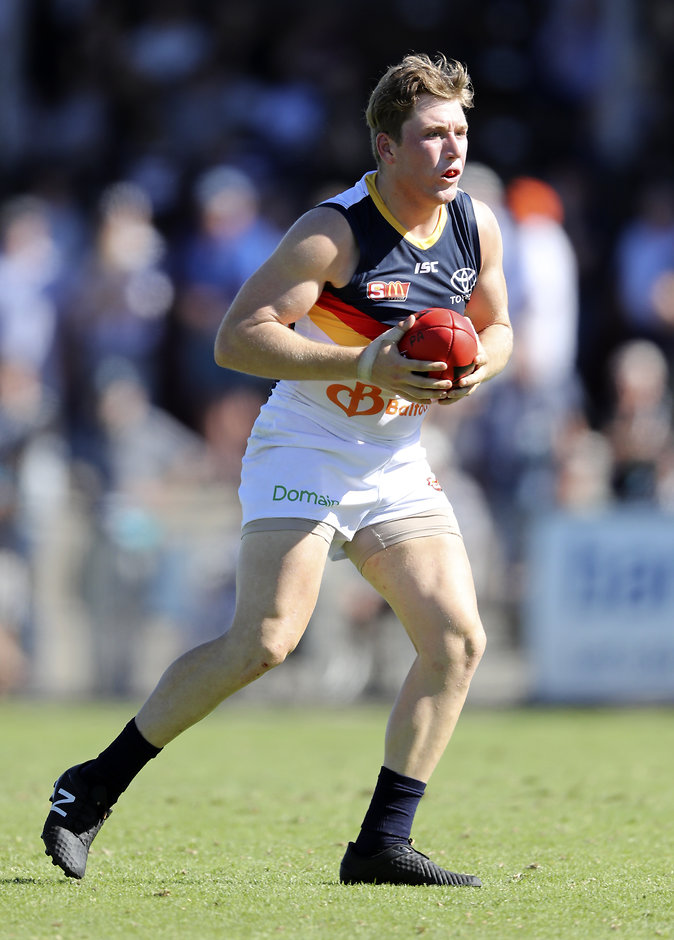 We played some really good footy, we competed and our intent was there, it's just some basic fundamentals let us down.
State League coach, Ryan O'Keefe
Andy Otten has starred in his return from injury in the SANFL Crows' 20-point loss to South Adelaide at Hickinbotham Oval on Saturday afternoon.
Otten contested the ball hard in difficult conditions as Adelaide went down 6.4 (40) to 9.6 (60).
Riley Knight continued his comeback from injury well, with a team-high 25 disposals, nine of which were contested, and seven tackles.
Curtly Hampton also provided a strong presence in the midfield, laying 10 tackles and gathering 14 disposals.
Rookie Ben Jarman played one of his best matches of the year, continually applying pressure to the opposition and forcing turnovers.
O'Keefe said Otten, Knight and Jarman stood up on a tough day.
"Otten was good because of his intent, how he played the game, his leadership and organisation. He came out and looked like he'd played all year, he showed he was a level above," O'Keefe said.
"Knight in his second game back was good, he was trying to bring energy and run to the side.
"Benny Jarman was good, he seems to be improving every week."
Development squad members James Loneragan and Blake Launer also impressed in Adelaide's inexperienced defence.
In blustery conditions at Noarlunga, Adelaide had their strongest first quarter of the SANFL season to date, kicking three goals to South's two.
Contested marking was a standout in the first term for Adelaide, with strong marks from Hampton, Elliott Himmelberg and Michael McMahon all leading to goals.
Goals weren't as easy to come by in the second term, with the first score not coming until the 14-minute mark of the quarter, and South kicking the only two goals of the term.
A good run down the wing from Ben Davis set up McMahon for his second goal of the game in the third term, but South soon extended their lead.
Paul Hunter kicked two goals in the final term and the margin got as close as eight-points, but South kicked three goals in the last 10 minutes to seal the Panthers win.
Post-match, O'Keefe was disappointed by the teams' inability to convert from their strong passages of play.
"We let ourselves down really, we played some really good footy, we competed and our intent was there, it's just some basic fundamentals let us down," O'Keefe said.
"We worked hard and we were owning the ground but we just couldn't score, we had to work really hard for our goals.
"We played the ball in our half and then we let it through and they just got easy goals and for all our hard work we didn't get reward."
No injuries were reported out of the game.
ADELAIDE 3.1 3.3 4.3 6.4 (40)
SOUTH ADELAIDE 2.2 4.3 6.6 9.6 (60)
GOALS:
Adelaide: Hunter 2, McMahon 2, Davis, Himmelberg
South Adelaide: Fields 2, Overall 2, Fairlie 2, Davis, Liddle, Rankine
BESTS:
Otten, Loneragan, Launer, Jarman, Davis, Hill