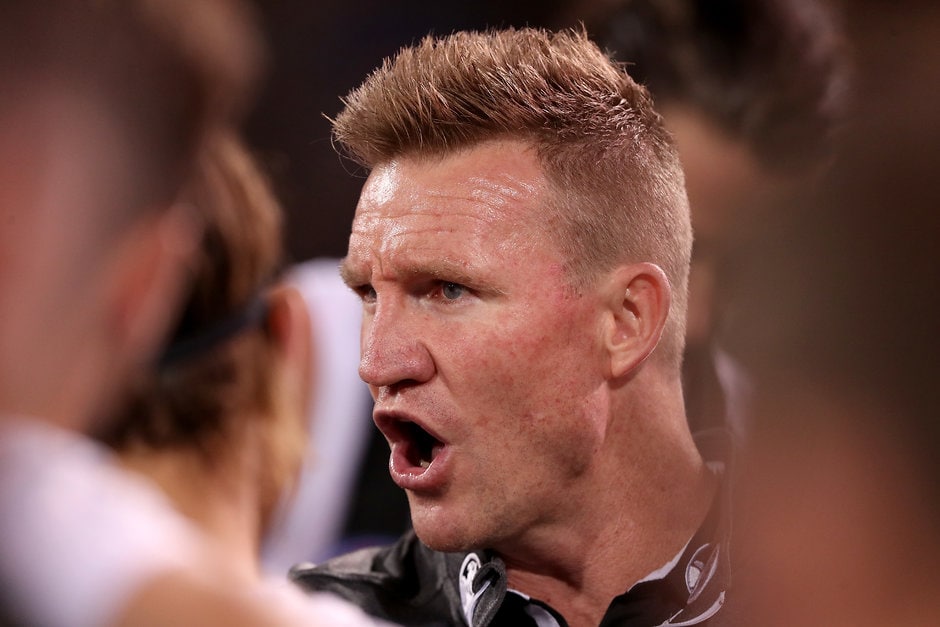 It was a significant execution of what we wanted to see and it's the way we want to play our footy
Nathan Buckley
Collingwood coach Nathan Buckley talks about his team's 48-point win over Adelaide on Friday night …
On where the game was won …
"We wanted to build on the performance of last week, where we thought we played 45 minutes of really good footy and then just lacked conviction in the second half. I thought it was a pretty strong four-quarter performance (tonight).
"We let our players play to their strengths. To a man, without individualising, I thought that for the large part of the game we were able to do that.
"The backs were really strong. The forwards put on a lot of pressure and the mids hunted the ball, and the clearance numbers and contested ball numbers would tell the tale there."
On the importance of the contested possession count, which the Magpies won 198 – 163 …
"It was +35 in the end. When the whips were cracking early, we were +16 so half of that was in the first quarter. We won groundball tonight for the first time for the year. There were a couple of areas that we looked at specifically to try and correct.
"We had a good night in that regard, but contested ball is clearly an important stat. We feel like we've always had a strong contested game, but it's (about) maximising what you get at the other end of that and adding that polish offensively from that."
On Collingwood's first-ever win at Adelaide Oval …
"We've never minded travelling, but it's a significant performance for us because getting some belief about the way you play is an important part of taking the next steps.
"This is only one game, but it was an important game for us to get right. We thought our planning was strong and we thought we had the right themes for the players, but the reality is that the players need to go and get it done and all the credit goes to firstly to the leaders and then to the group of players to execute it.
"When your players are so consistent with their effort and do it across the four quarters and handled whatever the Crow threw at us really, that was significant to be able to win every quarter.
"On a one-night sample, this was a significant execution of what we wanted to see and it's the way we want to play our footy."
On draftee Jaidyn Stephenson's five-goal haul …
"That's not going to happen every week, is it? But the consistent thing with Jaidyn has been his work rate and his willingness to pressure.
"He's got speed, which is not a commodity that we've got an abundance of on our list. We identified that in recruiting for him in particular and he hasn't let us down.
"Even right until the end there when he was pretty knackered he was still putting chase-down tackles on and really taking the game on, which was encouraging."
On Brodie Grundy's dominant performance in the ruck …
"He's in a rich vein of form, Brodie, and he's worked really hard not just this pre-season but over a fair period of time. He's still a young man and still developing.
"I thought our connection between our rucks and our mids was stronger this week than it's been for the first three rounds and the JLT. I think it's the first time that we've really been able to connect well from ruckman to first possession. We've been winning hit-outs significantly but losing clearances, so we've done some work on that over the last couple of weeks and it's come together.
"There's still a lot of improvement for us … but tonight was pretty hard to fault … most of the stuff we wanted to see improve improved."
On whether he was surprised Adelaide selected a tall forward line in wet conditions …
"We could've been accused of being too tall as well, with (Mason) Cox and (Ben) Reid. Jarryd Blair travelled as our 23rd (player) and we had discussion of tall versus small and when do you actually look at that.
"I think when you post-analyse, generally I find that if you haven't got the result you're generally not blaming your tall/small balance. There will be other things in the game that you were in control of that you might not have got right.
"For us, Mason Cox had five touches tonight but he competed really well. He brought the ball to ground and played his role down the line as well as you could ask a bloke like that to play his role. We're still working out whether that's right of us but for the opposition that's up to 'Pykey' to work out."
The views in this article are those of the author and not necessarily those of the AFL or its clubs