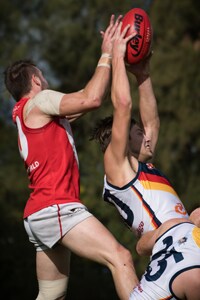 Versatile defender Corey Davey has been rewarded for his fantastic year in the SANFL, winning the Dean Bailey Award for best development player in 2018.
Often playing as part of an inexperienced backline, Davey averaged 10 disposals, three marks and three tackles in his 11 SANFL Crows games.
The 21-year-old joined the SANFL development squad this year after winning a reserves premiership with North Adelaide in 2016.
Playing on both tall and smalls throughout the year, the promising defender consistently stopped opposition forward 50 entries and provided plenty of run off half-back.
For Crows players that played over 10 games in the State League, Davey averaged the fourth most rebounds 50s and the fifth most contested marks.
The Port Pirie product finished ninth overall in the State League Champion count.
Davey also played seven games for his local club, the Solomontown Football Club, in 2018.
In a year where both the AFL and SANFL teams battled with injury, the SANFL Crows had to heavily rely on their development squad throughout the season.
Fifty players represented Adelaide in the SANFL in 2018, with 25 of those being development squad members.
The Dean Bailey Award assesses on-field performance, dedication to training and overall commitment to the team in honour of the late Strategy and Innovations coach's passion for nurturing young footballers.
Last year, Lachlan Murphy won the Dean Bailey award after playing every game with the SANFL Crows and went on to be drafted onto the rookie list by the Club.

CROWS SANFL DEVELOPMENT PLAYERS – SEASON 2018
James Loneragan – 18 games
Matthew Leigh – 15 games
Blake Launer – 14 games
Samuel Venning – 14 games
Douglas Hadden – 13 games
Corey Davey – 11 games
Damon Hill – 11 games
Michael McMahon – 10 games
Domenic Costanzo – nine games
Ryan Marini – nine games
Jordan Boyle – seven games
Tyson Irlam – seven games
Aron Asfaha – six games
Joseph Brown – six games
Samuel Tharaldsen – five games
William Rivers – five games
Adam Connelly – three games
Aidan Offe – three games
Harrison Slee – three games
John Boxer – three games
Timothy Auckland – two games
Guy Ward – one game
Jamahl Weetra – one game
Josh Vandermeer – one game
Rupert Peake – one game
DEAN BAILEY AWARD WINNERS
2014 – Michael O'Malley
2015 – Matthew Spencely
2016 – Luke Carey
2017 – Lachlan Murphy
2018 – Corey Davey