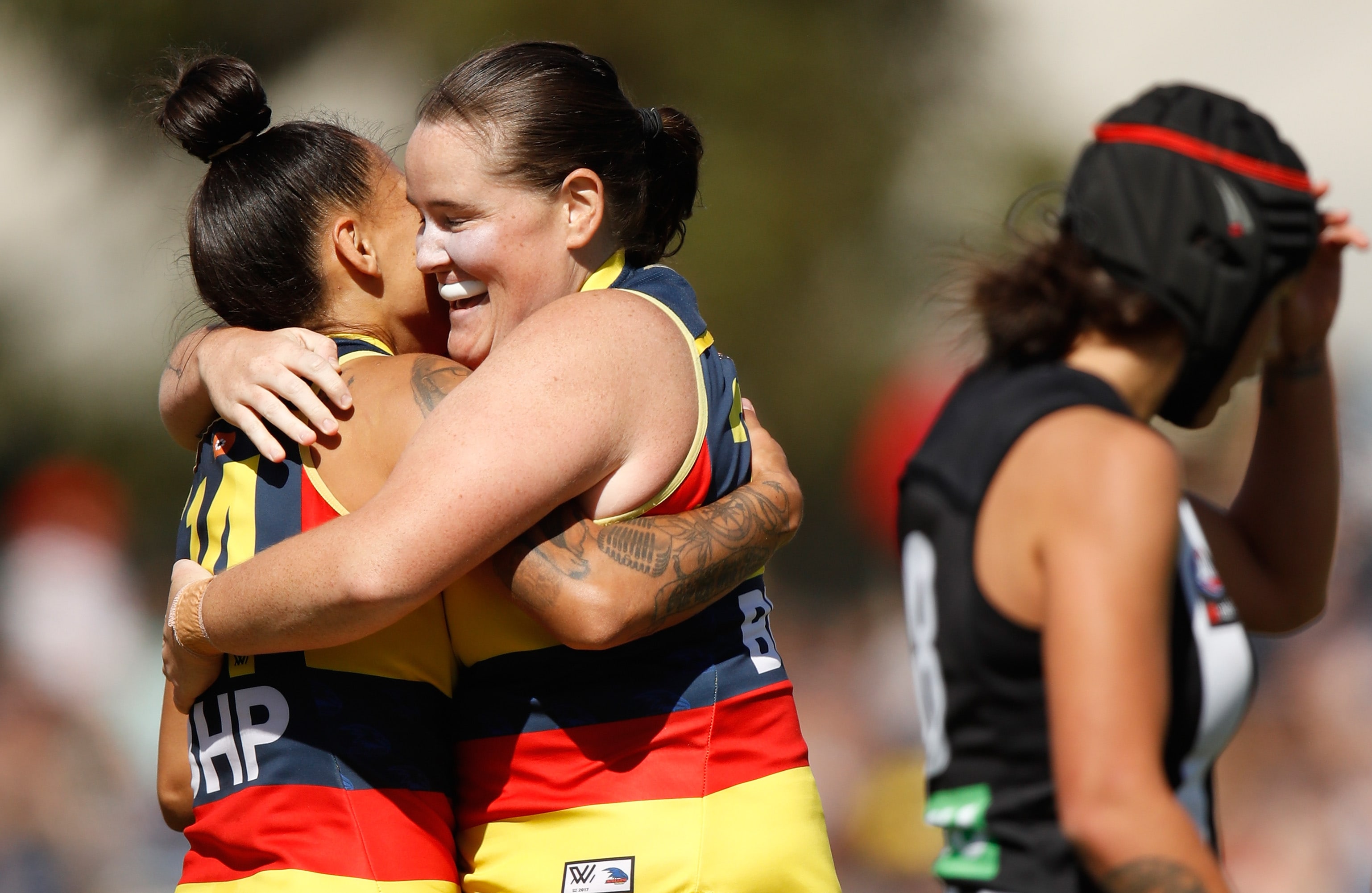 Sarah Perkins was at the forefront of history in 2017 when she stepped out in the red, gold and navy blue for the inaugural AFLW season.
Since then, she's become a premiership player, an All-Australian and the inaugural Crows AFLW Leading Goalkicker, but the 24-year-old says her greatest reward comes from being a role model to young girls.
Despite her successes, the cult hero said working with young aspiring footballers and ensuring they have the pathways she never had is what's most important.
She took to Twitter on Tuesday night after a young teen reminded her of the real reason she plays.
September 4, 2018
Reflecting on the conversation, Perkins said it had given her confidence in what she was doing and reminded her of the bigger picture.
"We (professional female athletes) are creating positive change in the sports environment and giving young girls role models to look up to," she said.
"Now these girls have the pathways I would have only dreamed of having because of what the AFLW players and the AFL have been doing.
"She said I'm the reason she plays football… but she's the reason I play football."
During the 2018 off-season, Perkins returned to her home state of Victoria to play for Hawthorn in the VFLW competition and work in the Club's community team.
"I've been working with the team to develop talent pathways through the Club's next generation academy," she said.
"We've taken a strong focus on developing players under 13 and girls that are new to sport."
She's a gun goalkicker, but Sarah Perkins is just as damaging without the footy 👊 https://t.co/4yHSy5rImC #weflyasone pic.twitter.com/gHZQuxe9zF

— Adelaide Crows (@Adelaide_FC) March 4, 2017
For Sarah, knowing that she had inspired even just one girl to take up sport meant all the hard work she had put in to play elite football had been worth it.
"The girl told me that before playing footy she was just sitting on the couch and missing out on having a healthy lifestyle all together," she said.
"Seeing me on the TV gave her the confidence to get started… I just want to inspire as many as I can to be active."
She said she had experienced her fair share of negative comments over the years, but the young girl reminded her that it's okay to be different.
"I am different to every other player in the AFLW – we're all different shapes and sizes so it's important to be reminded that you shouldn't change who you are," she said.
She said it wasn't just about attracting youngsters to football but giving them opportunities in all sports.
"Now young girls have role models across a heap of sports: the Matildas are doing great things in soccer, the Suncorp Super Netball league is an amazing league," she said.
The imposing forward said she had enjoyed her time with Hawthorn in the VFLW but was looking forward to returning to Adelaide in November ahead of a big pre-season with the Crows.
"Coming home (to Melbourne) improved my mental state as I was in my comfort zone around family and friends but Adelaide is my second home and I can't wait to get back into training with the girls," she said.
Coming into the third season of AFLW, she said she hoped her side would have a bigger season with less pressure on them.
"We should have less external noise and expectations on us so hopefully we can surprise some people," she said.
"We all want that glory again."