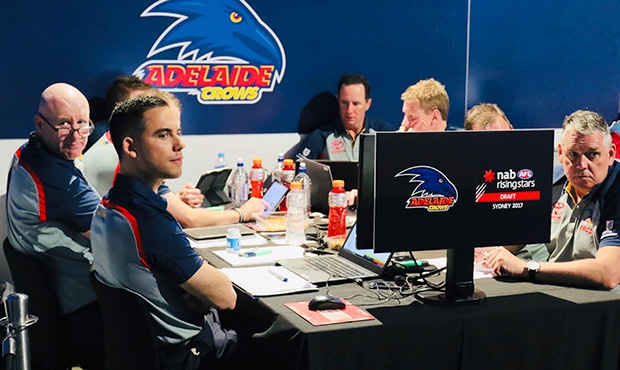 We plan for the hand we've got now, we plan for a hand that we may have
Hamish Ogilvie
Adelaide's recruiting team are leaving no stone unturned when it comes to preparing for the upcoming trade and draft period.
Armed with its strongest draft hand in years, the Crows have a multitude of options available, including possibly bundling their selections to move higher up the draft order.
Adelaide currently hold selections No. 7, 14, 19 and 37, which may change based on Melbourne's finishing position (which the Club's second pick is tied to) and any priority picks awarded.
National Recruiting Manager Hamish Ogilvie said he and his team are planning for every possible scenario.
"We plan for the hand we've got now, we plan for a hand that we may have," Ogilvie told 7 News Adelaide.
"List management, we'll look at the trading situations and factor that in; that versus the draft, so you've got to plan for it all."
.@adelaide_fc recruiting manager Hamish Ogilvie says the depth of talent at this year's draft has made his job of snaring future stars easier than in previous years. https://t.co/O5qLmmIoZc @johncasey2880 @7AFL #7AFL #7News pic.twitter.com/Ede2I1B2oH

— 7 News Adelaide (@7NewsAdelaide) September 6, 2018
There is a raft of quality South Australian talent available in this year's draft pool, but the Club is casting its net far and wide, conducting countless interviews with prospects along the journey.
A shortlist of 100 has now been culled in half, with plenty more work to be done ahead of November's draft.
"We would've interviewed close to 100 now. Probably narrow that down to about 50," Ogilvie said.
"Given that we know (most of) our picks, at the moment, are inside 37, that makes it a bit easier and we can narrow the field."
Forward Mitch McGovern's trade request will provide the Crows with further flexibility.
"Not often people trade top five, or top 10 picks (but) we're open to everything and we'll certainly have a look at it," Ogilvie said.