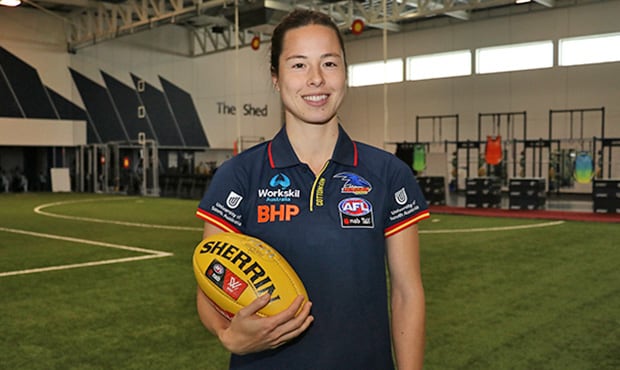 I had to make the choice that would let me continue both footy and my career
Sophie Li
After spending her first season of AFLW with the Blues, skilful midfielder Sophie Li will become a Crow in 2019, in a move that will combine her career with her football dreams.
Originally from Adelaide, Li put her work as a paramedic on hold to move to Melbourne after she was drafted to Carlton in the 2017 AFLW Draft.
The Blues chose her from Norwood's SANFLW team with pick No.28 in the Draft after she was named best on ground in the Club's 2017 Grand Final win over North Adelaide.
The 30-year-old took leave without pay to pursue football but at the end of the 2018 season, work was calling her home.
"I couldn't take any more leave and I do love my career, it's so fulfilling, so I had to make the choice that would let me continue both footy and my career," she said.
"To play football in general is amazing to me but I've supported the Crows since I was little so it's pretty special to be able to play for Adelaide."
READ NEXT: AFLW list changes
She said her first season at the senior level was a challenge, but it had its rewards.
"It was a great experience… it's a different kind of intensity to what I had known previously, and I really enjoyed my time at Carlton," she said.
"Of course, it's the nature of playing AFLW that you're thrust into it (the spotlight) so I try not to consume too much of what's out there on social media."

Sophie Li chases down Adelaide's Jenna McCormick during the 2018 season
Li returned to Adelaide three months ago and immediately realised how much she'd missed SA.
"Melbourne's great but I couldn't do the weather or the traffic or the beaches… it's so nice to be home," she said.
Looking to next season, she was eager to line up alongside some familiar faces.
"I've played with Dayna and Deni at Morphettville and I've played against most of the girls so it'll be nice to finally play with them," she said.
"I've heard a lot about the culture at Adelaide and it's been all great things so I'm looking forward to being a part of that.
"It'll be great to learn off leaders like Chelsea and Erin who really embody professionalism in our sport."
Known for her clean skills and clever play, Li felt she could improve on all aspects of her game at Adelaide.
"I want to improve on reading the play, my aerial stuff, execution… everything really," she said.
Li will officially join the Crows AFLW squad when pre-season commences in November.