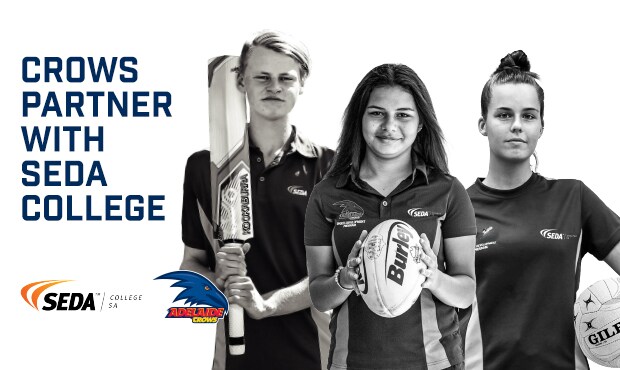 The partnership provides excellent opportunities for SEDA students to see the operations of an elite AFL club in action.
Crows Chief Operating Officer Nigel Smart
The Adelaide Football Club has partnered with SEDA College to assist local high school students wanting to pursue a career in the sport and recreation industry.
With a focus on developing real skills to prepare students for a successful future, SEDA College delivers a SACE curriculum and caters specifically for students with a preference for hands-on learning.
SEDA schools already operate in Western Australia, the Northern Territory, Victoria and New South Wales, with South Australia's first school set to open in 2019.
Netball SA and the South Australian Cricket Association (SACA) have also partnered with the local College and together with the Crows will host students in Year 11 and 12 to help provide on-the-job learning.
Crows Chief Operating Officer Nigel Smart said the Club was excited to be part of SEDA's program.
"SEDA allows students to finish their secondary schooling while immersed in an industry of their choice, such as football, allowing students to network and learn from those already working in the field," Smart said.
"Through the Club, we can provide students with access to unique work experiences and insights to give them a real taste of what working in sport and recreation is like.
"Those enrolled in the College will be given the opportunity to work on a variety of Club activities such as match days, our community programs and other major events.
"The partnership provides excellent opportunities for SEDA students to see the operations of an elite AFL club in action."
The Principal of SEDA College, Matthew Daly said young people and their families choose the SEDA approach because it gets students out of the classroom to learn directly from industry.
"Our 'one teacher, one classroom' model also allows our teachers to take on a true mentoring approach, where they walk alongside and support the individual journey of our students as they complete their secondary education," Daly said.
"We're extremely excited to showcase what sets us apart from other schools and all the career pathways that our programs can lead to.
"Sports administration, coaching, community development, policing, paramedics and nursing are just some of the careers SEDA graduates have moved into. Completing the SACE at SEDA College is a ticket to a great future."
SEDA's education model places equal importance on students developing strong personal attributes and transferable skills, such as students' leadership, communication, teamwork, and critical thinking skills, as it does on their academic success.
Every student works with their teacher/mentor and the wider College team to develop these skills and to build a tailored career plan that enable them to turn their passion into successful careers.
SEDA College is now taking enrolments for 2019.
For further information about SEDA College SA, please visit seda.sa.edu.au
Attend an information evening, to hear from the principal, industry partners and learn about the College:
Date: 17th October 2018
Location: Karen Rolton Oval at Gladys Elphick Park / Narnungga (Park 25)
Time: 7pm
Register: seda.sa.edu.au/events
The views in this article are those of the author and not necessarily those of the AFL or its clubs