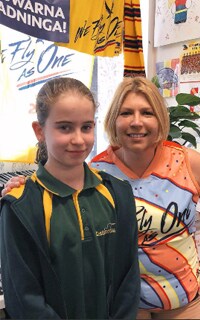 The Crows community team's guernsey design competition for school students has again proved popular this year.
As part of the Club's Growing with Gratitude program, all students receive an activity book which includes the opportunity to enter the guernsey design competition.
A male and female winner is then chosen at the end of each school term, with each winner awarded a guernsey developed in their design as well as a signed football.
The competition in 2018 has been fierce, with more entries of a higher calibre than ever before.
Angus (below) proudly displaying his winning design for Term 2
Aimie (far below) showing off her winning design for Term 1
This year the Growing with Gratitude program is focused on 'Positive Reflection' with a focus on the good things in life, rather than the negatives.
Click here for information about the Growing with Gratitude program.
The views in this article are those of the author and not necessarily those of the AFL or its clubs