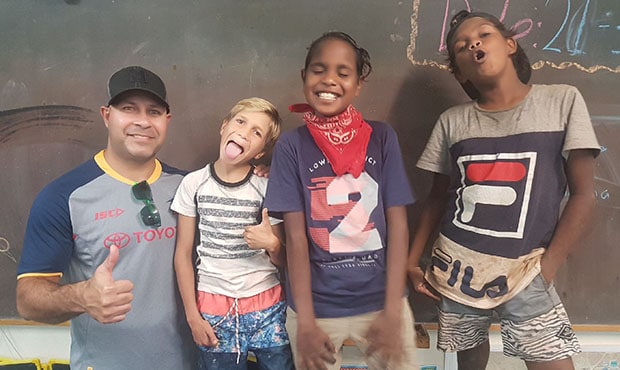 Going to school in Adelaide – far away from friends, family and familiar places – is not easy for young Indigenous students from remote communities.
But the Adelaide Football Club's Ready Set Crow (RSC) program and project officer Mark Mueller are helping to make the transition a little easier.
Led by Crows legend Andrew McLeod and his wife Rachael, the RSC program provides mentoring support to students that take up the opportunity to study and live in Adelaide through Wiltja Residential.
Mueller and former Crow Eddie Hocking are part of the team and their roles see them develop individual relationships with the students to support, nurture and encourage their educational and personal growth.
Before commencing in the role nine months ago, Mark Mueller was an Aboriginal Secondary Education Transition Officer at Woodville High school, a school that some students from the RSC program attend. At Woodville, Mueller had seen first-hand the impact of the program before he started in the job.
"I was aware of the Ready Set Crow program as our school was involved. Having seen what the outcomes are for kids, I was pretty keen to get involved," Mueller said.
"I had been at Woodville for 15 years so it was a hard decision to leave what I had been doing for so long, but having the team with Andrew, Rachael and Eddie made the transition easy.
"They are all really focused on getting the best outcomes for the kids they work with."
Although he already knew a number of the kids involved in RSC through his work at Woodville, Mueller has also met a number of new families through regular community liaison visits to the APY Lands and Far West regions of South Australia which are designed to engage with students and offer pathways to further education.
"When we get out to communities we touch base with families and the schools – there's a lot of transience with kids going back and forth between the communities and school in Adelaide," Mueller said.
"We speak to the families about where they're at and how they feel about their kids coming to school in Adelaide.
"We also go to the communities at the start of the year to give students and families a heads up that the bus will arrive shortly to take the kids back to Adelaide for school. That helps with reinforcing that message about the importance of kids getting back to school and that education is the key.
"The kids love being back home in the communities so it's a big step for them to come back, and the start of the year is always hard, but I think they and their families can see the rewards."
The Ready Set Crow project is proudly funded by the Australian Government and delivered in partnership with Wiltja Boarding and the Department of Education.
The views in this article are those of the author and not necessarily those of the AFL or its clubs