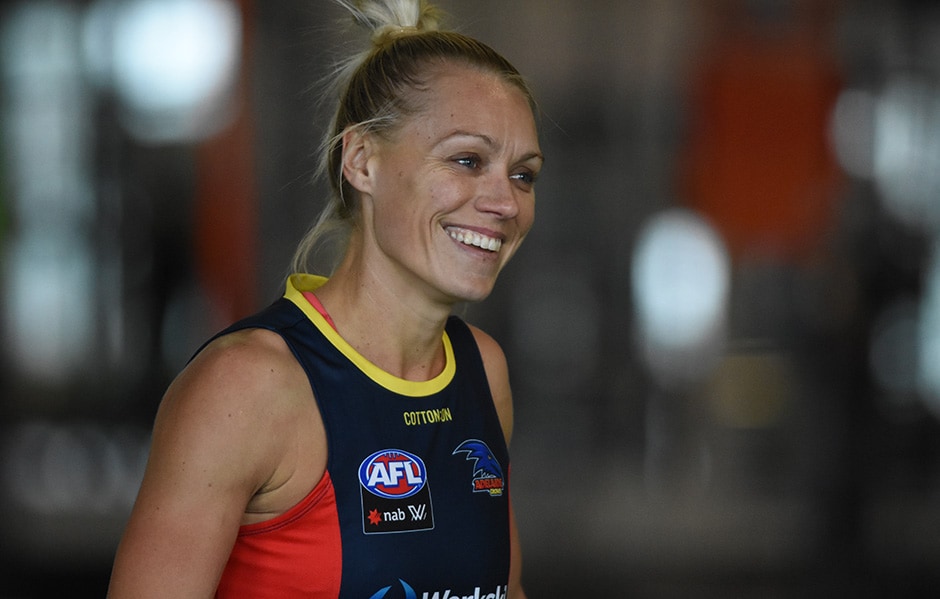 To have every game covered live is incredible... it gives (us) exposure to the whole of Australia
Erin Phillips
Erin Phillips knows a thing or two about the importance of exposure for women's sport.
The biggest name in the NAB AFL Women's competition, Phillips will embark on her third season with Adelaide in 2019, fresh off a stint as an assistant coach in the Women's National Basketball Association with the Dallas Wings, with whom she won two titles.
At the announcement in Melbourne on Thursday of a four-year AFLW broadcast rights deal, Phillips said having a lengthy contract in place was a major step forward.
DONE DEAL: All AFLW matches live on TV
"This is massive, not for just AFLW but women's sports," Phillips told AFL.com.au.
"To have every game covered live is incredible. It gives (us) exposure to the whole of Australia…this is a huge moment.
"(The coverage) of sports (in the United States) is crazy. I watched high school women's basketball live on TV (and) college sports are covered," she said.
"Comparing (us) to America is tough because you've got such a massive population and there are so many sports, but for us this is a huge step in the right direction.
"To have the four-year deal gives (the competition) security and it shows the commitment and belief from Seven and Fox that AFLW is growing and heading in the right direction."
The WNBA strengthened its position on the back of a broadcast deal with games shown live on ESPN and online via Twitter and NBA TV.
Phillips said the growing number of female footballers were well aware of the need to promote the game.
"We know we've got to do as much as we can to showcase our game as far and broadly as we can. The girls understand that," she said.
Phillips doesn't have far to look for local basketball connections, with departed inaugural Crows premiership coach Bec Goddard now an assistant coach for Canberra in the Women's National Basketball League.
Former Crows, Brisbane and St Kilda ruckman Matthew Clarke has taken the reins at Adelaide, with a fresh approach Phillips described as "fun, quirky and super-intelligent".
Phillips remains on track for round one after a 2018 campaign hampered by injury, and is set to be joined by former basketball teammate Jess Foley, who has made the switch to football.
READY TO GO: Phillips can't wait for 2019 season
"It's still surreal to be playing with her," Phillips said.
"We won a (WNBL) championship 10 years ago (with Adelaide Lightning) and it's awesome to have her in the team.
"She just reads the play so well – it's that basketball instinct. I'm not sure where she's going to play…we haven't been given any specific roles just yet."
The Crows start the 2019 season against the Western Bulldogs at Norwood Oval on February 2.