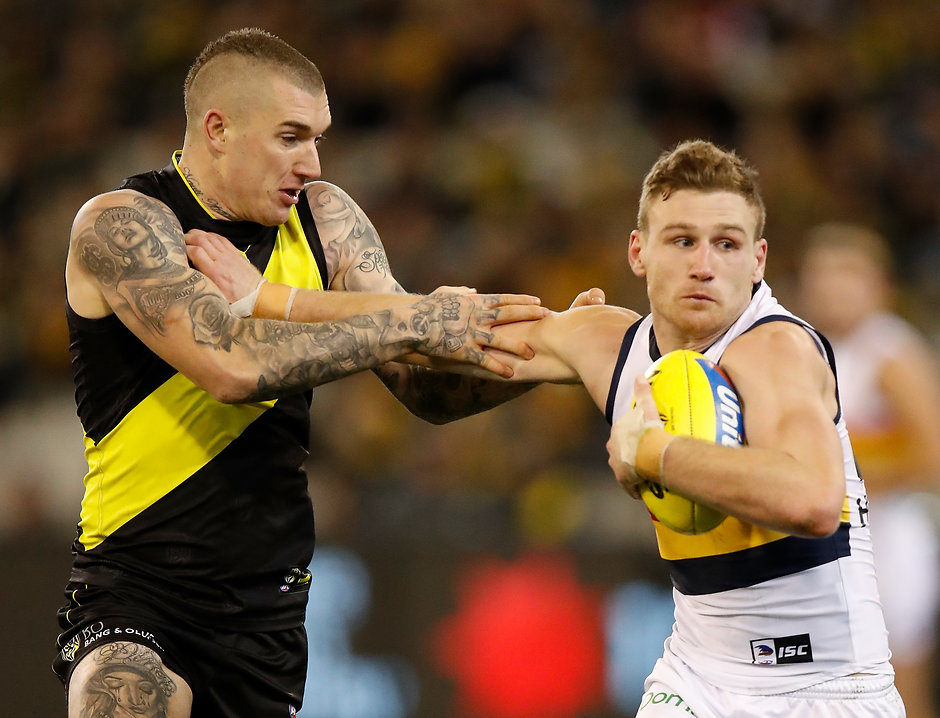 The mighty Adelaide Crows are blessed with many relevant AFL Fantasy gems.
Rory Laird (DEF, $782,000) was the highest-averaging defender in the competition last season and is the hot favourite to retain his title once again.
In his first year at the club, Bryce Gibbs' (MID, $753,000) average dropped slightly from his time with Carlton. Despite this, he still managed to be one of the top three players at the club.
Young guns Darcy Fogarty (FWD, $305,000) and Lachlan Murphy (FWD, $358,000) were viable cash cows, making their owners some much-needed cash throughout the season. However, it was Tom Doedee (DEF, $526,000) who dominated across his 20 games as one of the best rookies of the year, rising $305,000 in value.
Who are the rookies to target, and which premiums and under-priced guns should you also have on your radar heading into the new year?
Matt Crouch's (MID, $761,000) Fantasy game shone once again after he averaged an impressive 104.9. This, however, includes an injury-affected score of 33, and without that he would have averaged 109.
This would have placed him in the top five averaging midfielders in the competition.
Matt's game gets better every year and in 2019 he has the ability to average 115+.
After sitting out the entire season, Brad Crouch (MID, $524,000) is back training and has his sights set on playing in the JLT Community Series. "I've been doing a lot of work, including three running sessions and footy sessions a week," Crouch told AFC Media. "I'm doing about 80 per cent of the program at the moment and after Christmas I should be doing 100 per cent of the pre-season with the boys and building up to games."
Brad receives a 30 per cent discount and is now priced at an average of 72. Considering he has averaged 103 before and even went at 121 in the AFL Finals Series in 2017, Brad is shaping up as one of the biggest pre-season locks going around.
Also keep an eye on Brodie Smith (DEF, $439,000) as well. He returned from an ACL injury in rounds 20 and 21 last year for scores of 54 and 101. After also receiving a hefty discount, Smith is priced at an average of just 60 and is another name to monitor over the pre-season.
With only five dual-position players on their list, new recruit Ned Henry (MID/FWD, $240,000) might be a name worth noting.
He is a 174cm small forward who averaged the most tackles in the NAB AFL Under-18 Championships. Although we may not see him in round one, all those tackles will one day add up to plenty of +4s.
With two senior games next to his name from his time with Richmond, Tyson Stengle (FWD, $211,000) finds himself at a new home in South Australia.
He has played the majority of his football in the VFL where he averaged 64 and 69 over the past two seasons.
Stengle is a small forward and although he's most likely outside of Adelaide's best 22, he may get some opportunities to learn off the GOAT himself, Eddie Betts (FWD, $452,000).
Chayce Jones (MID, $254,000) possesses speed, skills and tackling pressure. He should see games early for the Crows and despite his inflated price, Jones is certainly an option after averaging 97 in the NAB AFL Under-18 Championships.
Before 2018, Rory Sloane (MID, $653,000) averaged 107 and 106 in back-to-back seasons. However, due to an injury-interrupted season, Sloane missed 13 games between rounds five and 13.
Sloane is great value because of this and is priced 17 points under what he is capable of.
After a lengthy stint on the sidelines, Sloane finally returned to football and scored 68. However, from that point on, he reminded the Fantasy community of what he was capable of averaging 99 in his past seven games.
| | | | | |
| --- | --- | --- | --- | --- |
| Player | Position | 2018 Average | 2018 Games | 2019 Price |
| Laird, Rory | DEF | 107.75 | 20 | $782,000 |
| Crouch, Matt | MID | 104.89 | 18 | $761,000 |
| Gibbs, Bryce | MID | 103.82 | 22 | $753,000 |
| Sloane, Rory | MID | 89.92 | 12 | $653,000 |
| Greenwood, Hugh | MID | 82.23 | 22 | $597,000 |
| Ellis-Yolmen, Cameron | MID | 81.53 | 15 | $592,000 |
| Jacobs, Sam | RUC | 81.45 | 22 | $591,000 |
| Lynch, Tom | FWD | 79.82 | 17 | $579,000 |
| Atkins, Rory | MID | 79.6 | 20 | $578,000 |
| Seedsman, Paul | MID | 79.53 | 19 | $577,000 |
| Jenkins, Josh | FWD | 77.36 | 22 | $561,000 |
| Milera, Wayne | DEF | 75.26 | 19 | $546,000 |
| Douglas, Richard | MID/FWD | 73.88 | 17 | $536,000 |
| Doedee, Tom | DEF | 72.5 | 20 | $526,000 |
| Crouch, Brad | MID | 0 | 0 | $524,000 |
| Mackay, David | DEF | 64.12 | 17 | $465,000 |
| Kelly, Jake | DEF | 64 | 19 | $464,000 |
| Knight, Riley | MID/FWD | 67.63 | 8 | $461,000 |
| Otten, Andy | DEF | 66.5 | 8 | $454,000 |
| Betts, Eddie | FWD | 62.22 | 18 | $452,000 |
| Brown, Luke | DEF | 61.9 | 20 | $449,000 |
| Walker, Taylor | FWD | 61.86 | 14 | $449,000 |
| Smith, Brodie | DEF | 77.5 | 2 | $439,000 |
| Talia, Daniel | DEF | 57.61 | 18 | $418,000 |
| Gallucci, Jordan | FWD | 55.13 | 16 | $400,000 |
| Hartigan, Kyle | DEF | 49.69 | 13 | $361,000 |
| Keath, Alex | DEF | 56.17 | 6 | $359,000 |
| Murphy, Lachlan | FWD | 49.36 | 11 | $358,000 |
| Himmelberg, Elliott | FWD | 65 | 1 | $354,000 |
| Poholke, Myles | FWD | 48 | 9 | $338,000 |
| Fogarty, Darcy | FWD | 42 | 10 | $305,000 |
| Wilson, Patrick | MID | 51 | 1 | $278,000 |
| Jones, Chayce | MID | 0 | 0 | $254,000 |
| McHenry, Ned | MID/FWD | 0 | 0 | $240,000 |
| O'Brien, Reilly | RUC | 0 | 0 | $232,000 |
| Hamill, William | DEF | 0 | 0 | $212,000 |
| Stengle, Tyson | FWD | 0 | 0 | $211,000 |
| McPherson, Andrew | DEF | 0 | 0 | $170,000 |
| Sholl, Lachlan | DEF | 0 | 0 | $170,000 |
| Butts, Jordon | DEF/FWD | 0 | 0 | $170,000 |
| Davis, Ben | FWD | 0 | 0 | $170,000 |
| McAdam, Shane | FWD | 0 | 0 | $170,000 |
| Hunter, Paul | RUC | 0 | 0 | $170,000 |
| Strachan, Kieran | RUC/FWD | 0 | 0 | $170,000 |
The views in this article are those of the author and not necessarily those of the AFL or its clubs