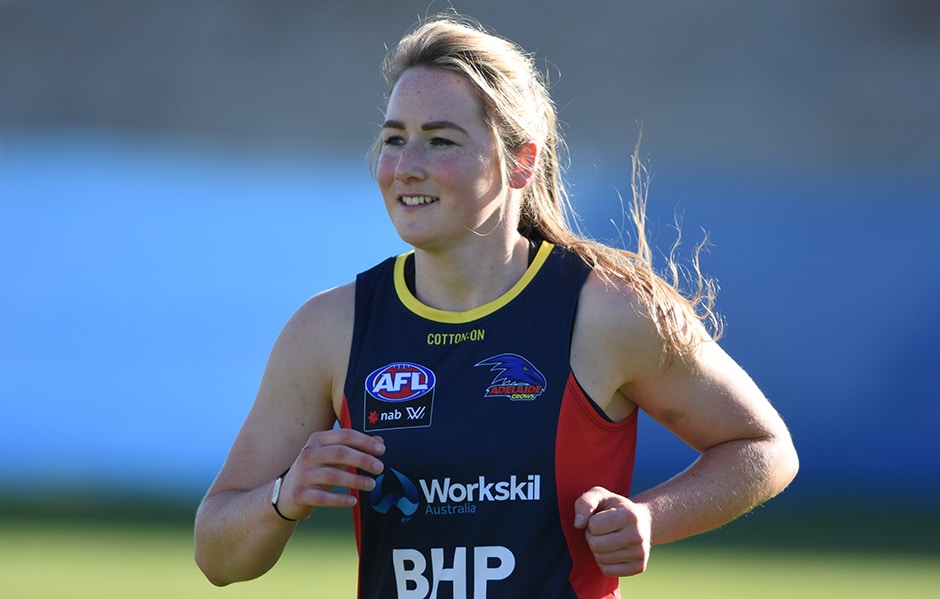 "Once that came around, it was Australian football all the way"
Ailish Considine
Adelaide's Irish recruit Ailish Considine is learning quickly after joining the club as a rookie for the 2019 NAB AFL Women's season.
Although the 26-year-old's background is in Gaelic football, she's not completely foreign to the Australian game.
Considine played for AFL Ireland's West Clare Waves team and the Ireland Banshees, which won the Euro Cup in October.
Still, switching from the round ball to the oval-shaped Sherrin has been a massive adjustment during pre-season training with the Crows.
"The hardest thing is getting used to the ball," Considine told AFL.com.au.
"The kicking requires a very different style. When I do an around-the-corner kick, it goes in a very different direction to when I do it with the oval ball.
"Even though the mechanics are generally the same, it takes a while to get it consistently right."
To fast-track her progress, Considine is doing extra video study sessions twice a week and additional kicking practice to be more consistent.
Considine was introduced to the game when a friend's brother started an Australian football competition in Ireland during the Gaelic football off-season.
She was then selected to travel to Australia in September with the CrossCoders development program as one of 18 athletes from Ireland, France, the United States, Great Britain, Fiji and Canada to take part in a national camp, impressing the Crows in the process.
"The chance of being a professional athlete was a huge draw for me," she said.
"Once that came around, it was Australian football all the way."
A steady stream of talented Irish female footballers could be heading for Australian shores, as has been the case in the AFL since Melbourne looked abroad in the 1980s and found players including Jim Stynes, who would later win a Brownlow Medal.
Considine said the success Gaelic football great Cora Staunton had at Greater Western Sydney in 2018 had inspired others to follow her path.
"When she signed here it really opened the Irish girls' eyes, that maybe we could try it out because (the two codes) require a pretty similar skill-set," she said.
"Once she did pretty well in her first season, people were saying it was a game we could transfer to.
"The interest is bigger in the CrossCoders program for next year."
Ailish is not the only skilled footballer in her family – older sister Eimear is an Irish representative in women's rugby union.
"We are competitive, but it's never in a bad way. It's always in the best way possible," Considine said.
"She only took up rugby in the last three or four years and she's doing really well, so she'll stick at that for a while.
"She might join me here if I stay. We'll see."