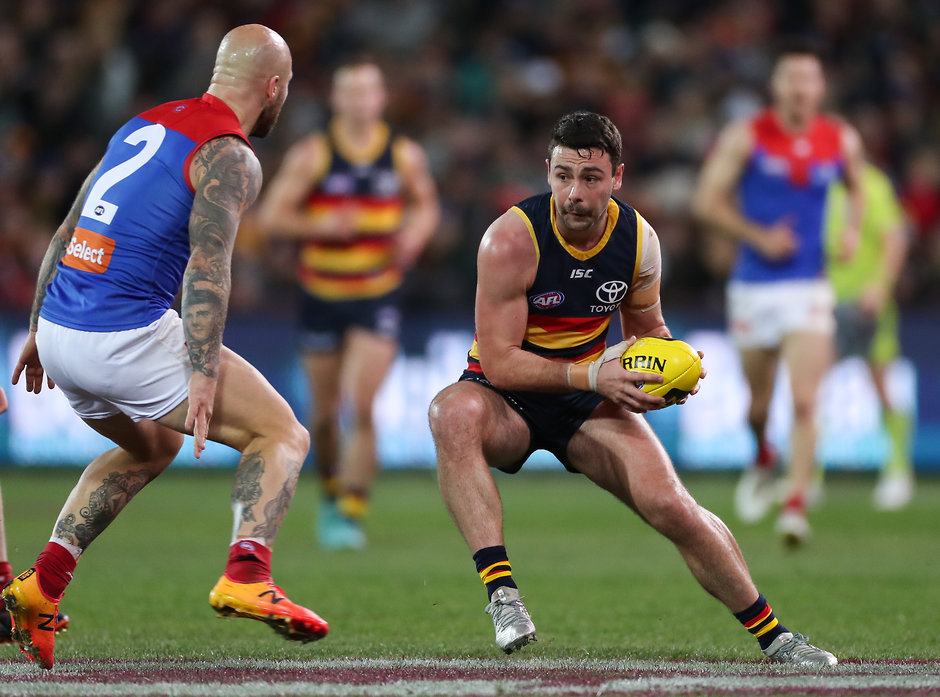 I was happy with the way I responded there, but in an ideal world, I wouldn't be playing in the SANFL
Rory Atkins
A mid-season stint in the SANFL wasn't ideal for Adelaide winger Rory Atkins, but in hindsight it was exactly what the Crows speedster needed to get his mojo back.
The 24-year-old looms as an important cog for the Crows as they aim to return to the finals after last year's forgettable season.
Atkins had a solid season overall, finishing ninth in the club's best and fairest and averaging 20.2 disposals a game, despite being dropped midway through the year.
SPECIAL GUEST: Former UFC champion visits
Three below-par games from rounds 11-13, when he averaged just 13.3 possessions a game, resulted in a stint in the reserves.
"I lost my way a bit due to what works for myself … playing with confidence, taking the game on and not being hesitant to kick the ball," Atkins said on Thursday.
"The coaches gave me a few weeks to get back on track, which ultimately led to me being dropped.
"They gave me a few key points to go back and work at, which I base my game around.
"I saw myself get that right in the SANFL and coming back and hitting the ground running with those same values that the coach gave me to work on.
"I was happy with the way I responded there, but in an ideal world, I wouldn't be playing in the SANFL.
"They're the values I've always had, sometimes you just forget about them in what is a long football season."
GALLERY: Photos from Thursday's session
Atkins was recalled in round 17, responding with 28 touches in a 15-point win against Geelong, and held his spot for the remainder of the season.
He could be used more in centre bounces this season as the Crows experiment with how they attack the new rules that will force teams to have six players in each 50m arc at every restart of play.
"It's going to take the first couple JLT Games and practice matches to see what actually happens and what works best for each team, because a smaller midfield might work for a certain team and a bigger midfield might work for another team," Atkins said.
"In the centre bounce there's a lot more space for guys to run, and we're still working out what works best in there.
"Once we get our head around that, a few things might change in the middle and personnel in there, but the way we move the ball around the ground and holistically won't change too much."