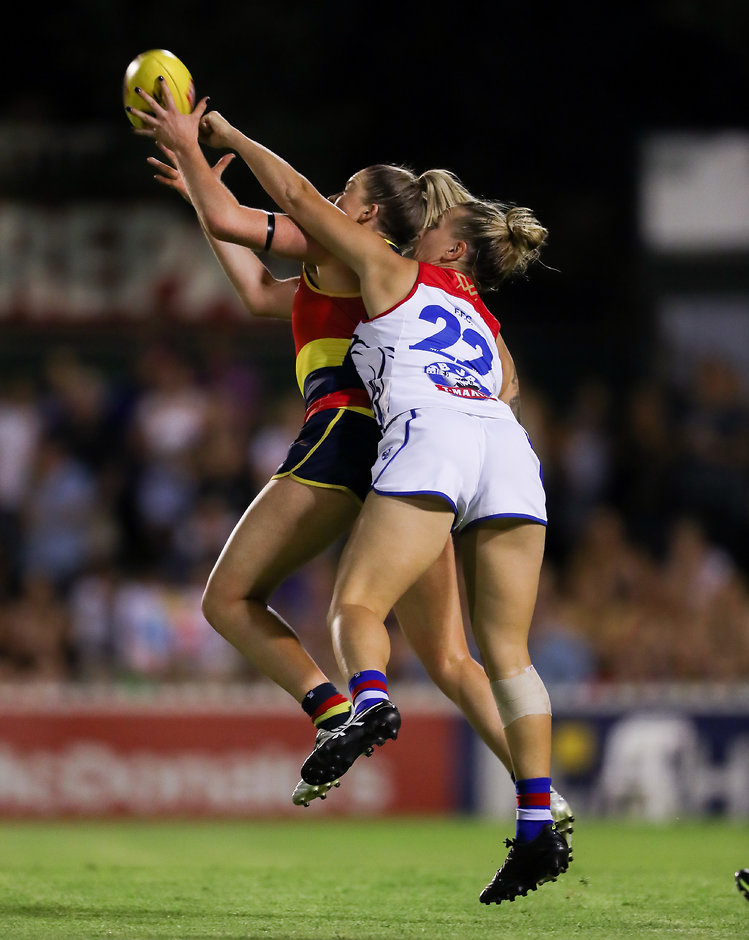 To know that all the effort you put in at training is finally paying off, it was a really special moment to be playing at that level.
Maisie Nankivell
"You're an absolute gun, you should consider footy."
Those were Ebony Marinoff's words to Maisie Nankivell when she first saw the 19-year-old play football in an inter-school match at Immanuel College.
Nankivell, a keen netballer who has represented Australia and even captained the state Under-19 side, was just having a go while Marinoff was coaching.
Fast forward a year and a half and Nankivell became the first netballer to sign with Adelaide as a dual-sport rookie.
It only took three months of serious football training to demonstrate her talent and she earned herself a spot in Adelaide's Round One team against the Bulldogs.
The new Crow couldn't believe it when she heard she was going to make her debut.
"Coming in with such great players around me, I honestly had no idea who would be picked in the team because there are so many talented players," Nankivell said.
"My family were stoked, to know that all the effort you put in at training is finally paying off, it was a really special moment to be playing at that level.
"The atmosphere was awesome, and I loved having all the girls around me who were hyping each other up and so genuinely passionate about playing.
"You do all this pre-season, to finally get out there and get to play a proper game was really exciting."
Debuting in Round One was extra impressive for Nankivell, given she divides her time between football and netball as a training partner with the Adelaide Thunderbirds.
Having already spent considerable time in an elite training environment, Nankivell believed the skills she learned during her netball career would replicate on the football field.
"A lot of the decision making and the fitness that is needed in netball is easily transferred to football," Nankivell said.
"Netball and footy have come together and have had a clear structure put out for me, so I am able to manage my loads and how my body is feeling every week.
"If I am feeling sore, I'm able to communicate that with the trainers and perhaps reduce my load so I am able to perform at my best."
Adapting to the oval ball has been a lot easier for Nankivell due to the support she has received from her teammates.
Constant feedback during training sessions has really helped the defender, who pinch-hits in the ruck, improve her game.
"Sarah Perkins, MJ (Marijana Rajcic), Stevie-Lee [Thompson] and Sally [Riley] have been really integral to my development, they have those genuine conversations with you," Nankivell said.
"Obviously they could see that I had potential, and they knew that fine tuning my skills would get me into a starting position in the team, so they've built my confidence up."
Most of all, Nankivell is just loving the opportunity to be part of two sports she truly loves.
"I have two older brothers and they always played footy and I was always so jealous of what they could do – but netball is all I've known.
"So being given this opportunity with the Crows now is an absolute honour."